Highlighting Hightex 2005
Organizers of Hightex 2005 hope to spotlight Turkey as an up-and-coming market in the world of nonwovens and technical textiles.
TW Special Report
W
hile all eyes have been on China since the lifting of textile quotas at the beginning of this year, Turkey - determined to give China a run for its money - has been busy expanding its participation in the global textile industry.
Nonwovens and technical textiles production has doubled there over the past four years, and Turkish manufacturers have invested more than $50 billion in European Union-based textile technology over the past 10 years.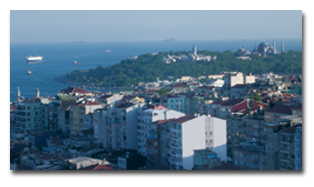 Organizers expect more than 20,000 people to attend Hightex 2005 in Istanbul, Turkey.
Industry forecasters predict the next four years will see an additional investment of $5 billion by some of the 40 to 45 Turkish textile companies involved in exporting technical textiles and nonwovens products.
In an effort to show the world just how much the country has to offer in the way of technical textiles and nonwovens, Hightex - the Istanbul International Technical Textiles and Nonwoven Trade Fair - will premiere in Istanbul, Turkey, Wednesday, July 13, through Saturday, July 16, at the Istanbul World Trade Center.
Organized by Turkey-based Teknik Ltd., Hightex will attract exhibitors and visitors - more than 20,000 attendees are expected - primarily from Eastern Europe, the Middle East and Near East, and North Africa. More than 40 nations and regions will be represented among the fair's more than 163 exhibitors.
Three main exhibition categories will serve to steer visitors to areas of particular interest: machinery and production technologies; raw materials, fibers and yarns; and products and smart textiles.
An area of the trade center will be given over to exhibitors of smart textiles - interactive fabric and apparel technologies. Exhibitors will have on display a wide range of these products, including antibacterial T-shirts; musical clothes; wearable computers; remote-controlled pillows; and heat- and light-permeable curtains; among many others.
Technical Textiles Congress
First held in 2002, the International Technical Textiles Congress - organized by the textile engineering department at Dukuz Eylul University in Turkey - will run concurrently with Hightex 2005 at the trade center.
Organizers of the second edition of the congress anticipate a similar offering of presentations as was given during the first edition by scientists from such countries as Turkey, England, the Czech Republic, Portugal, Italy and Germany. Presentation topics in 2002 included:
• technical textiles end-uses;
• high-performance fibers;
• composite materials;
• automotive textiles;
• geotextiles;
• protective cloths;
• textile coatings; and
• nonwovens.
EDANA Participation
The Brussels-based European Disposables and Nonwovens Association (EDANA), which has more than 180 member companies from 26 countries - will exhibit at Hightex in an effort to become acquainted with Turkey's nonwovens and technical textiles market.
"This is very much in line with EDANA's newly defined remit in 2004, to extend its membership to countries outside its traditional area of focus - Western Europe," said Catherine Lennon, external relations manager, EDANA.
"Some of Turkey's largest nonwovens producers and converters are strong supporters of EDANA, and indeed we have numerous members from not only Turkey, but also the Middle and Near East and Eastern Europe, all easily accessible to Istanbul, the gateway between Asia and Europe," Lennon said.
"The aim of the EDANA stand will be both to reiterate the benefits of EDANA to existing and potential members and to promote INDEX 08 on April 15-18, 2008, for which we already have received many confirmed bookings for stands, following the outstanding success of INDEX 05 [in April]," she added.
Venue Highlights
The Istanbul World Trade Center - known in Turkish as the Istanbul Dunya Ticaret Merkezi - is the newest exhibition center in Turkey. Located just 200 meters from the Istanbul airport, the trade center offers 18,000 square meters of exhibition space, 2,500 square meters of foyer space, and 16,000 square meters of parking space.
It also offers two conference rooms, a business and press center and VIP room, and a variety of dining options.
Transportation is available from the trade center to the airport, local auto routes, subway and seabus.
June 2005
Advertisement