Fabric Notes From Première Vision
Paris show highlighted Spring/Summer 2006 trends.
Virginia S. Borland, New York Correspondent
P
remière Vision exhibitors, who are leading apparel textile innovators from around the world, report their best sampling fabrics for Spring/Summer 2006 are ultralight, soft, silky and fluid. There are diaphanous sheers with rippling surfaces, satin jacquards, romantic blurred floral prints and washed-out effects. Metal is a big seller. Colors are softer and somewhat faded. Neutrals, tinted hues and white shades are popular.
High-performance is a buzz word. There are fabrics that repel stains, moisture and ultraviolet rays. Antibacterial is selling for activewear, intimates and hosiery. Other fabrics transport and evaporate moisture in a matter of seconds.
Stretch is a given. Not only is there a new generation of stretch fibers and variants, there also is 100-percent cotton with 18-percent stretch and recovery.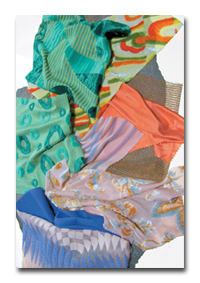 Jackytex S.p.A. presented
novelty fabrics at the most recent Première Vision.
Sportswear
Cary, N.C.-based Cotton Incorporated showed 100-percent cotton woven stretch denim. Jeana M. Fitzgerald, fabric designer, wovens, explained the stretch comes through weaving and finishing, including slack mercerization. "It gets better with washing," she said. The same process is going into sheets (See "
Quality Fabric of the Month
," March 2002). Other stretch fabrics are woven of cotton/bamboo, cotton/silk/spandex and cotton/camel hair/spandex.
Other developments at Cotton Incorporated are cotton/wool suitings. Through finishing, the wool comes to the fabric's surface to give it a soft, hairy touch. There are intimate blends of cotton/silk in which only the silk is dyed. A double-sided dobby weave twill puckers when it is washed. Knitted fabrics are crushed, wrinkled and puckered; glitter-finished; double-faced; and knitted with novelty yarns and effects.
UCO Fabrics, Rockingham, S.C., has developed a new color treatment for denim that is easier to wash out and can be bleached. It gives fabrics a luminous appearance and a slightly redder cast. Comfort stretch with Wilmington, Del.-based INVISTA™ Inc.'s T-400 fiber is selling well. There are soft, shiny pearl-finished denims and subtle fantasy weaving effects.
Schoeller Textil AG, Switzerland, has an ultrafine jacketweight stretch fabric that uses Soft-Shell technology. It is 72 grams per square meter (g/m2), and has a soft hand. It is waterproof and breathable, and transports moisture. Metal-content stretch fabrics are popular. Mirror Style is a blend of 75-percent copper, 20-percent nylon and 5-percent Lycra®. It has a soft hand and iridescent sparkle. There are double-faced bonded stretch fabrics for golf and boating jackets that are lightweight, drapeable, and stain- and water-repellent. Another high-performance development is NanoSphere® technology applied to cotton, wool and silk.
Along with stretch denims that are pigment-printed for garment wash, RSP 51, Spain, offers light, summerweight, yarn-dyed denims available in a variety of colors. Some are double-faced and printed on one side.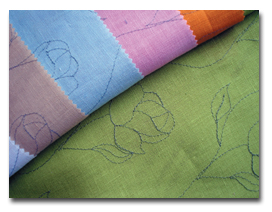 Masters of Linen displayed linen fabrics with a variety of weights, weaves and novelty effects.
Techno Linens
Technology in linen includes metal, stretch, washed finishes, and crushed and wrinkled surfaces. At Masters of Linen, France, new development fabrics and commercial fabrics from European weavers show the range of weights, weaves and novelty effects that can be achieved with linen and linen blends. Yarn-dyed jacquard gauze, shimmering organza of linen/horsehair, burn-out patterns, lacquered cheesecloth and felted seersucker were some of the items on display at Première Vision.
Northern Ireland-based linen producer John England (Textiles) Ltd. reported its best seller is a drapeable, silver-coated jacketweight linen fabric. Colored, washed finishes; glazed, shiny surfaces; and rubber-touch polyurethane-coated linens also were mentioned. All of John England's linens are fully shrunk and can be machine-washed at any temperature. The line goes from rustic to refined. There are sheer linen voiles, satin stripes, denims and burlaps.
Hauterive, France, has crushed, irregular pleat effects and a double cloth of linen/copper held together with nylon threads.
At Italy-based Michele Solbiati Sasil S.p.A., there are weightless sheer gossamer linens; open-mesh weaves; and novelty stripes that are variegated, melting, satin, softly colored and faded.
Stripes at Linea Tessile Italiana S.p.A., Italy, are splashed with metal, irregular, opaque/sheer and available in blends of linen/steel.
Industria Filati Tessuti Crespi S.p.A., Italy, offers linens with iridescent or metal yarns running through them for subtle effects. Other fabrics are printed with oil-stain patterns.
Libeco Lagae NV, Belgium, has a large collection of fiber-dyed and yarn-dyed refined summer tweeds. There are semi-plains and soft, multicolored novelty stripes. Some of the linen fabrics resemble gray flannel. Another group is dyed with both pigment and reactive dyes for a double-sided color effect. There are overdyed polyurethane-coated fabrics that have a soft hand, loose weaves woven with thick and thin yarns, and dry-hand crepes of 100-percent linen.
France-based wool weaver AJM showed multifiber blends. There are nubbed and looped summer tweeds that have floating yarns running through them. There also are zigzag patterns, high/low textures and a lot of black and white.
For spring, linen frequently turns up in the wool sector. Scotland-based weaver Johnstons blends it with cashmere in 250 g/m2 suiting-weight fabrics. There are plains, checks and paisley jacquards. The look is linen; the touch is ultrasoft and dry. There are rustic slubbed and nubbed fabrics in cashmere/silk blends and updated pinstripes in cashmere/silk/cotton.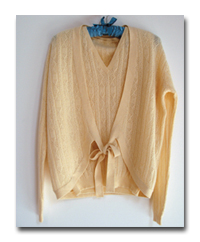 Johnston's Spring/Summer 2006 collection includes knitted cashmere apparel.
Knits
In addition to linen fabrics, Johnstons also is showing lacy, cashmere knits as part of its Spring/Summer 2006 collection. Featured in the collection are ethereal transparencies, peak-a-boo effects and overlapping ruching combined with contemporary trimmings to create a modern twist on classic womenswear, said Linny Oliphant, brand manager, Johnstons.
Linen is turning up with greater frequency in the knitted fabrics sector. Jackytex S.p.A. and Marioboselli Jersey, both based in Italy, emphasized natural colors and fibers. Jackytex reported business is good. Its niche is better novelty fabrics. This season, its line is inspired by nature. Natural colors, romantic faded shades and earth tones sampled well. Shirtingweight linen/cotton crepes, lacy sweater knits, African patterns and stretch jersey with Lurex® are among the most popular fabrics.
At Marioboselli, there is a range of weights and textures knitted of 100-percent linen, and blends of linen/Lycra and linen/nylon. Fabrics have a natural touch and appearance. Opaque/sheer glitter knits, metallic printed burn-outs, cotton crochets, and rubber-coated printed sheers are other fabrics that are sampling well.
France-based Billon Frères has a large black-and-white group. There are tucked zigzag patterns, argyles, eyelets, and crochet and lacy stitches. Some are splashed with silver. Dimensional effects, opaque/sheer combinations, blister surfaces, spider webs and touches of glitter were pointed out at the show.
At Guigou, France, there are natural-look slubbed linen jerseys, thick cotton crochets, viscose/nylon metallic meshes, stretch jacquards and featherweight silk knits. Silk voiles, viscose satins, pointelle stitches, crepes and crepons are among the firm's best sampling fabrics.
Prints
Linen also is a popular base cloth for printed fabrics. Miroglio S.p.A., Italy, uses it alone and in blends. Novelty, multicolored stripes and coordinating ethnic flowers are printed on a slubbed fabric of linen/rayon/cotton/nylon. There are glittering prints on silk crepon, oversized romantic flowers on cotton stretch sateen and stretch jersey, and African-inspired designs on rustic weaves.
Prints at La Industrial Sedera S.A., Spain, combine many themes. There are large, flat flowers shown with zigzag squiggles and scrolls; flat flowers that coordinate with small all-over geometrics; sketchy outlined prints; pointillist designs; and African linear abstracts. Silk crepon; cotton poplin; viscose crepe; slippery polyester jersey; and linen/cotton with a dry, crisp hand are some of the base fabrics.
At London-based printer Liberty, there are classic paisleys and florals, elongated flowers with curling petals, Art Nouveau designs, neat geometrics and witty conversationals. Colors are soft, faded, delicate and translucent. There are rich-cast pinks and reds, steel and denim blues, powdery neutrals with splashes of vibrant coral, fuchsia and poppy. Tana lawn; cotton jersey; silk crepe de chine; and light, fine corduroy are base fabrics.
Prints are selling at France-based Chaine et Trame. Especially popular at the firm are African- and folkloric-inspired motifs on cotton voile and cotton stretch. Some of the best-selling colors are brown with turquoise and orange.
Silk
Novelty in the silk sector defies copying. From hand-painted chiffons, ink-jet- and warp-printed satins to elaborate application treatments and intricate combinations of design, silk exhibitors are creating very special confections.
Switzerland-based Weisbrod Zuerrer AG combines patterns and treatments to an imaginative degree. Twining golden boughs, pink cherry blossoms and blue birds are embroidered on a multicolored, yarn-dyed silk taffeta check embellished with sequins. There are warp-printed jacquards that go with pleated chiffons. Butterflies on chiffon look as if they are about to take flight. There are linens, tweeds, organzas and waffle weaves that have been pleated, tucked, laser-cut, embroidered and appliquéd. Some are woven with bamboo; others, with paper yarns.
At Kimura, Japan, patterns and surface interest are created by glueing, printing and washing fabrics. The unglued portion washes away, leaving a dimensional fabric with different patterns and textures. A denim flower is created by applying cotton denim to polyester net. The same technique is used for cotton knits and silk organza.
Rafael Catala S.A., Spain, dates back to 1770 and is still owned by the same family. Fabric archives are adapted and used for inspiration today. Recently, the company created fabrics for a Spanish royal wedding. Silk and cotton jacquards are woven for both apparel and upholstery. Most of the designs are traditional; many are woven with Lurex.
Luxury and imagination have no limits at three France-based fabrics companies. Silk chiffons, satins, crepes and taffetas at Bianchini are hand-painted and flocked. The looks this season are romantic and soft, or brightly colored with an ethnic feeling, or they have a primitive quality to them.
Best-selling laces at Solstiss are colored in pink and turquoise. Heavy laces are corded with metallic threads. For evening, the look is fragile and sparkling; for day, laces are stiff and sometimes coated.
It's color unlimited at Bucol, where ink-jet prints are shown on silk twills, chiffons, satins and crepes. Silk/linen blends are slightly lustrous and yarn-dyed jacquards sparkle with a touch of Lurex. Prints tend to be large in scale with a lot of ground coverage. There are flashing stripes that look as if they are moving, swirling graphics, florals with patterned petals and sophisticated conversationals.
Ratti S.p.A. and Mantero Seta S.p.A., both based in Italy, report prints are selling well. At Mantero, Lurex is used in subtle touches; it is meant to be worn for day. Floral-printed silk chiffons have broken Lurex threads running through them. Fil coupé is dotted with gold, and there are glimmering pinstripes on floral-patterned jacquards. Ethnic florals here are inspired by Australian aboriginal motifs. Along with silk crepes and chiffons, there is cotton canvas printed with bold abstract patterns in saturated colors.
At Ratti, silk chiffons, crepons, satin-striped sheers and jacquards, along with cotton eyelets, linen, shiny stretch jersey and cotton/metal poplin are the most sought-after fabrics. There are prints on lamé grounds, metallic devorés, Lurex applications and printed gold. Floral prints are flat and bright or soft and romantic. There are ethnic abstracts and paisleys.

June 2005
Advertisement