Letting Markets Lead The Way
Glen Raven has discovered that continually evolving to meet the needs of the marketplace is the key to industry survival.
Jim Borneman, Editor In Chief
T
he Glen Raven story is built on core beliefs that contradict those of many of its peers in the industry, if not many companies around the world that have their origins in manufacturing.
Imagine what the impact would be on the manufacturing side of a company if the consumer directed the process; if the company focused on studying the market; if marketing directed the priorities of research and development; and if manufacturing embraced a focus of change to meet customer demands, no matter how painful or removed from the company's day-to-day production. Imagine a company that realized the days of "If we make it, they (our sales department) will sell it," are long-gone - a company that truly confronts reality and its ability to meet the demands of the marketplace, adapting sooner rather than later to those trends.
Embracing these characteristics is the way Glen Raven succeeds even in the toughest of times, and has achieved the recognition of the 2005
Textile World
Innovation Award.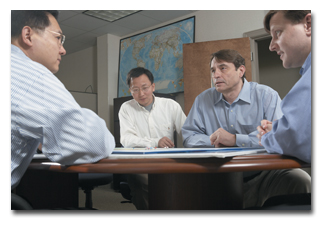 Coordinating the Glen Raven effort for the company's new plant in China are (left to right) Hua Li, Dong Ping Liao, Philippe Petot and John Gant. Not pictured: Scott Gillam.
Glen Raven Today
Inside Glen Raven, N.C.-based Glen Raven Inc. today are 125 years of experience and a company so focused on marketing that it is at the core of its stated strategic vision. With an emphasis on people, innovation and a global approach to business, Glen Raven benefits from an ability to adapt and change, often confronting difficult decisions that would derail most companies, and always backed by an understanding of the consumer and markets served.
CEO Allen E. Gant Jr. explains: "'Merchant' is a good word for us. We like the word 'merchant,' and we think of ourselves as merchants. Let me tell you right up front, we don't have all the angles. We are neophytes - we are learning - we are not there yet. And I think it is that quest for knowledge that is driving us to be different."
That focus was catalyzed in the form of Gary Hamel and "The Quest for Resilience" - a story he co-authored with Liisa Välikangas, which was published in the September 2003 issue of the Harvard Business Review.
"We found Gary Hamel," said Gant. "He wrote on resilience and innovation, and we had been trying to decide what was the next frontier."
Gant hired Hamel, based on the insights he put forth in the article, to assist in bringing innovation and resilience to the core of the company's strategic direction (See "
Recognizing The Power Of Resilience
, this issue).
"If you are in our business, where are you going to drive it? What are you going to do? Where are you going to be 20 years from now?" Gant questioned. "Are you going to have a business or not have a business? What is the last frontier we have to work with?
"[T]he more we thought about it, the answer was innovation. And the more we face the fact that, if we could turn our people loose - let them go, unshackle them, and give them blank pieces of paper to go into a marketplace and decide how to deliver more value to that particular customer - that is the answer.
"We've got great customers. We've got customers that have been on the books for 100 years. That's unbelievable - 100 years - same customer, same ownership. So what do we do? What do we do to become more valuable to that guy? That is the whole issue."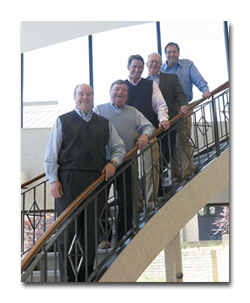 The Glen Raven executive group is comprised of (left to right) Allen E. Gant Jr., Carl Wallace, Steve Ellington, Gary Smith and Harold Hill.
Marketing Culture
A marketing culture isn't new to Glen Raven, but the recent dramatic changes in the textile industry have put that culture to the test.
"True marketing gives you the ability to look into a market and decide whether or not you can add value. [It] also gives you the ability to determine if you can stay in that market. We don't want to be in a market that is not growing. If you're not growing, you're not living. It doesn't make any sense to me to be in something that is not - if that's the case, go do something else. Hopefully, you can do it with the same assets, but if you can't, then you go find some new assets."
Marketing at Glen Raven is serious business, and not a simple matter of product promotion.
"I think people miscommunicate - they think they are marketing when they are actually just selling," Gant said.
"I'd rather build a market than protect a market. If you are selling, you can't protect anything - that is the way of the low-cost producer. If you are selling, and the next guy walks in and says, 'I've got the same product. I've got the same yarn as Sunbrella® [a Glen Raven branded product] has. It's the same color, but it's a dollar cheaper' - if you are selling, all you compete with is price. If you are marketing, the customer says, 'That might be the case, but nobody has the long-term viability. I can't wash your product with chlorine bleach. And I want Sunbrella on my sofa.'"
By studying markets, Glen Raven focuses on the due diligence necessary to determine when to enter and when to exit a given market. By having the commitment to make tough decisions and stick with them, the company is directed by the viability of markets rather than by manufacturing capabilities.
"I think we look reality in the face very candidly, and I don't think many firms do that," Gant said. "Sometimes tough decisions are really tough. But this company, for instance, as little as six years ago, was 50-percent apparel and today is less than 3-percent apparel," he said, referring to the fact that the company doesn't get bound up in tradition or past successes. Gant explained that entering the panty hose market after inventing the product was very smart, but exiting that market was a difficult decision.
Recently exiting the sales yarn business also was a difficult decision. "It's where our flag flew," he said. But throughout interviews with members of the company, it is abundantly clear that making tough decisions and focusing on what customers want is how the company thrives.
"There is no backbiting, no politics," Gant said. "We are very candid about 'This is doing real well, this is not doing very well - unless you get this one up to this par, then we are going to change that business.' Now, nothing personal - we are just going to change that business, so figure out how to do it. You have no alternative, but that gets back to looking reality in the face and saying, 'This is what I've got.' And then the whole team is involved in making the change - it's not just that one person. Whether we have a crisis, whether we have an issue, the whole team is involved."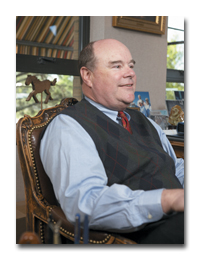 Glen Raven CEO Allen E. Gant Jr. represents the third of four generations of Gants involved in the company's history.
Staying Ahead By Making Tough Decisions
The decisions are not always negative. Glen Raven has had its share of market firsts in parachutes, panty hose and moving from cotton to acrylic in awning fabrics. Its fabric was used in 1969 to make the flag that flew on the moon. The company learned how to expand globally when it acquired Dickson S.A., France, and recently embarked on building a plant in China. With its share of home runs, the company doesn't need a home run to serve a market. Glen Raven looks for markets that are healthy and growing, with room for it to thrive. It builds brands and barriers to entry by competitors, and diligently defends those markets with strategic marketing programs - but it must deliver value to the customer, and, in some cases, the customer's customer.
"Can we do this in such a way that we generate value and help a customer solve a problem? Unfortunately, there are a lot of textile companies that are looking at where they've been for the last 25 years, and because they can't do it the way they've done it before, they are not going to be here. And that is unfortunate because there is a world of opportunity out there," Gant said.
"In many ways [the industry's focus on] manufacturing is a strength, but long-term, it is the downfall of the industry," he said. "There is no question about it in my mind. Today, annually, we ship to companies in 127 ... countries around the world. We have new customers that I will never meet, can't put a face with a name, can't speak their language, never been to their home. Then we have customers that we have known for 100 years. I know the CEO; I know his wife and his children - my grandfather knew his grandfather. And a lot of people can't ... fathom the idea of not having that kind of connection, but we are in the business of satisfying customers wherever they are - doesn't matter."
Global Perspective
Many companies speak of being global. Even Glen Raven felt it was global because it sold product around the world. Glen Raven today, however, has made global business a core element of its success.
"Our successful venture in France helped make that a reality," Gant said. "We acquired Dickson in 1997-98, and people realized we didn't go and shut down any facilities. We integrated it, and it was one of the best moves the company ever made. From a global perspective, that was the thing that gave us more global emphasis than anything else we've ever done. All of a sudden, we have 40 percent of our operations outside the United States in different cultures. Today, when we have a general managers' meeting we have Americans, we have French, we may have Italians and Chinese sitting in the same room. That is a whole lot different from having good ol' boys from Alamance County, N.C. That's a big difference - a huge difference - and our company has come to appreciate that we are global; we are moving global; and we'll go anywhere in the world to take advantage of a marketplace."
China Expansion
"We are building a facility in China," Gant said. "The first time I said that, some of our people said, 'Oh my god, you are going to shut down...' No, no, no. The Chinese market - we are going to sell to the Chinese - there is a whole Asian market developing. They've got lots of millionaires. They've got as many millionaires as we do. Incredible opportunity. We're global, and we are going to do this."
Building in China was not an easy decision for the company, but with Sunbrella fabrics going into umbrellas made in China to be sold in North America, and customer demands for branded Sunbrella products rising in China, true to following market demands, Glen Raven will build a new facility roughly one hour outside of Shanghai. Creating a vertical facility to produce Sunbrella branded products will enable the company to serve customers that have moved to China while enabling Glen Raven to expand its global footprint.
"I look at US manufacturing as a source for marketing, and if you don't have the marketing, then the rest is not going to follow," Gant said. "Don't get me wrong, as the chairman of the National Council of Textile Organizations (NCTO), I will fight hard for every single American job that I can fight for. But don't let me mislead you either - I don't look to anybody in Washington, or anybody outside this company to do anything for us in making Glen Raven successful. We are charged with that responsibility - it is up to us. The government can't save our jobs; NCTO can't save our jobs; and if we aren't innovative and if we don't market, then we are going to lose our jobs. It's just that simple. If I can get a law that will help us, then I'll fight hard for it, but in the long-term view, the market is going to make the decision if Glen Raven is successful or Glen Raven is going to fail - period."
Changing Markets
To many minds, Glen Raven is synonymous with Sunbrella, one of the company's most enduring and active brands. The solution-dyed acrylic fabric line has staked significant positions in the outdoor, marine and casual furniture markets, and it continues to grow. Prior to 2005, however, the other operating subsidiaries recognized the shift in the markets they served, and some faced serious consequences with quotas coming off in 2005.
"We had some businesses that we found it difficult to make any money out of. We just weren't smart enough to make money out of those assets," Gant said. "We asked, 'How do we take those assets and move them into a business in which we can have assets [that produce]?' It was part of our move going from 50-percent apparel down to [almost] zero. We said to our folks, 'Look, the quotas are coming off Jan. 1, 2005 - nobody is protecting you. And you've got to believe you've got no chance of making any money against those imported goods. So just prepare to walk away from it.' Our folks gradually - little by little - said we can take these assets and leverage relationships we have in this market and move to a technical base. There is still opportunity in the technical businesses. So the more we analyzed the individual markets that we were going to stay in, the more we found that there were some areas that we could continue to grow in. And so we have done that," he said.
In late 2004, the company formed Glen Raven Technical Fabrics LLC, a subsidiary that leverages diverse manufacturing and design skills for technical products.
The change took the form of simplifying the divisional structure of Glen Raven based on markets served.
The company identified that, in addition to the successes in markets served by Sunbrella, technical fabric markets also provided opportunities.
The Custom Fabrics subsidiary - maker of Sunbrella - serves awnings, marine and casual furniture markets, and the market for many car tops on the road today. It is led by Steve Ellington. The Technical Fabrics subsidiary - led by Harold Hill - serves diverse markets from sailcloth fabrics to military, protective apparel, media and automotive fabrics.
"The key is we adjusted to meet our markets," Gant said.
Additionally, Gant, as chairman, meets weekly with his executive team of subsidiary presidents - Ellington and Hill; as well as CFO Gary Smith, vice president and treasurer, and head of the profit committee; and Corporate Counsel Carl Wallace, vice president, secretary and general counsel, and head of the marketing committee. These five work closely to keep bureaucracy low and maximize the flow of ideas.
"Strategically, in our executive group of five, we look at how we need to transform the company over the next five years. And, frankly, we kid each other that long-term planning is now six weeks," Gant said. "The issue that you have is how to make good decisions with a minimal amount of accurate information. That's the deal."
The company is directed by the Gant family board, which represents the parent company, and an operating board, which has profit-and-loss responsibility. Gant pointed to the opening of the operating board to members outside of the family as a milestone for the company. "The two non-family-related members come from great experiences - one in marketing and the other in finance - and bring tremendous value to the management."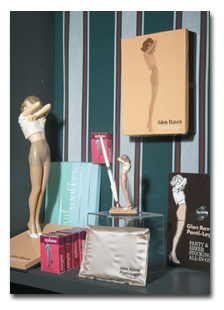 Glen Raven invented panty hose in 1953 under the direction of Allen E. Gant Sr.

The Future
"We are coming to a time in which there will be no duties, no tariffs anywhere around," Gant said. "And that free trade will be there. Will it be as close as 2010? I don't know, but there will come a time when true market prowess will determine who gets it. That time is getting closer to us all the time. There are countries like China, India and Brazil, which out of sheer economic size will not be able to play the games they play today. And as a result, things will happen. I am preparing now for that.
"In the future? I can't tell you the products or services we will be delivering, but I can tell you we will be serving a market - a market that is growing - a market that is benefiting from the value we deliver. It may be textiles; it may be transportation and logistics; it could be finance - the only thing I know is Glen Raven will be providing value to customers."
---
Research And Development:
A Market-Driven Approach
"There's not a culture here of the good old days - they don't exist anymore. Our good days are in front of us," said John Coates, director of research and development (R&D), Glen Raven Custom Fabrics LLC.
"Years ago, we [R&D] were focused on the technical aspects of manufacturing. We were essentially a technical resource for manufacturing. You had good manufacturing at that point, but not as many new products. Several years ago, we restructured the R&D organization. R&D reports to the president of the division.
"Within R&D, we have engineers assigned to specific markets. Those engineers spend time with the sales force, go to trade shows, interact with customers - whatever that market requires - gaining an understanding of what these products do in the marketplace and gaining input from consumers. They get to hear, 'It's great, and it would be even better if it could do this.'"
Review Process
"Those engineers sit down at least once a month with each market manager and review where they are," Coates said. "That market manager assigns the priorities to that engineer - that market manager approves any project. The market managers have the ultimate responsibility and authority in allocating resources for R&D projects."
Coates explained that ideas generated for optimizing manufacturing are far from ignored, but the review process makes sure they are prioritized in concert with all initiatives.
Not a typical R&D relationship, but according to Coates, it is a relationship that doesn't put manufacturing at odds with marketing. Rather, savings and optimization are balanced against product enhancements and product developments that marketing has evaluated for bottom-line impact.
The marketing direction, according to Coates, "takes a little getting used to." But in the end, it keeps the company flush with opportunity. R&D also manages strategic development that may impact multiple markets with direct oversight by the division president.
Resources
Five to 10 percent of resources is dedicated to true "out-there" projects. "Go look at it," Coates said. "Tell us what you've learned - whether there is potential."
Thirty-five percent of resources is dedicated to product improvement engineering. This has been directed by consumer input, much of which is gathered through customer surveys conducted every two years by Custom Fabrics.
Thirty-five percent of resources is allocated to truly new development, to bring to market things such as ink-jet fabrics and other products not in the current portfolio.
The final 20 percent of resources goes to technical issues related to quality or manufacturing of products.
"No matter what, during a product's manufacturing life cycle, issues develop in the process - raw materials may vary, specifications change. That's when R&D needs to jump back in," Coates explained.
Regarding Gant's direction for R&D, Coates said, "He does not want hurdles anywhere around.
He wants a clear path, and if it's not there - let's figure out a way to get there. This is where our market is going - this is where we need to be, and if we can get there faster, better, differently, that is what will make Glen Raven successful. And it works."
---
Innovative People: Glen Raven's Key Asset
"We will find good people and build a business around them," Gant said, referring to the company's ability to attract talent. "The only thing we've got is brainpower. It is the only thing that will make us successful. We give our people all the latitude they need, as long as it's not going to cost us the company - and sometimes you need to bite your tongue and watch them fail, because people are going to fail every now and again - it is part of life.
"You learn, and you do a great job in the future. It's fun to watch people overcome their failures. You have to trust people, and we do. That's the one thing that drives people crazy when they come to work for Glen Raven. They'll say, 'I've got a latitude here that I've never had anywhere else.' We say, 'Be very careful to protect that freedom; don't screw it up for the rest of us.'"
In a company focused on change, how can it manage the paradox of security and taking risks? How does a culture of change not undermine corporate stability?
"Consistency of good management is extremely important," Gant said. "Therefore, you'd like to not have high turnover. The problem is, in most places complacency sets in. At Glen Raven, we care a lot about people, and that caring is real. When somebody hurts, we all hurt. It's real. As a result, we have a culture here at Glen Raven, and the secret comes in your ability to be accountable, direct, straightforward and innovative with that group of changes. I think our associates realize that when we make changes, it is not personal and we will do all we can for you in the process. Consequently, we are fairly disciplined in not bringing people into the team that won't fit.
"We take the relationship so personally with our associates and our customers that we feel we owe it to them to look reality in the face and make those tough decisions."
June 2005
Advertisement