Beyond Niche Business
Glen Raven Technical Fabrics brings solutions to growing markets.
Jim Borneman, Editor In Chief
G
len Raven Technical Fabrics LLC, one of two subsidiaries of Glen Raven Inc., is a prime example of the transformation taking place in the US textile industry. To Glen Raven's credit, the formation of the Technical Fabrics subsidiary is part of the ongoing story of preemptive change that has positioned the company's subsidiaries to serve growing markets.
"Over the years, the foremost thing that we've learned in terms of structuring our business is that there is nothing more important than market selection," said Harold Hill, president, Glen Raven Technical Fabrics. "It all starts with markets - what markets do you want to participate in? Great performance in a poor market yields poor results. So regardless of your abilities, or your business's abilities and capabilities, when you are in the wrong market, a lot of that effort and investment is not rewarded. At Glen Raven, I think early on we realized that being in the right markets is absolutely critical to our success. Then, once we enter a market, [being] willing to commit the human resources, capital, the technology and intellectual property - whatever the case may be - to really go after that market is key to success."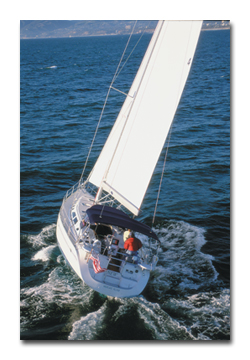 Glen Raven Technical Fabrics' products are found in many different applications and markets — including marine — with more than 300 offerings using the company's expertise in filament and spun yarns, wovens, knits and finishing.

Innovative Solutions
Following several difficult decisions with businesses that were facing negative trends, Glen Raven repositioned assets to serve the technical textiles marketplace and transformed the Filament Fabrics group and Dickson Coatings into the Technical Fabrics subsidiary. The formation of the subsidiary took Glen Raven's proven expertise in filament wovens, knits and finishing and created a new expanded resource for technical fabric markets. The new subsidiary has strong product-oriented capabilities and offers access to Glen Raven's experience through products that provide solutions to complex problems.
"It [the formation of Glen Raven Technical Fabrics] was a big move for the company," said John Coates, director of research and development (R&D), Glen Raven Custom Fabrics LLC. "It took a clean-sheet-of-paper approach. "
"We have branded products, for example, the GlenGuard™ family of products, " Hill said. "It's a range of products designed for personal protection. GlenGuard Rx™ is our medical barrier fabrics entry designed to protect health care workers. We have GlenGuard FR™, which is a special product for utility workers." The product offers a degree of protection in arc- and flash-fire situations.
The subsidiary also has products focused on flag and banner fabrics, automotive applications, military fabrics, sailcloth and other marine applications, among others.
Hill makes embracing change seem easy. "We've had to reposition for the markets in which our technical fabrics subsidiary serves, and we've had to evaluate those markets based on growth and competitive pressures, as well as our core capabilities," he said. "Over the years, that has meant entering new businesses and exiting old businesses. We try to enter before they become too crowded and exit mature and declining businesses before they become too stagnant."
Staying Ahead Of The Competition
"There are very few [textile] markets in the United States, or in the world for that matter, that aren't extremely competitive," Hill said. "There are no big secrets out there. From our perspective, a concern is that we exited apparel and some of the more commodity-oriented businesses and established a foothold in certain technical markets; [and] now that 2005 has come to pass, we envision more US companies pursuing similar technical businesses."
"We have found when you enter late, and you are there purely to wrestle away market share, it makes for a much more difficult situation," Hill said regarding competition. "We continue to build barriers to entry, continue to innovate and develop new products so that those folks who enter behind stay behind."
Marketing Plays A Key Role
"There are lots of aspects to marketing. I think when people think of marketing they immediately go to advertising, promotion, branding - and that is just one aspect," Hill said, expressing a company-wide sentiment. "From our perspective, it starts with market evaluation, and we've been willing to spend money to understand markets. Then it translates into product development, which is a marketing expense, and we've had significant commitment to new product development. The cost of new product development, while expensive, is not scrutinized at Glen Raven nearly as much as other costs. People are given discretion to spend on new products."
And new products are just the beginning. Glen Raven Technical Fabrics shares in the corporate philosophy of identifying brand opportunities and then supporting them.
"As products evolve, obviously we would love for products to be branded and differentiated," Hill said. "If a product has that capability - if it has the type of end-use requirement that branding and marketing support can leverage, then we establish a marketing budget for the product. We are probably more open to that than some other companies in the textile business because we've seen the success of it - we've seen it happen, we've seen the results."
As Glen Raven Technical Fabrics continues to face the challenges of dramatic change in the textile industry, it has the benefit of a committed culture built to execute in a changing environment.
"Markets evolve, and we see ourselves being at the leading edge of the markets we serve," Hill said.
June 2005
Advertisement