Brückner Installs 100th Tenter In Portugal
Bruckner Trockentechnik GmbH and Co. KG, Germany, recently installed its 100th tenter in Portugal. The Power-Line tenter was delivered to Flexitex, a family-owned business that has produced mattress fabric for the last 40 years.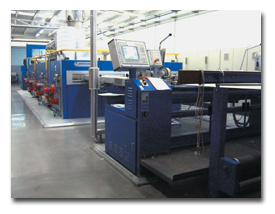 Bruckner recently delivered a Power-Line tenter to Flexitex.

To celebrate this installation, Bruckner representatives presented a jubilee plaque to Flexitex, thanking the company and Bruckner's other Portuguese customers for their patronage.
Bruckner sold a total of four Power-Line tenters and one Opti-Relax relaxation dryer to customers in Portugal in 2004.



June 2005
Advertisement