Big Issues On The Agenda
James A. Morrissey, Washington Correspondent
Y
ou can look for a busy year on both the legislative and administrative fronts, as governments here and abroad, importers, and manufacturers gear up to deal with a virtually quota-free world of textile trade. The Bush administration is expected to move forward with its aggressive program of negotiating free trade agreements (FTAs) that during the president's first term resulted in FTAs with 12 countries and another dozen in various stages of being negotiated or planned. In most cases, these agreements have included a yarn-forward rule of origin for textiles and apparel, and tariff preference levels that permit use in apparel of yarn and fabric from non-participating countries. Although US importers of textiles and apparel do not like a strict yarn-forward rule, they are pleased with the tariff preference levels' short supply waivers and cumulation that permit use of third-country inputs. That pattern likely will be followed in future agreements.
CAFTA
The most controversial FTA is the Central American Free Trade Agreement (CAFTA), which was negotiated last May and now is before Congress. As is the case with all agreements negotiated under the president's fast track authority, Congress cannot amend the agreement and can only approve or disapprove of it as negotiated. Therein lies the problem. President Bush did not press for congressional approval during the last session, because it was clear that he did not have the votes to win. The US textile industry and many of its supporters in Congress are opposed to CAFTA in its present form because they say it has too many loopholes that permit non-participating countries to benefit from its tariff concessions. While they do not particularly like CAFTA because of its yarn-forward rule of origin, US retailers and other importers say it is a viable alternative to getting too closely tied to trade with China, and they would like to see it go forward. They see opportunities for both importers and domestic textile manufacturers to benefit from increased hemispheric trade because of countries that are in closer proximity to the US market. Organized labor says the pact does not go far enough in protecting the environment and workers' rights. Since the agreement is not likely to be renegotiated, there will have to be a lot of give from all sides for it to become law.
Haiti
The leadership of the House Ways and Means Trade Subcommittee strongly supports legislation introduced last session, but not finally acted upon, that would grant trade concessions to Haiti in order to bolster that poverty-stricken country's economy. Various versions of Haiti aid legislation provided for some major concessions for textile and apparel imports that domestic textile manufacturers said would undercut the existing Caribbean Basin preferential agreements and open doors to a flood of transshipments from other countries that would benefit from the bill's duty-free provisions. Haiti aid legislation, in one form or another, is expected to be introduced in the new Congress, and it will be a contentious issue where textiles are concerned.
Chinese Import Safeguards
US textile manufacturers will continue to seek temporary quotas on Chinese imports based on both actual and threatened market disruption. Importers are vehemently opposed to use of such tactics, charging the US industry has had adequate time to prepare for the dismemberment of the long-standing quota system. They contend the time has come for the industry to compete in a global economy free of artificial trade barriers. Chinese officials also have voiced their strong opposition to use of the safeguard mechanism, warning that it will "seriously impact bilateral and economic ties." Charging the safeguards violate the Chinese/WTO accession agreement, the Chinese Ministry of Commerce has warned it will take the issue to the WTO, saying it retains the right to take action against practices it believes run counter to the WTO's commitment to free trade.
Vietnam
With textile and apparel imports from Vietnam growing rapidly, domestic manufacturers will seek — and importers will strongly oppose — additional restraints on Vietnamese apparel imports. Vietnam is not yet a member of the WTO, so quotas on a wide range of products will remain in place, and the industry is seeking even more. As negotiations proceed on Vietnam's accession to the WTO, textile lobbyists are pressing the administration to negotiate a safeguard mechanism, similar to China's, that would permit imposition of quotas if products disrupt or threaten to disrupt markets in importing nations.
Congress And Administration Face Major Textile Issues
There is little change in the makeup of Congress from the previous one, except in the textile manufacturing areas, where the November election resulted in significant changes. Perhaps the most important was the election of former South Carolina Rep. Jim DeMint to the Senate seat that became vacant upon the retirement of Sen. Fritz Hollings. In his 38 years in the Senate, Hollings was one of the textile industry's most stalwart and effective representatives. He was always in the forefront on international trade issues, and as chairman or ranking member of the Senate Commerce Committee in recent years, he was able to influence administration policies. He also was one of the prime movers in the successful effort to obtain substantial and continuing Department of Commerce financing for research programs at the National Textile Center and the Textile/Clothing Technology Corp. DeMint will lack the seniority that made Hollings so influential, and he has been at odds with textile manufacturers on international trade issues.
ln North Carolina, former Congressman Richard Burr was elected to the Senate seat vacated by vice presidential candidate John Edwards. In his time in the House, Burr was a consistent supporter of the industry, and during the campaign he voiced his support for the industry's major issues — continuation of quotas on textile and apparel imports from China, opposition to provisions in FTAs that permit non-participating countries to share in the preferential treatment, opposition to CAFTA, and preserving and expanding the Buy America purchasing requirements for federal agencies that purchase textiles and apparel. Georgia's new senator, Johnny Isakson, also a former House member, is more of a question mark. He did not respond to an industry questionnaire seeking his positions on those issues during the campaign and, while he supported the industry at various times during House tenure, he has been a little hard to nail down on some of the upcoming issues.
The most significant development in the House of Representatives election was the defeat of Rep. Phil Crane (R-Ill.), who as chairman of the Ways and Means Trade Subcommittee has been a thorn in the side of the US textile industry for years.
It's too early to assess the effect of the wave of Bush cabinet changes, but new appointees at Commerce, Treasury and Agriculture will have considerable influence on future textile, apparel and fiber policies.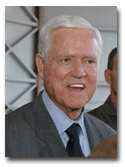 Hollings
Tariff Cuts
Launched in November 2001, the 147-nation undertaking known as the Doha Round of trade liberalization negotiations has been bogged down, mainly because of differences between the developed and less-developed countries, but trade officials here and abroad hope they can move forward this year.
Last May, World Textile Organization (WTO) members managed to agree on a framework for restarting the negotiations, and at that time, US Trade Representative Robert B. Zoellick said: " The WTO has laid out a map for the road ahead. Next, we will negotiate the speed limits and how far and how fast we can lower trade barriers."
Tariff cuts and greater market access are at the heart of the negotiations. The US textile industry says that as tariff cuts are made, other countries should lower their duties to US levels before any further concessions are made.
With the end of the historic textile import quota system and all of these issues coming to a head, 2005 will be a pivotal year for the US textile industry — its customers, its competitors and its consumers.

January 2005
Advertisement