New Concepts For Fancy Yarns
Schlafhorst debuts the Autocoro 360 automatic spinning machine.
TW Special Report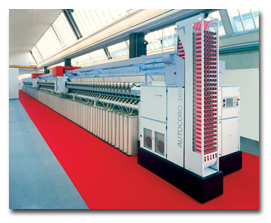 W ith more than 2.7 million spinning positions delivered to textile mills worldwide, Schlafhorst's Autocoro purports to be the market leader in the field of automatic spinning machines. Germany-based Schlafhorst, a business unit of Saurer GmbH and Co. KG, also based in Germany, has added to its line of Autocoro automatic spinning machines with the introduction of the Autocoro 360. This new-generation machine, with its integrated FancyNation effect-yarn-spinning system, reflects the changed conditions spinners are faced with regarding economic efficiency and flexibility.
Today, effect yarns spun on rotor-spinning machines offer convincing advantages in many textile applications. While in the past the emphasis was on denims, fashion is now increasingly discovering the great potential of effect yarns for fine shirt fabrics, knitted goods and home textiles. However, effect yarns are not commodity products. As they are frequently ordered in small lots, their production places great demand on spinning mills for flexibility.
FancyNation For Tailored Effect Yarns
Schlafhorst developed FancyNation to provide one single system to meet a variety of market demands. Consisting of modularly designed, harmonized hardware and software, FancyNation is fully integrated into the Autocoro 360 machine. FancyNation cannot, therefore, be compared with conventional mechanically operated effect-yarn-spinning devices and their associated disadvantages such as low productivity, high susceptibility to wear and restricted process reliability. In rotor spinning, effect yarns are formed by intermittently changing sliver intake speed. In conventional systems, these changes are controlled centrally over the intake shaft. The smallest possible step in conventional systems is a 10-millimeter (mm) step, which allows the formation of no more than 160 yarn effects per minute. For the production of fancy yarns with many short slubs, the sliver intake speed must be reduced to achieve the desired number of yarn effects per meter of yarn. This diminishes machine productivity. On the Autocoro 360 with FancyNation, by contrast, much smaller steps are possible, thus allowing a greater number of yarn effects per minute to be achieved.
The basis for this higher productivity is the Autocoro 360's new Corobox SE 12 spinbox. The SDSI Single Drive Sliver Intake controls the sliver intake with individual intake motors at each spinning unit. The motors are controlled by FancyBoards integrated into the Autocoro 360.
The intake motors accelerate the sliver intake. There is no limit to the frequency of the accelerations, so effect yarns, even those with short slubs, can be spun at the same rate as smooth-surface standard yarns. Compared to conventional effect-yarn-spinning devices, Schlafhorst's FancyNation system can achieve production increases of 30 percent and higher.
The short cycle frequency of the stepper motors provides other advantages: The feed cylinder can be advanced in steps of only 0.4 mm, which allows exceptional precision in sliver feeding and better reproducibility of yarn effects.
A 30-percent higher performance level of the opening roller drive is achieved without consuming additional energy. Even coarse fibers and fibers with high friction values can be separated, or feed slivers of up to 4 kilotex opened with optimum efficiency. This also leads to high reproducibility of the yarn effects in spinning. The Corobox SE 12 also allows drafts of up to 450, which means the whole range of effect-yarn finenesses can be spun from the same feed sliver.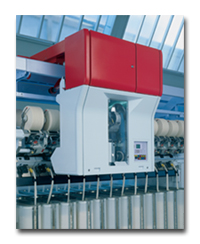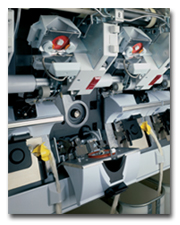 The Autocoro 360 (top) is equipped with the Corobox SE 12 spinbox (bottom), which aids in higher productivity.
Vaccuum Regulation And Machine Setting
By reason of their structure - slubs of a variety of thicknesses separated from one another by stretches of yarn of relatively greater fineness - effect yarns are more sensitive to variations in the spinning vacuum level than smooth-surface yarns. Electronic regulation of the spinning vacuum by the Autocoro's 360 Electronic Vacuum Adjustment system is beneficial in the production of effect yarns, as it increases the spinning stability of yarns having varying degrees of fineness and, hence, productivity. A further highlight of the Autocoro 360 is the IDS Intelligent Drive System. The IDS enables spinning data such as sliver intake and spinning vacuum to be set in incremental steps during spinning. Spinners can thus speed up yarn lot changes and product and process optimization, according to Schlafhorst. Frequency converters in the machine allow high-precision fine-tuning of the spinning parameters including yarn twist, yarn draft, opening roller speed, rotor speed and sliver intake speed.
Automation Meets Demands
In the spinning of coarse effect yarns, the flexible piecing and package-doffing concept of the Autocoro 360 with one, two, three or four Coromat units per machine enhances productivity significantly, according to Schlafhorst. The Coromat spinning start-up and yarn-piecing concept placing the yarn directly onto the empty package tube with no need for starter bobbins guarantees uniform package structure and uniformly laid yarn from the first to the last meter. Quality problems in the fabric, as encountered with earlier machines that have starter-bobbin piecing, are eliminated. The Coromat piecing concept for effect-yarn spinning is of great advantage also. Drives with high dynamic performance for the sliver intake and the yarn take-up, sensors and a laser light barrier ensure high precision in yarn piecing. Fibers are subjected to an additional combing and parallelizing process before each piecing cycle. High strength of the yarn piecings even when the yarn between effects is very fine guarantees high efficiency rates in warping, weaving and knitting.
FancyNation Software Flexible And User-Friendly
FancyNation software is of modular design and comprises FancyPilot basic software; and FancyControl, FancyProfile, FancyLink and FancyOASYS Gold software extensions. FancyPilot is installed on a computer. Therefore, only one of each software module is required per spinning plant. This is of particular economic advantage when a spinning plant is expanded. FancyPilot software includes QuickDesigner and Interactive Graphic Designer programs for yarn-effect development and design. Quick Designer provides a survey of the distribution of the lengths and thicknesses of yarn effects and stretches of yarn between effects. Interactive GraphicDesigner gives a clear survey of the distribution of yarn effects and effect repeats. This tool eliminates the need to create tables and decreases the likelihood of faults that might occur when making manual entries. Once the view presented satisfies the designer, the data set can be visualized with the help of the programs 3-D simulation function as yarn, woven fabric or knitted fabric.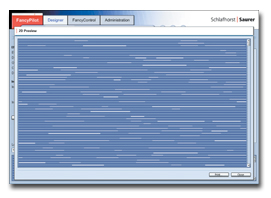 FancyPilot software provides a survey of the distribution of the lengths and thicknesses of yarn effects, and a survey of the distribution of yarn effects and effect repeats.
Another special feature of FancyPilot is the linkage of yarn-effect data, machine data and yarn-piecing data in a single database. Even spinning-component data are integrated into the system. All these parameters are downloaded to the machine and to the Coromat, which ensures meaningful logical sequences of all settings, eliminates the need for duplication of entries and enhances process reliability for the user. Spinners whose work includes frequent sample yarn spinning and spinners wanting to produce effect yarns and smooth yarns simultaneously on the same machine also appreciate the benefits of the FancyFlex software features. FancyFlex enables simultaneous spinning on a machine of up to three yarn lots, two of which can be effect yarns. Thus, spinners can flexibly test-spin sample yarns on a few sections of a machine without interfering with the production of yarn on other sections. FancyControl software enables monitoring of the spun yarn. The Corolab measuring heads measure the length of the yarn effects actually spun at each spinning station. The 3-D simulation in the FancyPilot allows a simple comparison of the yarn spun with the specified spinning data. This makes time-consuming and costly knitting and weaving tests unnecessary.
An even more comprehensive control of yarn effects is possible with the FancyProfile supplementary module integrated into FancyControl. FancyProfile provides additional information on effect profiles, effect sequence and effective yarn diameter.
Customers of spinners often have a very detailed idea of the effects they want in their yarn and present samples to illustrate their requirements. With this in mind, Schlafhorst has developed FancyLink software. FancyLink, in combination with the Zweigle G 585 Yarn Tester or the G 588 Sensor - both available from Schlafhorst - can automatically generate data sets from yarns presented on bobbins from extraneous sources. These data sets are entered automatically into the FancyPilot system, reducing the time and effort required to develop and design new fancy products. Used effects realized in stone-wash finishing are currently in fashion. FancyOASYS Gold software enables deliberate simulation of these effects and the consequences of variations in the size of the stones, and in the intensity and duration of the washing process. This function also includes a Weave Pattern Editor for the simulation of any desired weave pattern. FancyOASYS Gold also shortens effect development time an advantage when modern textiles are created for which the earliest possible availability of large quantities of yarn is important.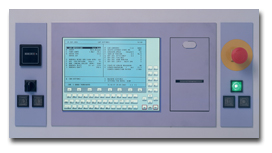 The Autocoro 360 comes equipped with a variety of programs including FancyControl software, which enables monitoring of the spun yarn.
Satisfying Customer Demands
Through time-saving and efficient development and design of textile products, and productivity advantages in spinning, the Autocoro 360 with FancyNation sets a new milestone in speed and reliability. According to Schlafhorst, specialty spinners of effect yarns, with the help of FancyNation, have developed and designed yarns that satisfy the demands of weavers and garment makers on product design, and meet market requirements.
A variety of yarns have been designed, spun and woven into fabrics: relatively coarse yarns for trousers; medium-fine yarns for furnishing fabrics; and fine yarns for shirts and blouses; among others.

January 2005
Advertisement