Fenix Rising
Savio's new AES Fenix assembly winder offers an array of features.
TW Special Report
S avio Macchine Tessili S.p.A., Italy, a producer of assembly winders for nearly 60 years, and two-for-one twisters for more than 40, has a decade of experience in the combined assembly/twisting sector and in processing all types of yarns in a variety of conditions. The company continues to offer its customers a high level of technical product support from production to quality, as well as helping its customers define their spinning needs. In an effort to meet those needs, Savio has introduced a new product to the yarn finishing sector - the Assembly Electronic Savio (AES) Fenix winder.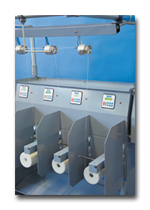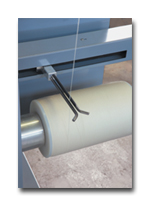 Savio Macchine Tessili's Assembly Electronic Savio Fenix winder (top) with computerized Chameleon package (bottom)
Take-Up And Electronic Package Quality
According to Savio, a great deal of research has been put into package quality, density and take-up, resulting in significant innovations.
Besides a high content of assembly yarn wound in parallel coils on the newly designed flanged packages, constant and regular unwinding in the subsequent twisting process also is ensured.
The new winder comes equipped with a wide range of flanged packages featuring different configurations for feeding different types of twister spindles that can be found on the market.
The flanged package optimally protects the yarn package, which can be transported easily in the next production cycle with no danger of being accidentally damaged during handling. Often, an assembled package is damaged during handling and must be scrapped before it reaches twisting. A new electronically controlled yarn guide system enables the operator to program the pitch according to yarn count. This feature leads to such advantages as: extra-high yarn density without any additional stress on the yarn providing an increase in weight of 22 percent over cross-wound packages due to correct programming of the yarn deposit according to its count without the use of tension (See Figure 1); package density programmable in three sectors, making the machine particularly suitable for processing difficult or delicate yarns or for doubling yarn plies with different characteristics (See Figures 2, 3); and very low processing cost due to fewer packages; in other words, a greater allocation of heads and spindles in the relative twisting and assembling processes.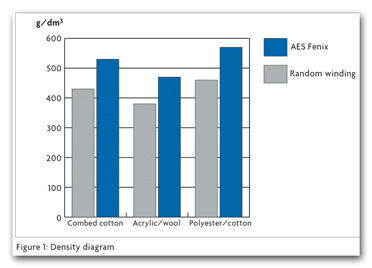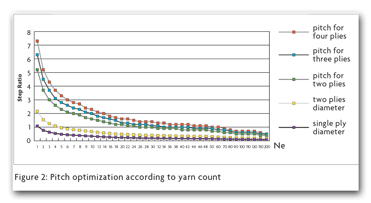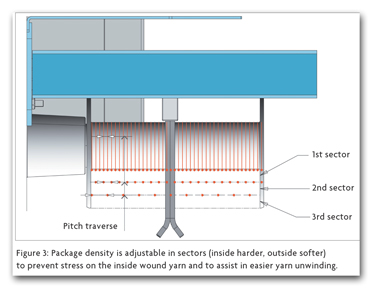 Package Quality
According to Savio, a high level of quality is ensured because in ideal conditions, the doubled yarn package can be unwound during twisting with a more even twist, resulting in fewer breaks. The AES Fenix features direct control on the package axis with absolutely no slippage because it turns freely without the yarn touching any driving surfaces, which is ideal for the yarn.
Neither the direct control on the package axis nor the electronically controlled yarn guide require adjustment for the cross-winding angle, friction, counterweighting or antipatterning.
Perfect Length
The direct control on the package axis, which is slip-free, ensures a precision that Savio claims has never before been reached in yarn length. Each head is fitted with a high-precision meter counter with a tolerance of +/-0.5 percent, which eliminates yarn waste at the end of twisting and guarantees optimized subsequent processing cycles, according to the company. The control of the maximum diameter available on each head permits a rapid determination of the length required.
Flexibility
Technical solutions featured on the new winder simplify control of package take-up, both mechanically and constructively, rendering lot change particularly easy.
Maximum flexibility is guaranteed by the control computer, allowing separate adjustment of machine sections (assembly speed and meter counter) so that different yarn lots can be processed, with programs for storing and automatically setting the work parameters of each lot. Simply press a key to set the stored lot.
If the yarn breaks before the single broken end can be wound around the package, instant breaking of the head allows quick repair of the single end, ensuring enhanced quality of the doubled yarn and subsequent twisting (See Figure 4).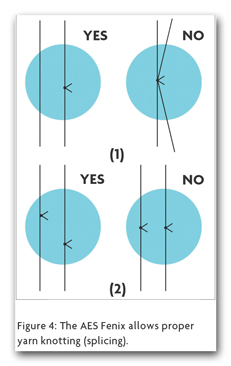 Assembly speeds range from 250 meters per minute (m/min) to 1,200 m/min made possible due to the parallel winding of the yarn and minimal accelerations of the grooved roll
(See Figure 5)
.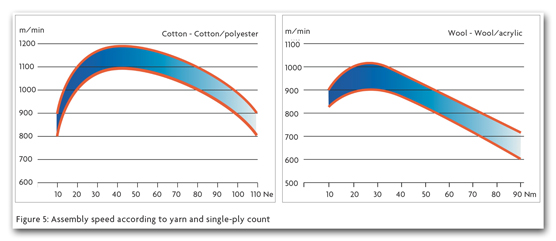 The AES Fenix is designed for assembling two plies with through feeding (head/tail end), and up to a maximum of four plies. Feeding is simplified because the external package cradle creel with universal pegs can accommodate packages of any taper and diameters up to 280 millimeters (mm). All discontinuous fiber yarns can be processed including cotton, wool, silk, linen and the same blended with man-made fibers in a range of counts, including from Ne 1.5 to the finest in the cotton sector, and from Nm 2 to the finest in wool.
The continuously adjustable universal spindle with winding traverse from 152 mm to 250 mm completes machine flexibility.
More Features Enhance Productivity
Very little energy is consumed due to the winder's construction simplicity and innovative technical control solutions. The AES Fenix has an installed power of 200 watts per head and also features a consumption that varies from 60 watts to 120 watts per head, depending on work parameters.
Operator ergonomics are optimized by the position of the feeding packages on the external creel and the low level of machine noise. Enhanced operator efficiency is a decisive factor for quality and production capacity. Minimal maintenance is necessary because there are few mechanical parts; inverter-controlled air conditioning motors are used to control the spindle; and components have tested for reliability.
The new AES Fenix features air or water splicers and an optional fan/traveling blower to ensure a clean machine while working.
January 2005
Advertisement