Koenig Systems Eliminates Odor At Italian Mill
An air-cleaning system from Switzerland-based Koenig AG recently installed at Italy-based Stamperia di Cassini Rizzardi - a dyer of wool, cotton and polyester fabrics -has substantially reduced the mill's oil residue output. The Koenig system has a capacity of 20,000 cubic meters per hour, and is designed to handle the mill's three tenter lines.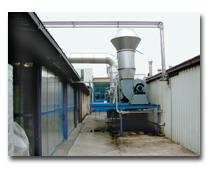 The Koenig cleaning system installed at Stamperia di Cassini Rizzardi removes an average 500 liters of oil residue monthly.
Exhaust from the tenter outlets is propelled through ducting into the system's plenum chamber, where a patented injection condenser cools the exhausted air with water sprays. A mist collector then removes all condensate drops in the exhaust, reducing airborne pollutants by up to 50 percent. Remaining pollutants pass through two more ionization processes and then are sprayed with cool, clean water. Any charged particles left clinging to water droplets are collected, siphoned off and dropped into an oil/water separator that contains 1,500 liters of recirculated water.
According to Rizzardi, the cleaning system eliminates unpleasant odors by removing an average of 500 liters of oil residue monthly.

February 2005
Advertisement