Stoll Offers ShapeSizer In M1 Pattern Workstation
H. Stoll GmbH and Co. KG, Germany, now offers the ShapeSizer in its M1 Pattern Workstation for the design of Stoll knit and wear® finished garments. Using the ShapeSizer, pattern designers may access such basic shapes as raglan, saddle shoulder, inserted sleeve with French shoulder or shoulder gore each with a V-neck or neck gore and as a cardigan, tank top or vest. These basic shapes are based on practice-oriented shape dimensioning. The dimensions may be changed according to specified requirements.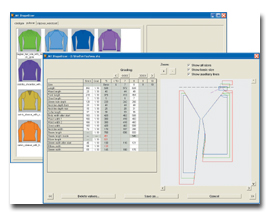 Stoll now offers its ShapeSizer software in its MI Pattern Workstation.
The ShapeSizer automatically generates individual shapes, combines them to form a knit and wear shape, and determines the necessary knitting cycles. Patterns designed using the ShapeSizer may be edited using all M1 tools.


April 2005
Advertisement