Rethinking The US Textile Industry
Executive Forum: Allen E. Gant Jr.
A
t the first annual meeting of the newly created National Council of Textile Organizations (NCTO) in July, it was apparent that the organization has become an effective voice for the textile industry in Washington.
Textile World
's Washington Correspondent James A. Morrissey interviewed NCTO Chairman Allen E. Gant Jr., also president and CEO of Glen Raven Inc., Glen Raven, N.C., to explore how he sees NCTO serving the textile industry and what he hopes to accomplish.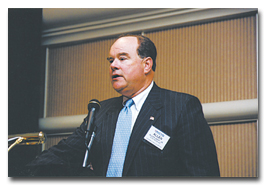 TW
: During your annual meeting, you emphasized that NCTO is presenting a united front in Washington on textile issues. How does this differ from what was done by its predecessors, the American Textile Manufacturers Institute and the American Yarn Spinners Association?
Gant
: For the first time, the textile industry is now represented by one voice. The industry has come together in a unified front representing each segment of the industry and giving each segment a voice on the board. Consensus can be drawn, decisions can be made, and effective use of resources can be made in generating the maximum amount of clout needed to push issues through Congress and the government in order to improve the environment in which this industry operates. We are no longer giving mixed signals to Congress and the administration, but are speaking with one voice that is unified, direct and effective. This can serve only as a benefit for the industry going forward.
TW:
Many textile manufacturers say this fall's election campaign will be absolutely crucial in shaping the future course of the industry. What are you doing to win concessions and commitments from the presidential candidates and members
of Congress who are up for election?
Gant:
In this day and time of global economies, decisions are made very quickly that have long-term effects. With the phase-out of quotas to be effective Jan. 1, 2005, this year's election will be extremely important. NCTO has given questionnaires to congressmen and senators, as well as to the candidates running for president, that hopefully will stake out very clearly their position on issues that will affect this industry. We will publicize to our employees, our stakeholders and our shareholders these views, and ask all of our constituents to vote appropriately so as to provide this industry the best chance for success in the future.
TW:
Leaders of NCTO, the National Textile Association and the American Trade Action Coalition have had a number of meetings with administration trade officials. How would you characterize their attitude toward your trade problems, and do you think there is a commitment to address them effectively?
Gant:
One of the great attributes of coming together and speaking with one unified voice is that we now have an opportunity to communicate with the administration on trade issues and to have our positions clearly understood. It's as much our responsibility for fostering an environment that is conducive to good communication as it is the responsibility of anybody else. We must accept that responsibility and, in fact, move forward in increasing our realm of influence. For the first time in years, we are having constructive communications with the administration on trade issues. We certainly hope that this clearer understanding will generate benefits for the industry. I certainly believe for the first time that the channels of communication are open and are being utilized. This can only be good for the industry.
TW:
Is there any real hope the World Trade Organization (WTO) will take any meaningful steps to address what you and a large number of textile manufacturers in developing countries see as a major trade crisis after quotas are removed in January 2005?
Gant:
Time will tell if the WTO will have the strength and courage to address the quota phase-out. Certainly the issue has been raised by several countries, and in fact, it now looks as if a meeting will take place in October at which this subject will be discussed in great detail. It is time for immense leadership, not only in this country, but also around the world, to make sure that we are moving in the right direction. The WTO must be pushed hard enough to make the right decisions that will affect world trade. I am hopeful that the WTO will demonstrate that leadership, seek wisdom, and make the best decision for us all.
TW:
Your company is deeply involved in textile world trade in more than 100 countries, so you could hardly be viewed as a protectionist. Importers say US textile manufacturers for all too long have been dependent on government support, and the time has come to help themselves. How do you answer them?
Gant:
I have never believed in counting on someone else to control your destiny. Every textile manufacturer around the world must do what's best for itself. We have embraced a global economy and are trying very hard to do business with people around the world on a daily basis. I do believe that it is important to continue to fight hard to make sure that the rules of engagement and the rules by which we will all play the game are reasonably fair and equitable for all parties. Any company around the world that is not prepared to keep up with the changing times certainly puts itself in peril for the future and makes itself vulnerable to the ills of unfair competition more quickly.
TW:
Aside from politics and trade, what is your assessment of opportunities for US manufacturers in terms of global business effectiveness? Do US yarn and fabric manufacturers do enough to effectively brand and market their products?
Gant:
I believe that the opportunities for US textile manufacturers are as good as the opportunities for any others from around the world. We certainly have access to the largest market in the world, we have the best minds in marketing, and we have the opportunity to leverage those assets around the world to satisfy customers. The greatest mistake that we or any other industry has made is that we do not understand the ultimate consumer. We have not been nearly aggressive enough in marketing in order to assure that the channels of distribution are available for our products and services, and that we have created demand for our products and services in a manner that will assure us long-term viability. We have been spoiled over the last 50 years in watching the world's largest economy grow by leaps and bounds, and by doing so, not putting in place barriers for competition that would make it more difficult for others to compete with us. But, all of the above is what we get paid for to run a better business. It's up to us to set the course and then execute our strategy.
TW:
As a formula for the future of US textiles, niches and non-commodity products are the key, according to some. Is that a realistic view? What do manufacturers have to do to survive in the face of today's dramatic market changes?
Gant:
This is the same question asked in a different way. The essence of the issue is: How can manufacturers combine their resources with a marketing arm in order to assure that their products are accepted in the marketplace? If you are strictly a manufacturer and your labor costs are high, then you must be prepared to seek the lowest common denominator in having a price strategy. Many of us prefer to take the marketing route and combine it with a strong manufacturing strategy that enables the consumer to understand what is offered, desire what is offered, and be prepared to pay for what is offered. This is not a complicated issue, and it is true in any industry. Unless the consumer understands that there is value in the products and services that are being offered, and the channels of distribution are easy so the consumer can acquire the products and services, then the ultimate success of a company will reside with the consumer as he decides what he will buy or what he will not buy. We can no longer think of ourselves as just manufacturers. We must think of ourselves as marketers, manufacturers, sellers, producers, suppliers, and customers; and ultimately, we must understand the consumer in a very effective way.
---
Editor's Note: Textile World encourages textile executives to speak out on matters affecting today's textile industry. To participate in TW's Executive Forum, e-mail jborneman@TextileWorld.com.

September 2004
Advertisement