Industry Active In Election Campaign
James A. Morrissey, Washington Correspondent
T he textile lobby's highly touted grassroots political campaign has elicited from congressional candidates nearly unanimous support for the industry's international trade agenda, but questions remain as to just how they expect to deliver on their promises. Because North Carolina, South Carolina and Georgia are viewed as critical states in both the presidential race and control of the Senate, the industry has poured considerable efforts into getting commitments from candidates in those states. An industry trade coalition sent questionnaires to candidates for the House and Senate asking for their positions on five critical issues — continuation of quotas on Chinese textile imports; opposition to any free trade agreements that permit duty-free entry of products from non-participating countries; opposition to the Central American Free Trade Agreement (CAFTA) in its present form; opposition to any reductions of US textile and apparel tariffs through the World Trade Organization (WTO), and any weakening of US trade laws; and support for preserving and expanding the Buy America requirements for the US Department of Defense and other federal agencies.

All of South Carolina's House candidates support the industry's position on all of these issues, as does Democratic Senate candidate Inez Tenenbaum.

Jim DeMint, the Republican Senate candidate, declined to answer four of the questions and, contrary to the industry's position, expressed his support for CAFTA.

In North Carolina, Senate candidates Erskine Bowles (D) and Congressman Richard Burr (R), and all House candidates are on board. Georgia presents a solid front with all of the House candidates and Senate candidates Denise Majette (D) and Johnny Isakson (R) endorsing the industry positions.

Textile industry lobbyists will publicize the candidates' positions and conduct get-out-the-vote campaigns in an effort to influence both congressional and presidential elections. They hope successful candidates will not just have made empty promises but will also be committed to working for the industry in Washington.
Textiles And The Race For President
Predictably, both President George W. Bush and Senator John Kerry are in favor of free and fair trade, but they see it in a different light. President Bush says he will pursue trade policies that will open markets, break down trade barriers, combat unfair trade practices and prepare workers to compete in the 21st century. With respect to textiles, he expresses concern over Chinese imports and cites the fact that his administration for the first time made use of the safeguard mechanism in the Chinese WTO accession agreement to impose quotas on textile imports. In his nomination acceptance speech at the Republican National Convention, President Bush also cited the need to provide training assistance for textile workers who have lost their jobs. He says he will continue to pursue multilateral, regional and bilateral trade agreements that are beneficial to the United States.
Senator Kerry, on the other hand, is highly critical of the Bush administration's trade policies including what has happened with textile trade. He says the Bush administration waited for 17 months to issue procedures for how US firms could benefit from the safeguard mechanism. He is with the industry in his opposition to CAFTA "in its present form," and he says, if elected, he will initiate a 120-day review of all trade agreements, investigate what he sees as China's worker rights abuses, and make "more forceful efforts" to stop illegal currency manipulation.
Both US textile manufacturers and importers have long urged the government to do a better job of policing textile and apparel imports, but with more and more resources being devoted to controlling drug traffic and strengthening homeland security, that is not very likely to happen.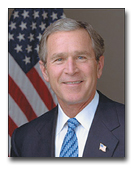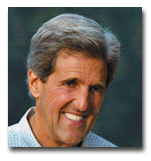 Both President Bush (left) and Senator Kerry are in favor of free and fair trade, but each sees it in a different light.
Industry Pursues Imposition Of Import Quotas
US textile manufacturers and importers are engaged in a heated battle over the use of the WTO's safeguard mechanism to impose import quotas on China. A coalition of textile manufacturers is seeking import quotas based on a threat of market disruption, and although the US government put one-year quotas on three categories of textiles last year based on what it viewed as actual market disruption, use of a threat approach would be plowing new ground. Without agreeing there is a threat of market disruption, the US Department of Commerce has confirmed the industry's right to file threat-based petitions.

Importers of textiles and apparel have reacted sharply to the plan to seek threat-based quotas. The National Retail Federation (NRF) charged that the textile industry is trying to " recreate the old system of imposing quotas against imports based on backroom political deals" at a high cost to consumers. NRF's Vice President Eric Autor said that up to this point, the US government has limited its decisions in textile safeguard cases to those involving actual market disruption. He charged the textile industry is asking the government to go beyond that standard and is seeking "protectionist action against alleged threatened disruption that may not occur in the future."

Products for which the industry is likely to seek threat-based quotas include shirts, trousers, blouses, skirts, dresses, undergarments, and cotton towels and sheets. Quotas are slated to end for these categories Jan. 1, 2005. The petitions will be based on a new industry study by the NCTO that says China now controls 72 percent of the US market in 29 apparel categories released from quota in 2002. Cass Johnson, president, NCTO, said "History has proven that China can capture as much as a 30 to 40 percent market share in a single year, and we will not allow China to do the same thing in the categories still under quota."

The question of whether to impose safeguard quotas will involve a long, drawn-out process that may take several months, and then if any quotas are approved, they will be in place for only one year. If it is determined that market disruption or the threat still exists, quotas could be rolled over year-to-year.
Trade Liberalization Talks Face Hurdles
While the US textile industry has been concerned primarily with quotas, the next big issue is likely to be tariff reductions. In the face of a quota-free world beginning in 2005, US textile manufacturers see tariffs as one of their few remaining safety nets. The WTO's on-again off-again trade liberalization talks are back on track with agreement on a "negotiating framework." Trade liberalization negotiations launched in November 2001 fell apart last year in Cancun, Mexico, over disputes between the developing and developed nations among the WTO's 147 members. The major reason for the collapse of the talks was disagreement over agriculture subsidies, but many of those issues appear to be resolved, although US cotton growers are not happy with the framework. US Trade Representative Robert B. Zoellick praised the framework as "a crucial step for world trade," noting that WTO members have agreed to " historic reforms." Despite his optimism, however, Zoellick said a lot of work needs to be done before there is agreement on the industrial and service sectors. What to do about industrial tariffs could well be the next stumbling block.

With regard to the industrial sector, the WTO framework calls for significant reductions or elimination of tariffs. Members have agreed to negotiate a tariff-cutting formula for industrial products under which higher tariffs will be reduced more than low tariffs. Zoellick says this will benefit US manufacturers, because foreign tariffs on industrial goods currently average 40 percent, while US tariffs average 4 percent. That appears to play into the hands of US textile manufacturers who insist that if tariffs are to be cut, other nations should reduce their tariffs before the United States makes any further concessions on textiles and apparel.

At the moment, US textile manufacturers see little improvement in the new framework over earlier proposals, which they strongly opposed. Cass Johnson, president, National Council of Textile Organizations (NCTO), says the current proposal "allows too many countries to escape from making reductions in textiles and apparel tariffs."
October 2004



Advertisement