Fall-Winter 2005-06 Preview
New York City fabric shows previewed Fall/Winter 2005-06 collections.
Virginia S. Borland, New York Correspondent
A
t a number of recent fabric shows held in New York City, color, surface interest, comfort, suppleness and drape received early emphasis for the Fall/Winter 2005-06 season.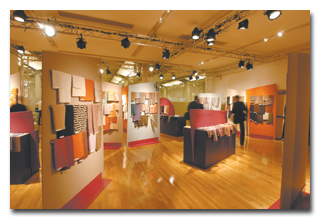 European PreView featured 145 weavers from nine European countries.
European PreView
Among the 145 weavers from nine European countries that exhibited at European PreView, there were 66 from Italy, 43 from France and 14 from Spain. Other exhibitors came from Austria, Germany, Ireland, Portugal, Switzerland and the United Kingdom. The wool sector was the largest, with 60 exhibitors.
Many of the European PreView exhibitors were selling three seasons. At Limonta S.p.A., an Italy-based company that specializes in sportswear fabrics, US agent Howard Strachman said some customers were placing orders for immediate delivery, and others were buying fabrics for Summer 2005. "Designers are just starting to look for ideas for Fall/Winter 2005-06," he said. Light, sheer nylon sateens with a soft hand, bonded and coated cotton fabrics that are lightly brushed on one side, taffeta for down quilted outerwear, and vintage wools with a 1950s look are popular.
Frantissor Creations, a France-based outerwear fabrics specialist, showed a lightweight fabric that reverses from matte to shine that is selling for down quilting. Thomas Brochier, a representative for the company in New York City, said, "The shiny side is used inside. It is treated to prevent feathers from going through the fabric."
Switzerland-based Schoeller Textil AG has expanded its soft-shell line of protective fabrics. New qualities include double cloths and bonded fabrics. A fleece/twill combination was pointed out. "It is selling to high-end casual fashion designers," said Urs Wicki, USA export manager, fashion. "Fashion people want new and trendy fabrics," he said, showing supple, transparent nylon fabrics embossed with reptile or swirling circle patterns.
Corduroy and denim turned up in the sportswear sector. Tejidos Royo, Spain, showed soft, brushed denim woven of cotton/Tencel®/Lycra®. Piqué weaves were pointed out. Twelve-ounce denim is popular.
Germany-based corduroy and velvet producer Cord & Velveton GmbH showed corduroy woven with Modal®/nylon and a cotton pile. It has drape, stability and strength. Thermolite® and Coolmax® are other fibers used.
Linea Tessile Italiana S.p.A., Italy, showed a diverse collection of novelty fabrics. Mini-rib metallic-printed cotton corduroy, flocked corduroy, flocked crushed velvet and nylon/viscose metallic-printed taffeta were some of the new ideas exhibited.
Greuter Mitlödi and Gessner, both based in Switzerland, shared a booth at the show. Ueli Fisch, CEO, Greuter, said the company is using new fibers to give fabrics comfort and impart well-being. Interlocks containing cotton and SeaCell® - a fiber from Germany-based Zimmer AG that is derived from seaweed blended with Lyocell® - are selling for intimate apparel. Carbon fiber, reported to relieve tension, is blended with MicroModal® and lyocell in another fabric.
Uli Senn, sales manager at Gessner, said European PreView is a show at which he can keep in touch with his customers. "Because it is the first event of the season, we can work together with our customers to initiate new ideas," he said.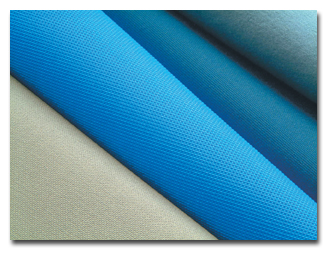 Schoeller Textil showed a variety of fabrics at European PreView including protective fabrics with glittering yarns, brilliant color and understated sheen.
The Wool Sector
For Fall, casual styles are influencing formal. There are Teflon®-treated wools, polyurethane coatings, and blends with high-performance man-made fibers. Germany-based Wilhelm Becker - jointly owned by the Becker family and Daun & Cie AG, Germany - had more innovative fabrics on hand than ever before. Stretch piece-dyes of wool/Coolmax are soft and colorful. For trans-season, there are lightly brushed wool/linen and wool/silk blends woven in optic patterns.
At Robert Noble of Scotland, customers showed interest in soft colorful lambswool tweeds of 300 grams per square meter (g/m2). Some are nubby, while others contain Lurex™.
Shetland wool and lambswool tweeds are early sellers at Lochcarron, Scotland. Surfaces are natural and hairy; tarnished metallic yarns give subtle shine. "Copper is the metal of choice," said Leah Robertson, USA export manager. "It's not in-your-face shine."
At Mallalieu's of Delph Ltd., England, designer and sales manager Jason Boyd said, "Lambswool has the hand people want - it's soft." Flannels are mill-finished for a lofty touch, or flat-finished. Some blend lambswool with cashmere.
Michael Mason, US agent for Jules Tournier & Fils, France, said, "Chanel continues. Tweeds in strong colors and with Lurex are what our customers want." He pointed out tweeds and plaids of mohair/ wool/nylon. Giant glen checks and herringbone tweeds that are polyurethane-coated are selling to the accessories market.
Isoule Textile, France, showed traditional tweeds and supple bouclés. "Sparkle and surface interest are more important than design," said President and Export Manager Gerard Alzieu.
Textured solids with a vintage look turned up at Italy-based Picchi. Lurex is used in menswear suiting stripes and in nubbed tweeds.
Prints For Fall
James Molina, US agent for Sedera, Spain, said discharge prints on silk have made a comeback. "It is the first time we have printed on silk in 30 years," he said. "Offbeat traditional designs are selling, especially Persians and paisleys." Animal prints on stretch cotton are another popular look.
Italy-based Miroglio S.p.A. also showed silk and paisleys. "Paisleys are the next skins," said Frank Iovino, head of Miroglio Textiles USA Inc., New York City. Giant, spaced paisleys are metallic-printed on silk georgette. There are patchwork paisleys, blurred Baroque patterns and printed tweeds combined with printed lace.
At Chaine et Trame S.A., France, stretch poplin and sateen are popular base cloths. "Customers are asking for surface interest," said Ronald Sheridan, New York agent, who showed jacquards, burn-outs and novelty bouclés.
Modern art offered inspiration for print and pattern at some of the firms selling to couture markets. At Weisbrod-Zuerrer AG, Switzerland, jacquards are influenced by Cubist artist Piet Mondrian. Double jacquards combine plaids and flowers.
Bianchini, France, showed the look of Spanish artist Joan Miró on silk chiffon. The patterns are delicately hand-painted.
Mantero Seta S.p.A., Italy, showed five themes. Enchanted Forest has impressionistic florals printed in lush jewel colors on silk twill, matelassé and crepe. They are shown with wool jersey and tweed. Feminine Mystique colors are pale and soft. Tie dyes, dot/flower combinations on sparkle grounds, a lot of blue and purple, paisleys and animals are in a group called Day for Night. Big, brightly colored flowers printed on silk jacquards are in the Flower Power range. Shades of brown, orange, red and metallic colors are in the Chocolate group.
Fabrics At TFFE
At the Turkish Fashion Fabric Exhibition (TFFE), organized by the Istanbul Textile and Apparel Exporters' Associations (ITKIB), 49 textile companies showed their new lines. Attendance totaled 1,500.
Many of the firms showing at TFFE offer a full package, with capacity for spinning, weaving or knitting, dyeing and finishing, through to garment production. Fabrics are of high quality and usually woven of natural fibers. The Turkish textile industry buys 500,000 pounds of cotton annually.
Tom Ahmann, a marketing services representative for Bossa, said, "It's been an exciting year for denim." He showed a bamboo/cotton blend that has a soft touch and lustrous appearance, and is antimicrobial. Another new concept is a dye technique that gives denim bright, deep colors and reduces fading.
There is novelty and surface interest at Sucuka Jarse Orme San. A.S., a knitted fabrics producer that sells to intimate apparel and sportswear markets. There are pleated flocked sheers, aged looks, and metal or lacquer printed on mesh.
Ozbucak San. Ve Tic. A.S. has a line of color woven shirting and suit-weight fabrics with small, decorative designs. There are end-on-ends, mini checks and pinstripes with surface interest.
At BTD there are novelty plaids, tweeds and twills in blends of wool/viscose/nylon/spandex. Some have subtle Lurex touches. Basics with coordinating updated classic stripes and checks have a supple touch.
Guney-Polgat is one of Turkey's largest and oldest mills. It is a vertical operation with a capacity to weave 45 million yards annually. For Fall, the company is showing corduroy with and without stretch, 100-percent wool with natural stretch, and wool/Lycra in weights of 180 to 210 g/m2.
At Yunsa Yunlu San. Ve Tic. A.S., Michael Herzon, director of womenswear in the New York City office, said, "We make Biella-type fabrics that are washable and wrinkle-resistant." There are woolens and worsteds of all wool, or in blends with cashmere, viscose, Lycra and polyester. Some are Teflon-treated.
Satins in a variety of weights are strong sellers at Saydam Tekstil San. Ve Tic. A.S. A yarn-dyed stretch satin of rayon/acetate was pointed out by Nina Aronzon, executive vice president of Symphony Fabrics Corp., New York City-based partner of Saydam.
Innovation Asia
Innovation Asia, sponsored by Tencel Ltd., England, showed lines by 23 textile companies from China, India, Japan, Korea and Taiwan.
Denim and corduroy were in evidence at the show. Chonbang Co. Ltd., Korea, showed Tencel/bamboo denim that has been crystal-finished to provide vivid colors and reduce fading. A & A Textiles Co. Ltd., Taiwan, showed Tencel/cotton denim in novelty patterns including broken stripes, jacquards and discharge prints.
Chinese exhibitor Mozartex Co. Ltd. showed brushed moleskin of Tencel/wool and soft, lustrous Tencel/cotton corduroys; some contain spandex. Willgold Industrial Co. Ltd., Taiwan, showed short-staple polyester with wicking properties in plain weaves, piqués, pinstripes, herringbones and twills. Tencel/linen blends at Be-Mode Textile Co. Ltd., Taiwan, have been enzyme-washed for easy care. Rajasthan Spinning and Weaving Mills Ltd., India, showed Tencel/wool, and Tencel/silk/Lycra knits with a rich look and soft touch.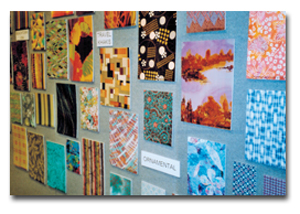 Direction offered visitors a variety of design displays, including ornamental and travel khaki designs.
Surface Design
Two shows that started out showing printed fabric designs have expanded their bases. Massimo Iacoboni, show director, Printsource, said, "We've organized the show by category, with special sectors for prints, knits, antique swatches, woven patterns, embroidery and appliqués. We group menswear, womenswear and childrenswear together in each sector."
At Direction, 130 exhibitors showed collections from international design studios. "It's the art of fashion for the business of fashion," said Lisa Mainardi, producer. Along with surface design for apparel, home furnishings and accessories, there were yarn and computer-aided design softwear exhibitors. Separate trend displays for menswear, womenswear and childrenswear showed color and design directions for the upcoming season and provided resource information.
Frank Rejto, a representative of Faro Disegni, Italy, said, "There are no more mega-trends. It's more individual." A lot of his menswear customers were buying embroidery designs on shirting stripes. He mentioned home furnishing and apparel firms are buying similar patterns.
Indoscene Inc., New York City, provides outsourced design services. "We take a print and get it to market," said Andy Ward, director. The cost is 40 percent below market on a project basis. The company handles color, scale and repeat, working with each customer as its own in-house studio.
New York City-based Splash Ltd. represents more than 15 international studios. For Fall 2005, customers are buying paisley designs on batik grounds, plaids combined with argyle patterns, ombre stripes and motion stripes.
Paisleys, ethnic designs and skins combined with florals were pointed out at Avantgard, Italy. At Whiston and Wright of London, textural prints that simulate woven effects were shown with floral, paisley, damask and Rococo images.
Tom Cody Design Inc., which has offices in New York City and London, showed paisleys colored in rich, deep shades of purple, burgundy and gold. There are tonal borders, dip dyes and a lot of embellishments.
At The Style Council, New York City, nature themes such as leaves and acorns are popular for menswear. Womenswear designers were looking for homespun looks.
Fashion Design Concepts Inc., New York City, converts antique patterns to contemporary apparel, selling a package that includes the original fabric, an updated pattern and a concept garment. Most of the swatches are antique embroideries. They are redesigned to be produced using multihead machines.
Cable stitches, argyles, Fair Isles and intarsias were some of the best-selling knit patterns at Milford Design Studio, New York City, and at Knitwear Network, Seattle. Both firms reported interest in weightless chunky knits.

October 2004
Advertisement