CAFTA Summit Focuses On Supply Chain Issues
The Central American Free Trade Agreement (CAFTA) Speed To Market Summit held recently in El Salvador attracted almost 600 attendees from the Central American trading region, including more than 200 from the United States.

Organized by the Atlanta-based American Apparel Producers Network (AAPN), in partnership with Roberto Bonilla, a Salvadoran businessman who also served as the summits chairman, the second edition of the annual summit offered 15 sessions covering a range of supply chain topics. Panel discussions at each session focused on one step in the chain, such as trim, fabric or brands; or financing or product development.

"It is amazing how far the region has come in such a short period of time less than three years," said Mike Todaro, managing director, AAPN. "From a heritage of just sewing to one of complete full package, including product development, the regions progress has been frantic yet focused. "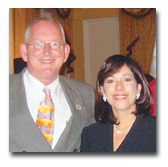 Mike Todaro (left) and Ana Vilma de Escobar, vice president of El Salvador

October 2004
Advertisement