Turning Innovation Into Consumer Products
STA's conference stirs dialogue among retailers, mills and suppliers.
Jim Borneman, Editor In Chief
J
im Booterbaugh set the tone for the Gastonia, N.C.-based Southern Textile Association's (STA's) second annual Machinery/Suppliers Conference when he said: "This product innovation conference is a sharing session, to share information and education throughout the supply chain. We need to get branding and retailing involved to share that information."
Hosted by the North Carolina Center for Applied Textile Technology, Belmont, N.C., the conference attracted more than 100 registered attendees ranging from fiber, chemical and machinery suppliers to traditional textile manufacturers and retailers.
The mix of presentations and panel discussions brought to light both the challenges the US textile industry faces and the opportunities that await it. "In many ways, it has been like pushing a rope," said Booterbaugh, director, operations, National Spinning Co. Inc., Raleigh, N.C., describing the link between innovation and creation of a retail product. "We've made hundreds of different yarns with an 'if we make it, they will come' attitude - very often that just hasn't happened. This conference hopefully creates [an environment of] 'rope pulling' with retailers and brands pulling with information."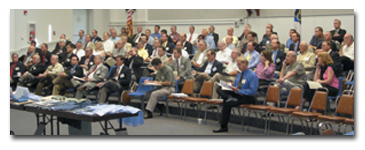 The second annual Southern Textile Association's Machinery/Suppliers Conference attracted more than 100 registered attendees.
Everything Has Changed
The first of eight speakers, Gary Moore, product integrity director, GAP Inc., San Francisco, spoke of concerns and opportunities in his presentation titled "Innovation: A Retailer Perspective." Moore, using a very open and direct approach, stated, "Functional innovation is more important than ever." Gap, along with sister companies Banana Republic and Old Navy, needs a continuous stream of successful new products, according to Moore, to grow revenue in today's global business environment.
Overall, Moore's message was one of hope for the US industry. The challenges US manufacturers experience in working with Gap - fleshed out by questions from Neil Cahill, director, Center for Creative Competitiveness In Manufacturing, Wilmington, N.C. - focused on three areas: "You need to understand our business," Moore stated, referring to his idea that a supplier should think like a retailer. Speed - regarding rapid product prototyping in five to seven days - was a second area Moore mentioned. A third was the supply chain - meaning that a US supplier needs to have the supply chain in hand when bringing innovation to Gap, yet be flexible with Gap in adjusting the chain based on Gap's relationships and needs.
Cahill pushed further, asking Moore if the US industry was organized properly. With some uneasiness, Moore simply stated, "No." Throughout his presentation, it was evident that Gap understands the consumer. The company spends vast sums researching market trends. In product development, when a product hits, it needs to be deliverable in what Moore calls "fast, foolproof implementation."
If Gap is interested in a specific yarn, but there is no supply chain presented to put that yarn into garment form quickly - that presents additional challenges for Gap to pull the yarn into a product. "In terms of Asia, that is not really the case," Moore said. The vertical nature of many Asian suppliers and their ability to develop and implement products rapidly positions them as first-line suppliers, with US manufacturers often picking up restocks due to proximity to market. "We often have an Asian prototype in hand while other [US] suppliers are working on a cost," Moore said with more disappointment than criticism.
As an example of working out the kinks in the supply chain, Moore spoke of working on a basic Gap casual shirt. After Gap made specifications based on its consumer research, a US manufacturer challenged Moore to change the specifications - "That just doesn't happen in Asia," shouted a member of the audience - and Moore agreed. "You need to understand," Moore said, "everything has changed."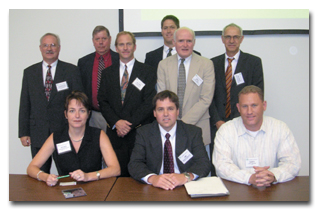 Top row (left to right): Everette Scarboro; John Anderson; Allen Little; Ron Salati; William M. Gray; and George Ensslin. Bottom row (left to right): Renee D. Hultin; Jim Booterbaugh; and Gary Moore
Complex Fancy Yarns
Allen Little, textile application manager, Amsler Tex AG, Switzerland, spoke about "Redefining the Fancy Yarn Business." Taking the premise that simple effect yarns such as slub yarns are now commonplace - even commodities - Amsler has moved toward making complex fancy yarns.
Little presented a number of garments purchased around the world that highlighted the high margins available with unique products, often created with complex yarns featuring slub, multi-count and multi-twist effects.
According to Little, complex fancy yarns fall into three categories: complex ring; complex open-end; and complex core. His presentation highlighted the nature of new effects and the processing capabilities of Amsler products. Amsler is globally investing to incorporate effect yarn capabilities into the product mix. The flexibility of Amsler products highlights the opportunities of the manufacturing process and the variety of product available to designers of retail products.
Technology With A Twist
William M. Gray, general manager, Textile Machinery Division, Murata Machinery USA Inc., Charlotte, presented "Summer Sheets and Bed Wear from Air-Jet and Vortex Yarns," with an emphasis on the linkage among fiber selection, yarn construction and fabric construction in building innovative products.
Gray presented a case for building on the attributes of dri-release® moisture-transport fiber by maximizing product quality and life using air-jet- or vortex-spun yarns to create new sheeting fabrics and apparel products. He cited the new Night Ease™ product from Night Ease LLC, Seattle, made using Wilmington, Del.-based Optimer Performance Fibers' dri-release fiber spun into an air-jet yarn. The popular new products leverage the increased wickability and drying properties of the dri-release yarn and address night sweat issues associated with menopause. Gray pointed to summer sheets and sleepwear as just the beginning of future opportunities.
Gray, in closing and as a member of the committee responsible for the conference, spoke of the need for increased communication and cooperation through the full supply chain. He also stressed the important step of including and sharing both the concerns and opportunities presented by the retail community.
A Diverse Weave Room
George Ensslin, consulting engineer, Sultex Ltd., Switzerland, spoke about the importance of innovation and presented a model based on three stages: Defend your current styles; then build based on new applications; and finally, create through developing a new business model. "Do not forget that 80 percent of the 300 billion square yards of fabric produced in 2003 were plain-woven," said Ensslin.
The heart of the message was to adopt a process of migration to higher-margin products that builds on the strengths of the organization, communication with customers and acquisition of new skills and know-how that "expand the range of applications in your weave room with existing machinery." With this process in place, sheeting weavers might consider making grinding cloth or reinforcement fabrics for composites. Denim producers might consider developing fancy denims, surgical cloth or corporate wear. Technical fabrics, coated fabrics, geosynthetics, agrifabrics, filters and shelter fabrics become options.
In the end, Ensslin cautioned that "long-term best sellers invite competitive copying, legally or illegally, or - even worse - can be replaced with better or more attractive products. Do not put all your eggs in one basket!"
Fiber That Improves Blood Oxygen Levels
John Anderson, vice president, advanced polymer applications, Wellman Inc., Shrewsbury, N.J., spoke about Holofiber™ from Hologenix LLC, a Charlotte-based joint partnership established between Wellman and Holofiber LLC, Los Angeles. The fiber contains nanoparticle additives of all-natural, benign components that are optically responsive to light, both visible and invisible. The company reports that when worn on or near the body, Holofiber responds to available light and the energy emitted by the body and makes the light and the body's own energy available to the body at the cellular level. The cellular interaction that takes place increases oxygen levels in the body's tissue, thus increasing energy and promoting improved performance and recovery.
In commissioned studies of Holofiber's performance using diabetic patients and healthy subjects, statistically significant increases in transcutaneous oxygen were observed. With efficacy issues a concern, all licensees are required to submit Holofiber fabric and garment samples to Hologenix for efficacy testing.
End-uses range from medical and performance hosiery to wraps and bandages. There also are equestrian, medical and performance apparel products in development. Anderson pointed to multiple products, including socks for air travel that reportedly relieve some of the effects of jet-lag.
Multi-Drive Adds Options
Everette Scarboro, vice president, product development, Saurer Inc., Charlotte, presented the latest developments in effect yarn and slub techniques, brought about to complement modern multi-drive systems available on the latest spinning frames. The FancyDraft system for Zinser ring-spinning machines and FancyNation system for the Autocoro 360 present new opportunities that leverage the control aspects of the technology rather than add-on devices to create effect yarns. In the case of the Autocoro 360, Scarboro said that with the introduction of the Schlafhorst SE12 spinbox, "for the first time, the feed shaft with electric clutch has been eliminated and small stepper motors have been put in their place. Signals from the FancyBoard pass through the standard board and cause the individual feed motors, the stepper motors, to speed up and slow down in order to create the desired slub effect."
Both the Zinser and Schlafhorst products allow operators to impact the various parameters with flexibility and reproducibility. "Because they are based on the latest developments, they are only applicable to our newest models," Scarboro said, referring to the advanced control technology. "They are not available as a retrofit." Ease of use and flexibility have drawn interest from spinners around the world.
DAK Americas' Trade Brands
"Specialty Polyester Staple Fibers: Engineered Performance," presented by Charlotte-based DAK Americas representative Ron Salati, addressed DAK's specialty fibers strategy that resulted in the development and promotion of fiber trade brands Delcron® Hydrotec™, Delcron SteriPur® AM and Delcron HydroPur fibers. The three-fold strategy is based on: offering high-value products at a competitive price; promotion of DAK brands to DAK's direct and indirect customers, but reliance on DAK's customers' brands for retail and consumer marketing; and patented fiber processes. The performance aspect of DAK fibers, whether moisture management or antimicrobial properties, is built into the polymer to create permanent performance that will not wash or wear off during the garment's life cycle.
Delcron Hydrotec has permanent hydrophilic properties derived from technology that provides bonding sites that attract water molecules. The fiber wicks moisture and transports it from the skin to evaporate on the fabric's surface. According to the company, it allows water to evaporate at a faster rate than do competitive fibers.
Delcron SteriPur AM fibers incorporate Spartanburg-based Milliken Chemical's AlphaSan® silver-based technology, which inhibits bacteria growth - often the cause of odor, discoloration and fabric deterioration.
Delcron HydroPur fiber combines the moisture-management performance of Delcron Hydrotec with the antimicrobial nature of Delcron SteriPur AM.
Salati said the forward focus of DAK Americas is on a commitment to new and innovative best-value products, a commitment to trade branding and implementation of "solid technology, built to last."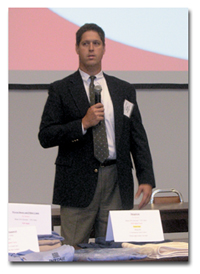 Dak Americas representative Ron Salati discussed DAK's specialty polyester staple fibers.
Nano-Tex Develops Brands
"Adding Value to Everyday Textiles and Apparel," presented by Renee D. Hultin, Nano-Tex LLC, Greensboro, N.C., detailed the brand-focused development of Nano-Tex. As it has developed its finishing technology, Nano-Tex has established eight locations globally, more than 50 licensed mills (eight in the United States) and more than 50 licensed brands. Hassle-free attributes such as wrinkle resistance and stain and spill resistance matter to US consumers. To meet those challenges, Nano-Tex is improving merchandise performance with an easy-to-use hang tag program, and sew-in labels that help consumers identify finished garments. A point-of-purchase marketing program, demonstration kits and counter displays are all in the marketing mix.
Hultin spoke of the company's entry into markets and proliferation into varying segments. Nano-Tex technology is used in branded everyday wear, activewear, outerwear, uniforms and interior furnishings.
More Papers Available
In addition to offering presentations at the meeting, STA distributed papers by Joe Essick, Barco Vision LLC; Barry T. Byrd, BASF Corp.; Rossano Biancalani, Biancalani S.p.A.; Christoph Aurich, Gaston Systems Inc.; and Fabio Lancerotto, Jaeggli-Meccanotessile S.r.l., to attendees.
Bringing It Together
"Creativity and innovation are not the same thing," Moore said. "Creativity is the art of thinking differently, which leads to the emergence of new ideas," he explained. "Innovation is a systemic discipline for consistently acting on new ideas to create value. "This year's STA Machinery/Suppliers Conference presented some of both in the form of ideas that could lead to value and examples of companies demonstrating the systemic discipline needed to generate innovative ideas.
Most importantly, the meeting demonstrated the need for improved communication between the retail and textile communities. The US textile industry must act with a unified approach in presenting innovation to the retailer. Lack of selling, marketing and branding integration are obstacles that impair the deployment of US-based innovation - often considered the linchpin of the US textile industry. Manufacturers need to pay attention to trade branding, presenting a coordinated supply chain and speed, and develop a think-like-a-retailer mentality.
October 2004
Advertisement