Finding The Road Best Traveled
The answers to nine questions can help streamline the supply chain.
Randolf Strang
T
he world is getting smaller, and business isn't getting easier. In fact, with globalization often comes complication. Changing trade agreements create new rules, and cross-border commerce means working with complex customs procedures, and multiple currencies and languages.
In the midst of all this complexity, today's textile buyers are particularly demanding. They expect the products they want, when they want them, at the price they want - whether the goods come from across the street or around the globe. And if your business can't fulfill their demands, then they'll find another company that can.
All of these factors make running an efficient supply chain more difficult than ever, so textile businesses need a logistics partner that can help make their company more efficient and ultimately more profitable. But how do you find the right company that will not only deliver your products on time, but also be a vital partner on your business's road to success? Here are a few questions and answers that can help you hone your search.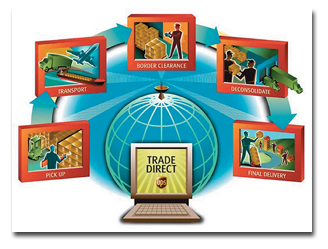 1) How can you make my global supply chain a competitive advantage?
This question is first because it gets to the heart of how important the supply chain can be. An efficient, streamlined supply chain makes your business lean and mean, and gets your goods to market faster than your competitors' - often at a lower price, giving you a better bottom line. When a supply chain works, you can focus your resources on more important things, such as expanding your business.
In the textile industry, time is money. New York City-based textile supplier Marcel Banziger Inc. understands this well. The company used to rely on multiple carriers, freight forwarders and customs brokers to import its fabrics from Switzerland, France, Italy, South Korea and Japan. But this often led to shipping delays, as communication wasn't smooth and customs errors were frequent.
In the highly competitive fashion world, a company that doesn't deliver on time won't stay in business. So UPS, an Atlanta-based shipping company with comprehensive logistics capabilities, stepped in to help, eliminating almost all of the company's air freight, reducing multiple carriers to one and saving at least one day in transit. UPS improved the customs process by pre-clearing US-bound shipments and ensuring same-day clearance. This has saved Marcel Banziger time and money, and even improved customer service because UPS tracking technology allows the company and its customers to always know the location of orders in transit. All of these factors have helped Marcel Banziger grow its business.
2) Can you integrate my supply chain so it works together as a whole, rather than in separate, component pieces?
The most efficient supply chain is one that connects a business to its suppliers, transportation company and customers. In a recent survey by WirthlinWorldwide, a Reston, Va.-based strategic research and consulting firm, the vast majority of executives said companies cannot improve their operations - much less expand globally - by trying to optimize individual pieces of the supply chain process.
Relying on multiple carriers to ship products can be inefficient and costly, as each order incurs international shipping rates and separate customs brokerage fees, and makes order tracking difficult. Textile businesses can save time and money by choosing one logistics partner that consolidates orders and ships them internationally as one unit, eliminating the multiple fees. Upon arrival in the destination country, the shipment then can be separated into individual orders and sent on to their customers.

3) Can you ship goods directly?
After products are shipped across borders, they often are sent to a distribution center to be sorted and then shipped again to their final destinations. Sometimes, this is the most efficient way to handle a large volume of international shipments. But oftentimes, it involves a lot of extra, expensive steps, and companies end up operating distribution centers they don't really need. So it's worth considering whether it's feasible to ship products directly from manufacturer to retailer.
For example, to move its shipments faster, Birkenstock Footprint Sandals Inc., Novato, Calif., needed one company to ship directly from manufacturers in Germany to US stores. With UPS Trade Direct Air, the interim handling and repackaging steps were eliminated. Orders now are consolidated in Germany, flown to the United States as one unit, and then separated into individual orders for delivery to retailers. The benefits have exceeded Birkenstock's expectations, with delivery times slashed in half and 100-percent on-time accuracy achieved.
4) How will customs be handled to minimize expenses?
Whenever products cross borders, they incur an array of fees, duties and taxes. While this is unavoidable, there are some ways to minimize costs associated with cross-border transactions.
G3 Genuine Guide Gear Inc., a Canada-based manufacturer of backcountry ski equipment, used to send most of its US-bound orders across the border individually. Every shipment was charged a fee by a customs broker for ensuring customs compliance. Now UPS consolidates G3's orders into a bulk shipment that generates a single customs brokerage fee, saving G3 money it can use to expand its business.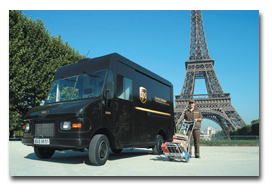 UPS' comprehensive logistics capabilities enable companies to track their products around the world.

5) How will I keep track of my orders, and how much staff time will this take?
In the fast-paced textile industry, an automated system that shows each step of an order's shipping journey is essential. Believe it or not, some textile companies still write out shipping documents by hand, so when a customer calls to locate an order, an employee has to make phone calls to different shipping companies to track it down. This is tedious and often inaccurate. A good logistics partner should be able to automate the process, so the business and its customers can log onto an Internet tracking site at any time and find out exactly where an order is.
6) How many invoices will I receive and in what currencies?
Straightforward shipping invoices reduce administrative costs and ensure that companies keep tabs on exact expenses so they can discern whether further improvements can be made.

7) How long will it take me to get paid by international customers, and can you help speed up this process?
Getting paid by customers across borders can be inefficient without the right systems in place. Quebec-based Malis-Henderson Inc., a company that makes bridal veils and headpieces, learned this the hard way. When it shipped to US stores, cash on delivery (COD) payments took at least 30 days, which hurt cash flow. Now, US retailers write COD checks to Malis-Henderson and give them directly to the UPS driver delivering the veils. Funds are transferred directly into Malis-Henderson's bank account, and the company gets paid within three days. Now, Malis-Henderson managers spend less time finding, opening, posting and depositing COD checks and more time on critical customer service and business development needs.
8) What cost savings and services can you offer me that your competitors can't?
This question gives a prospective partner the chance to focus on how it can sharpen your business's competitive edge. If getting products to market faster is a priority, then a logistics expert should outline exactly how it can do this.
India-based Suzarila manufactures embroidered fabrics and garments and exports them to high fashion houses such as Armani. The company needed later pick-up times to complete production of its handmade products, yet these products had to reach European destinations within 24 hours. UPS was able to meet this need, as its information technology helped speed up customs clearance, and its large aircraft fleet meant Suzarila's products always got on the next flight. Once in the destination city, UPS' extensive ground network gets the product to market on time.
9) How will you work with my company to keep refining our supply chain as business grows and changes?
Creating an efficient shipping system is ongoing work. As customers' needs change, your business must respond to their demands in real-time. The best logistics company should be a business partner that understands the textile industry and pays close attention to how the company's overall shipping process works. The partner you select should help improve your supply chain by handling goods more efficiently, creating better information about those goods through technology or processing the funds to pay for them. When these facets are synchronized and work precisely, your business can have the competitive edge it needs to succeed.
---
Editor's Note: Randolf Strang is vice president, consumer products and retail, UPS Consulting.

October 2004
Advertisement