ATME-I 2004 Flash Report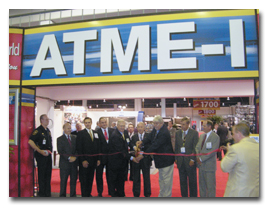 O
rganizers gathered for the opening of ATME-I® at the Palmetto Expo Center in Greenville.In the turbulent world of US textiles, the American Textile Machinery Exhibition-International® (ATME-I®) 2004 presented opportunities for the US textile industry and technology suppliers to come together in the context of a changing textile industry. There were two schools of thought on the exhibition floor one stuck in a reminiscent view of the good old days of ATME-I and the other focused on meeting the challenges of change in the American marketplace. For the second group, lower expectations gave way, in most cases, to an active show floor where key textile decision-makers were present, interested, requesting proposals and buying.
The show, sponsored by the American Textile Machinery Association, Falls Church, Va., and Greenville-based Textile Hall Corp., was held at the Palmetto Expo Center, Greenville. It drew 483 exhibitors from 22 foreign countries and the United States, excluding Iranian and Pakistani exhibitors, who had to withdraw due to visa conflicts. Twenty percent of the exhibitors were first-timers at ATME-I an interesting twist for a show at which many industry perennials chose not to exhibit. Some of those who failed to take space at the show were seen in the aisles, and it seemed that as the last ATME-I in Greenville got underway, few with a history in US textiles could bear to stay away.
Butler B. Mullins, ATME-I director, and president, Textile Hall Corp., said the show contained three firsts. ATME-I 2004 was the first complete show since 1973, rather than having the usual split-show format. The show offered its first co-location, featuring the Research Triangle Park, N.C.-based American Association of Textile Chemists and Colorists' (AATCC's) International Conference and Exhibition, and it was the first time ATME-I presented a full slate of conferences during the show.
AATCC attracted 110 on-site registered visitors and featured a full conference schedule. AATCC seminars were conveniently located off the entrance to Hall A, which housed numerous exhibitors catering to dyeing, printing and finishing needs.
Although ATME-I got off to a slow start, exhibitors reported better attendance and interest on the second and subsequent days of the show. Key US decision-makers from various sectors of the textile industry were visible on the show floor. Many of the larger traditional exhibitors reported interest from domestic mills, as well as from international manufacturers, particularly from Latin America. First-time exhibitors reported similar results.
With ATME-Is uncertain future, US mills may need to follow the traveling herd of exhibitors to see the latest textile technology, as global textile machinery manufacturers participate in the proliferation of shows around the world in the race to find growing markets.The November and December issues of
Textile World
will present technical coverage of ATME-I 2004 divided by manufacturing sector.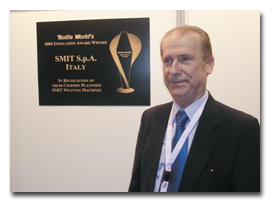 SMIT S.p.A. President and Managing Director Luciano Corain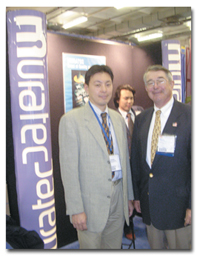 Takeshi Okubo, Murata Machinery Ltd., with A. David Anderson, Murata Machinery USA Inc.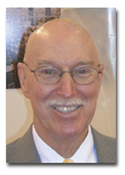 Jerry E. Perry, PSP Marketing Inc. North American distributor of Electro-Jet. Perry was the master of ceremonies for the Fong's reception held at the Poinsett Hotel.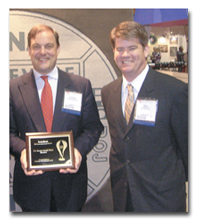 Charles Beauduin (left), NV Michel Van de Wiele, with Benjamin E. Mackey, Van de Wiele of America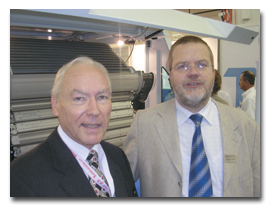 Kurt Scholler (left), American Trutzschler Inc., with Hermann Selker, Trutzschler GmbH and Co. KG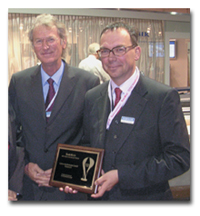 Egon Wirth (left), and Peter Dornier, Lindauer Dornier GmbH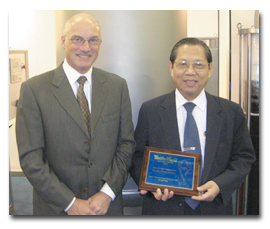 Peter Philip, PSP Marketing Inc. (left), with Fong Sou Lam, Fong's Industries Co. Ltd.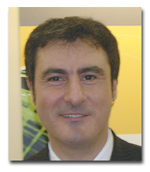 Silvano Auciello, Loepfe Brothers Ltd.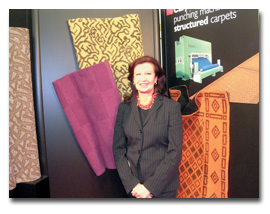 Mag. Monika Fehrer, president, Textilmaschinenfabrik Dr. Ernst Fehrer AG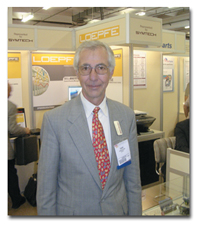 Hans J. Balmer, Symtech Inc.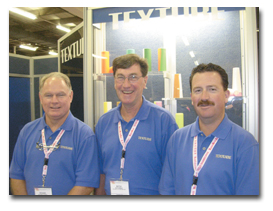 Above (left to right): Richard L. Cotney, C.P. "Butch" Moss Jr. and Alan B. Stepp of Textube, a division of CREFORM® Corp.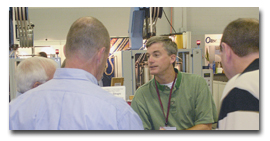 Henderson Wise (right), AB Carter Inc., speaks with customers.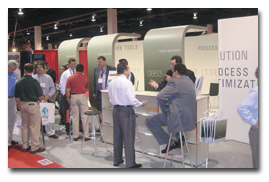 Groz Beckert KG had a very active booth.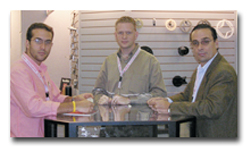 Sean Foster (center), Eldon Specialties Inc., meets with customers.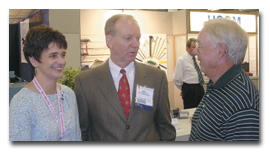 Left to right: Martha and Mike Honeycutt, Lawson-Hemphill Sales Inc., with William F. Roberts, senior partner emeritus, Roberts, Curry and Co.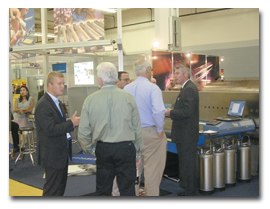 Roland Zimmer (right), Zimmer Machinery, speaks with customers.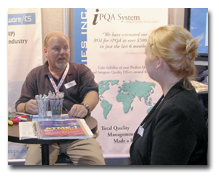 Bill Gallaway (left), eBridge Technologies, and Nadine Waigand, update Texware GmbH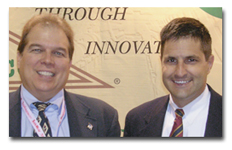 Steve McConnell (left) with W.J. "Jay" Alexander IV, Alexander Machinery Inc.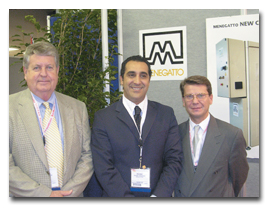 Left to right: Charles Bowyer and Redino Lrhezzioui of S.P.M. Textiles LLC; with Roberto Leuzzi, Menegatto Textile Machinery Research Center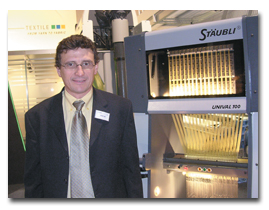 JoJegou, Stäubli Textile, with the Unival 100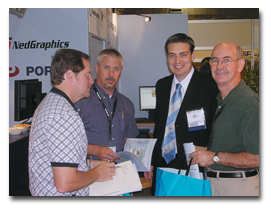 Sales Manager Jon Buchan, Porini USA Inc. (center, right), meets with customers.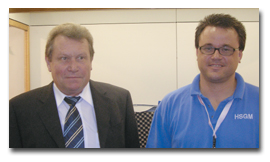 Erich Herrmann (left) and Michael K. Cox, HSGM Heatcutting Equipment and Machines Inc.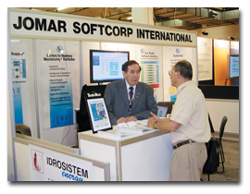 John C. Blasman, Jomar Softcorp International Inc. (left), presents the latest from the company.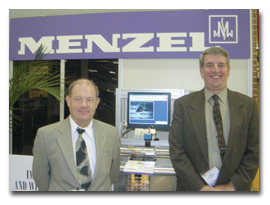 Jochem Schoellkopf (left) and Gene Anthony, Menzel, with the Menzel Vision System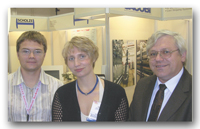 Left to right: Florian Kanzog, Nadja Junger and Reiner Junger, C-port GmbH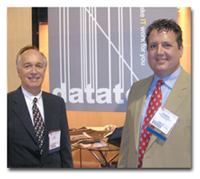 Jim Noble (left) and Shannon J. McCarthy, Datatex-TIS Inc.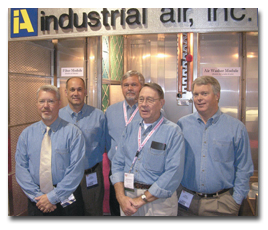 Left to right: Pat Caldwell Jr., Allen R. Hunter Jr., Jerry K. Beeson, Kenneth N. Sisk and Dave Phelps, Industrial Air Inc.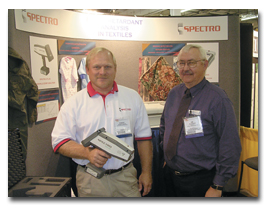 Robert Bartek, Spectro Analytical Instruments (left), with James R. Johnson, Ph.D., Olympic Laboratories Inc.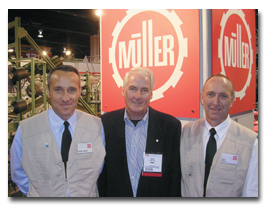 Left to right: Patrick Lli, Rene Frei and Hans J. Reiser, Jakob Muller AG, Frick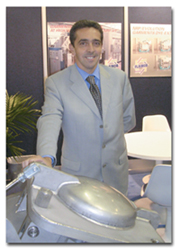 Flainoz S.r.l.'s Valerio Zaffalon presents the ARC/HT, a sample high-temperature high-pressure garment-dyeing machine for all materials including polyester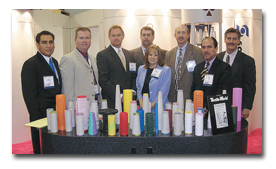 The Conitex Sonoco USA sales team showed their commitment to spun and sales yarn producers, introducing a paper tube with a new nose that is stackable and reduces paper pallet packaging.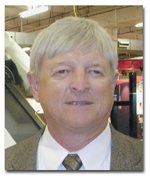 William D. Milligan, Tubular Textile Machinery Enterprises Inc.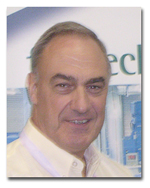 Jean-NoCozon, NSC Nonwoven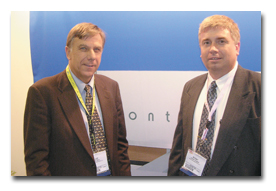 Joseph A. Okey Jr. (left) and Bobby R. Bowen Jr. of American Monforts LLC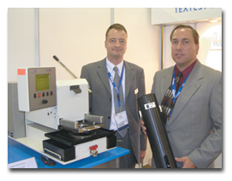 Reto Vogt (left) and Tim Ziegenfus, ATI Advanced Testing Instruments Inc., present the FX3000-III hydrostatic head test and (holding) the automatic droplet detector.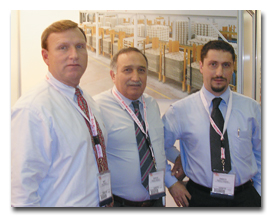 Left to right: Mike Daniels, M and M Machinery Sales, LLC; with Sergio Vandolfi and p.i. Enrico Pasquali, U.T.I.T. S.p.A.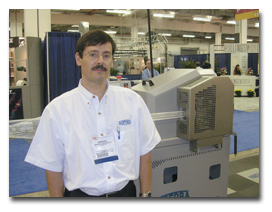 Bernard Chassignolle, Superba Textile Systems, with the MF/4 crimping box for carpet yarn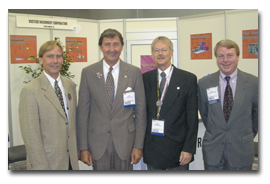 Left to right: Ken Kruse, Halis Alkis and Ingo Dg, Küsters Machinery Corp.; and Bill McAndrew, Zima Corp.
October 2004
Advertisement