Current Textile Trends
Robert S. Reichard, Economics Editor
T
he fourth quarter is beginning on a mixed note. On the positive side, the recent bottoming out of textile's long slide is still pretty much in evidence. More problematic, however, is the growing uncertainty about future imports as global quotas end next year.
Mill production has been holding relatively steady through most of 2004. Equally encouraging: Inventories at both mill and distribution levels now are in tolerably good shape and prices have actually begun to rise a bit.
On the latter score, both basic mill and mill product tags are running close to 2 percent above beginning-of-year levels. Zero in on greige goods, and the increase is even more impressive than that — something in the order of 3 percent over the past 12 months. Combine all this with relatively restrained cost increases and textiles, at least on an overall industry-wide basis, are now managing to eke out a small profit.
But all these encouraging trends still have to be weighed against the one big question mark: What happens in post-import-quota 2005? Changes are inevitable; but where, when and to what extent is still pretty much anybody's guess.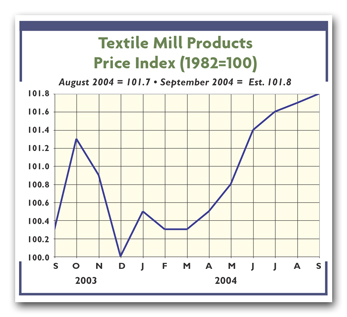 New Trade Developments
The quota question now is the industry's number-one topic of discussion and concern. Just a few weeks ago, for example, mill spokesmen appealed to Washington for restrictions on how much China should be permitted to increase its exports of apparel and home furnishings. Mill worries on this score are certainly understandable. Put bluntly, the US industry fears a new surge of Chinese textile exports to America will kill off what remains of our already hard-hit garment industry — plus decimate many producers in Mexico and Central America that are prime consumers of our yarns, fabrics, zippers and other textile and apparel products.
A recent World Trade Organization report sees China's share of garment imports to the United States rising to 50 percent after the quota system ends. That's up from just 16 percent in 2002, the year some initial restrictions were lifted. In contrast, Mexico's and the rest of the Americas' shares would drop sharply — from 10 percent to 3 percent in the case of Mexico, and from 16 percent to 5 percent for the rest of the Americas.
The New Import Strategy
The aforementioned move to impose strict limits on China's apparel imports is especially significant. It represents a change in basic approach — with the industry now asking for relief before the fact — based not on any actual import surge, but on the threat of market disruption. The rationale, as expressed by Karl Spilhaus, president, National Textile Association, is clear: "We can't afford to wait for market disruption to take place. That's tantamount to calling the fire department after the house has burned down."
Spilhaus added the industry has had extensive discussions with Washington trade officials and has received assurances that requests based on a threat to the market would be considered by the government. If successful, the industry would probably be able to restrict the increase in shipments from China of many clothing categories to no more than 7.5 percent a year.
An Improving Economy Helps
The economy continues to show modest advances — providing a fairly solid base for more consumer spending increases. Right now, the gross domestic product (GDP) looks to rise at about a 3- to 4-percent annual rate into early 2005. While well under recent highs, this should be enough to keep textile buying in the plus column.
In case there's any doubt on this "GDP effect," take a look at the industry's basic textile mill shipments over the past 12 months. They're actually up 4 percent — a marked change from the big declines of previous years. And if you zero in on mill products, the gains over the past year have been even more impressive. In any event, a rising economy — combined with the possibility of some modest government action to stem the import tide — suggest that mills won't fare that badly next year — with any declines a lot lower than some of today's purveyors of doom and gloom would have us believe.

October 2004
Related Files:
Download Current US Textile And Economic Indicators.
Advertisement