Gateway To Textiles
The seventh edition of India-ITME will offer visitors a modern-day bazaar of textile spinning, weaving and finishing machinery.
TW Special Report
M
ore than two decades of global textile machinery promotion in India will continue next month, when the 7th India-International Textile Machinery Exhibition (India-ITME 2004) takes place December 4-11, at the Bombay Exhibition Centre at Goregaon in Mumbai (also known as Bombay), India.
The show's organizers and promoters include the India-ITME Society, the Indian Textile Accessories and Machinery Manufacturers' Association, the Indian Cotton Mills' Federation, the Textile Association (India), the Textile Machinery Manufacturers' Association and the Bureau of Indian Standards - a government organization.
This year's edition of India-ITME - which has been held every four years since 1980 - will coincide with the Silver Jubilee, the 25th anniversary celebration of the India-ITME Society.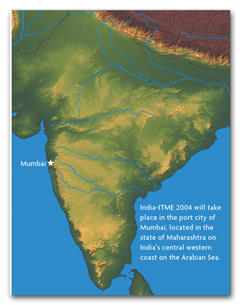 On Display
"India-ITME 2004 will showcase the latest technological developments in textile machinery manufacture and therefore offers a golden opportunity to the exhibitors and textile industrialists to interact and decide on new investments," said Shri G.T. Dembla, chairman, India-ITME Society.
Since its commencement, India-ITME has seen constant growth in the number of visitors and exhibitors it attracts. An anticipated 120,000 visitors - 17,000 more than at India-ITME 2000 - will have the opportunity to see textile machinery offered by more than 725 exhibitors from more than 25 countries.
The show will offer 50,000 square meters of exhibition space in four halls that will be devoted to a variety of machinery and accessories. Show organizers say India-ITME will specifically target the textile and apparel industries of South and Southeast Asia, China, the Middle East and Africa, as well as Latin American countries and former Soviet states. Spinning machinery will include blow room machines; carding, draw-frame, ring-, auto-coner and air-jet spinning equipment; filament texturizing machinery; two-for-one twisters; and other machinery, ancillary products and accessories.
Weaving, knitting and hosiery machinery will include sectional warping; shuttleless flexible rapier looms; jacquard, rapier and water-jet weaving machinery; flat-belt and circular knitting machinery; testing equipment; and accessories.
Dyeing, printing and finishing equipment also will be displayed, and will include soft-flow dyeing, screen printing, scouring and related machinery and accessories.
Web formation, bonding, and finishing and felting nonwovens machinery will be displayed as well. Exhibitors also will offer machinery and accessories for the making-up sector; testing and measuring equipment; pneumatic machinery; air-conditioning plants; material transport, handling and packing equipment; recycling equipment; and software.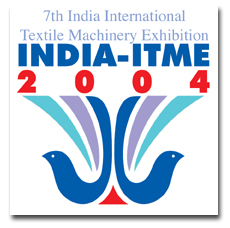 Seminar Series
A series of seminars will offer educational opportunities to India-ITME visitors. On Wednesday, December 8, the Federation of Indian Textile Engineering Industry will present New Dimensions for the Textile Engineering Industry - Roadmap for the Decade. The seminar will feature presentations from Indian and international speakers on subjects including machinery and components for technical textiles and nonwovens, global trade avenues, supply chain management, and the projected growth of the textile industry through 2010.
Textiles In India
India is fast catching up with China as a textile machinery marketplace that continues to grow at an ever-quickening pace. According to the India-ITME Society, the country boasts more than 2,900 textile mills; a ring spindle capacity of more than 38 million; 409,000 open-end rotors; more than 1.8 million weaving looms; and a growing knitting, hosiery and garment market.
India's 10th five-year plan, for 2002-07, estimates a gross domestic product increase of 8 percent, which includes industrial growth of 10 percent. According to the India-ITME Society, the plan aims to "build world-class, state-of-the-art manufacturing capabilities to attain and sustain a preeminent global standing in manufacture and export of textiles and clothing; and withstand pressure of import penetration and maintain a dominant presence in the domestic market."
The Indian government has proposed a number of plans to ensure its objectives are met. Spinning capacity must be restructured - of the 38 million spindles currently in use, 10 million need to be discarded, 15 million need to be brought up-to-date, and 3 million new spindles should be added. India's powerloom sector - responsible for 68 percent of Indian cloth production - must be modernized; investments also must be made in modernizing the finishing sector. The knitting, technical textiles, woolen and jute sectors should be expanded. Research and development of textile machinery as well as new technologies should be undertaken and introduced to the marketplace to ensure global competitiveness.
Organizers of India-ITME feel the exhibition is a must-see event for domestic and international companies that want to remain viable in a quota-free marketplace come January 2005.
"This exhibition is the engine for sharpening global trade in textiles," said Shri C.V. Radhakrishnan, executive director, India-ITME 2004. "It is taking place on the threshold of a major textile transformation. [India-ITME] will spur textile magnates to identify and go for investment in high-speed, productivity-oriented, environmentally friendly, cost-effective equipments in their search for measures to face fierce global competition."
Mumbai: Gateway To India
Situated in the state of Maharashtra on India's central western coast on the Arabian Sea, Mumbai is considered the international gateway to India due to its harbor and seaside ports. Formerly known officially as Bombay, the city was renamed Mumbai in 1996 by the controversial Shiv Sena municipal government to emphasize the city's native Marathi identity, despite its multicultural heritage.
The city boasts more than 18 million people located within 170 square miles, and is poised to claim the title of the world's most populous city by 2020, when it expects to have an additional 10.5 million inhabitants.
Because of its heritage and large number of inhabitants, Mumbai offers a variety of attractions. The indoor Crawford Market, also known as Phule Market, offers an array of scents, sights and people-watching opportunities; as well as fruit, vegetable and meat markets. North of the market is Kalbadevi, an area of bazaars whose merchants sell everything imaginable. Kalbadevi also is home to the Mumbadevi Temple, which is dedicated to the patron goddess of Mumbai's original Koli people.The Fort area of the city - site of the old British fort and the current commercial center of Mumbai - offers visitors a taste of Mumbai's European colonial roots, as evidenced by the area's ornate gothic Victorian structures. The Haji Ali Mosque, accessible only at low tide, is the home of the tomb of the Muslim saint Haji Ali. Residential area Malabar Hill is home to the terraced Hanging Gardens, also known as the Pherozeshan Mehta Gardens, which offer picture postcard views of Back Bay.
November 2004
Advertisement