Better Together
Lenzing's recent takeover of Tencel brings product diversity.
Virginia S. Borland, New York Correspondent
T
he merger of cellulosic fiber giants Lenzing AG, Austria, and Tencel Ltd., England, provides advantages for both, according to Ellen Flynn, director, marketing, USA, Lenzing Fibers. "That is why we are using the tag line 'Better Together,'" she said.
For Tencel, it gives the backing of a leader in all types of cellulosic fibers. For Lenzing, it brings a presence in the United States, with a strong marketing team, and immediate recognition with the brand name Tencel™. Lenzing now will label all of its lyocell fibers Tencel. "Not only will we be marketing Tencel lyocell, but we are adding Modal®, viscose and all of their variants," Flynn noted. Lenzing is keeping Tencel's offices in New York City and its marketing staff.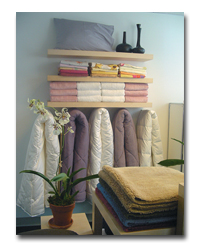 Lenzing's New York City office showcases products made with Tencel™ and Modal®.
In the end-use area, Tencel's strength in the United States has been in apparel. Worldwide, Lenzing Lyocell® is better known in home products. Victoria Pik-Cranis, merchandise manager, USA, Lenzing, will continue to handle merchandising for home furnishings and textile products.
A permanent display room has been installed at the office to highlight the variety of quality products available containing Lenzing fibers. The showroom will be updated seasonally and can be seen by appointment.
Products on view include sheets, towels, pillows, comforters, duvets, blankets, bath rugs, robes and upholstery fabrics. Resource lists are available for each product category. All are quality products with a luxurious touch, luster and color intensity.
Recently, Lenzing held its first At Home presentation at its New York City office to showcase products made with Tencel and Modal. Members of the textile, home fashion and retail industries were invited to learn about the origins, characteristics and performance values of these fibers and to hear a trend report by trend forecaster Jo-an Jenkins of Jenkins UK, London.
Flynn pointed out that products containing Tencel are environmentally friendly, biodegradable, anti-static and anti-allergenic; inhibit bacterial growth; have moisture-management properties; and are high-performance. Modal and Micromodal® dye like cotton and are more absorbent than cotton by 10 percent.
"It's nature and technology in perfect harmony," Flynn said.
For customers looking for new ideas, Jenkins presented directions for Fall/Winter 2005-06. She discussed influences on lifestyles, environmental concerns and new technology; and showed colors and overall trends for home products.
Jenkins presented six themes. Greenspace is inspired by the vegetable garden. Alchemy colors are inspired by flickering light at night.
Reflections features pale, luminous blues, mauves and lilacs. New classics are shown in a category called Equilibrium. It is understated, warm, soft and tactile. Exuberance features shades of pumpkin, lime, chartreuse and red.
The Memento group is pretty and soft with a Laura Ashley mood. "It's traditional colors and shapes used in nontraditional ways," Jenkins said. Colors are delicate and fresh for winter into spring.Lenzing is planning to hold At Home presentations twice a year. They will be open to all members of the supply chain. Along with the display room, Lenzing's marketing team will be working with key product areas on an ongoing basis.
November 2004
Advertisement