AFA Sets Sights On FloorTek 2005
The American Floorcovering Alliance strives to market industry members' services to the world.
TW Special Report
T
he American Floorcovering Alliance (AFA), located in Dalton, Ga., the "Carpet Capital of the World," was formed in 1979 as the Dalton Floorcovering Market Association (DFCMA) to promote the floor covering industry. AFA, which took on its new name in March 2002, promotes the industry's products and services to the world, and educates members and others through seminars, press releases and trade shows. Membership is open to any company in the floor covering industry or in a floor covering-related industry. Financial support comes from membership dues and trade shows. The alliance is governed by a Board of Directors elected from within the membership.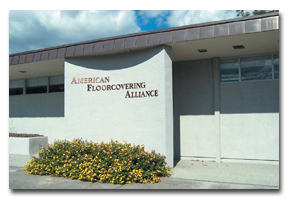 The American Floorcovering Alliance, located in Dalton, Ga. (above), recently elected Lamar Brown (below), CEO, Lessco Inc., president.


Membership Benefits
According to Wanda Ellis, executive director: "Membership means competitive advantage - from free marketing services to an on-line classified section, from a global trade network to group pavilions at foreign trade shows. These are just some of the many services that members may access as part of the American Floorcovering Alliance."
Conference Space And More
AFA's downtown Dalton offices provide members with a convenient place to meet clients, employees or peers and do business in a board-room environment. "Our members think of our offices as their offices," Ellis said, "and that's just the way we like it."
Throughout the year, AFA offers a variety of seminar topics with the inside track on who's doing what within the flooring industry. AFA also provides its members frequent news releases relating opportunities or events that may affect their business.
The alliance provides members with free, up-to-date mailing lists targeted to leading flooring industry manufacturers, distributors, vendors and others involved in the trade. "What's more, we can assist in the distribution of promotional literature for your company," Ellis said. AFA staff offers member companies a variety of professional promotional services, which include generating publicity through trade and news media contacts, preparation and distribution of press releases, free listing of products and services on AFA's website, listing within its membership directory, assistance in developing trade advertising, and advertising opportunities exclusively targeted to the trade.
AFA also sponsors local trade shows for the flooring industry, including the biennial FloorTek Expo, which features machinery, equipment and service vendors for the carpet and rug industry. The AFA staff coordinates the logistics of all exhibits, accepts reservations and provides other marketing services for the show. Additionally, AFA exhibits at such international shows as Domotex, held in Hannover, Germany, to promote the products and services of member companies. In terms of networking, AFA assists members in linking up with other companies to create a network of local, national and international companies.
Members of the alliance are invited to attend the annual meeting held each October at the end of the membership year. The meeting features a keynote speaker, Board of Directors nominations and an alliance-sponsored cocktail party followed by a dinner. Members also are encouraged to bring associates to network with other members.
Nominations for open positions on the board are accepted prior to the meeting, or they may be made from the floor during the meeting. Any AFA member in good standing may serve as a director. Directors on the board serve one- to two-year terms and meet four times a year to conduct alliance business.
"It's a unique opportunity for networking, as well as for having your views heard in regard to what the association can do in the future for you and the industry," Ellis said.
FloorTek Expo 2005
According to the alliance, manufacturers from all sectors of the floor covering industry, as well as those who make and sell products, are making plans to attend the 2005 edition of FloorTek Expo.
The event, which encompasses carpets, textile floor coverings, solid surfaces and laminates, fibers and yarn, machinery, applications and equipment, will take place May 17-19, 2005, at the NorthWest Georgia Trade and Convention Center in Dalton.
"This will mark the third year that FloorTek Expo has broadened its scope to include all flooring surfaces and related industries," Ellis said. "It's proven to be a great central gathering spot for people from throughout the industry to see evolving technology and products that will improve their businesses."
The Best of FloorTek Awards, to be presented during the expo, focus national recognition on individual and corporate flooring innovators. The competition recognizes excellence in a number of areas including environmental responsibility, innovative products or methods, individual leadership and historic industry corporate contributions.
"In addition to giving the winners industry-wide recognition, the Best of FloorTek Award is a very good way to provide added motivation and give special recognition to people within an organization," Ellis said. "It builds competitive spirit and an appreciation for best practices."
Since its 1994 inception, FloorTek Expo typically has attracted an impressive array of mill owners, CEOs, purchasers, plant managers and product engineers.
"It is a very targeted opportunity to meet with our specific industry, and that makes it cost-effective for everyone - exhibitors and attendees," Ellis said.
"We've always been an enthusiastic supporter of the event," said Jim Shaheen, president of Shaheen Carpet Mills, Resaca, Ga. - recently recognized by AFA for 25 years of membership. "It gives a lot of our key people a great way to learn what's going on around the industry and to revitalize their outlook with a new perspective. We make it a priority to be there."

November 2004
Advertisement