Technically Speaking
TTNA 2004 offered exhibitors and attendees a chance to exchange ideas, find solutions.
Rachael S. Dunn, Managing Editor
L
eading textile companies took full advantage of networking opportunities at the recent Techtextil North America (TTNA) 2004 biennial international trade fair for technical textiles and nonwovens. The third edition of the North American show, produced by Germany-based Messe Frankfurt, was held at the Cobb Galleria Centre, Atlanta.
Messe Frankfurt was pleased to announce both exhibitor and visitor numbers increased over those from the previous show, held in 2002. A total of 288 exhibitors participated, occupying 7 percent more floor space than in 2002. Show visitors totaled 3,844.
TTNA is increasingly international, with visitors and exhibitors from a greater number of countries this year than ever before. Exhibitors traveled from a record 26 countries. Registered attendees came from 46 countries, up from 32 in 2002 - an increase of more than 40 percent. International pavilions sponsored by countries that have previously exhibited at TTNA - Germany, France, Belgium and Taiwan - were joined by new pavilions showcasing technologies from Canada and the United Kingdom.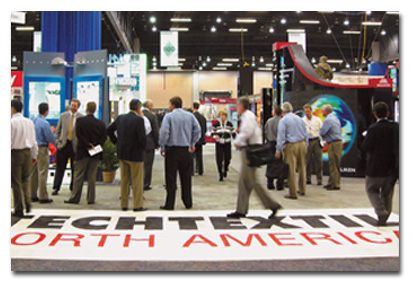 Both exhibitor and visitor participation increased at the most recent edition of TTNA.
Symposium Highly Regarded
Held concurrently, Techtextil Symposium North America (TTSNA) presented the latest research and market developments in nonwovens and technical textiles. The symposium was well attended - some of the topics were so popular that only standing room was available for some attendees.
Overall, the symposium received positive reviews. The variety of topics and the quality of the presenters were noteworthy. One speaker did recommend scheduling fewer speakers during a single session to allow more time for discussion among presenters and attendees. While the presentations are valuable, TTSNA also provides a perfect forum for interaction among members of the industry.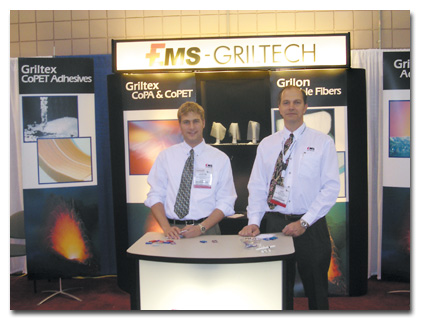 Justin C. Van Dijk (left), junior technical service engineer; and Lee Horeyseck, market segment manager, industrial, EMS-GRILTECH Americas
Technology Commitment
Charles E. Holland, vice president, Pharr Yarns Inc., McAdenville, N.C., was pleased to have participated in this year's show. "Techtextil NA continues to grow in size and quality," Holland said. "We were very impressed with the quality of the attendees. These are not just 'tire kickers' - they are decision makers, developers and innovators. We were busy meeting with current and serious potential customers from start to finish each day, and we found several potential export opportunities. This is a great show for those who are serious about the technical textiles business and are willing to make the difficult commitment to product technology and diversity."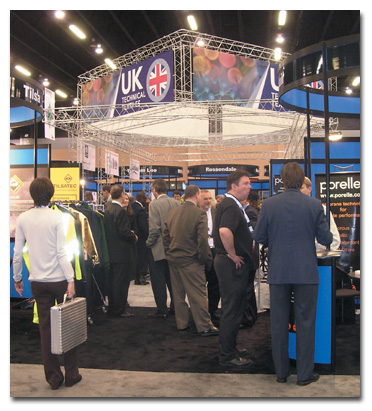 The United Kingdom pavilion, presenting both manufacturers, and research and academic parties, participated in TTNA for the first time.
It's About Solutions
TTNA is a difficult show to categorize. Although machinery plays a significant role at Techtextil, it's not a typical machinery-based show where exhibitors are selling and visitors are buying machinery. By all accounts, the show is about solutions. Exhibitors at Techtextil cover the technical textiles industry both horizontally and vertically - from fiber, fabric and clothing manufacturers to machinery makers, chemical suppliers, and research and development companies. Some new exhibitors weren't really sure what to expect from such a show, but no one complained about the contacts made and the opportunities presented.
"I felt the visitors were mostly fabric buyers, not machinery buyers," said Don B. Gillespie, sales and marketing manager, Fleissner Machinery, Fi-Tech Inc., Richmond, Va. "Yet we still feel it's important to attend this show. For this industry, we are promoting machinery for thermal heat-setting of geotextiles, and our hydroentanglement systems are still popular."
Industry Cooperation, Networking
Most exhibitors commented that although traffic was intermittent, visitor quality was excellent. Exhibitors were happy with the number of sales leads and contacts generated, as well as the networking opportunities with both attendees and fellow exhibitors.
"We have been able to build relationships not only with visitors to the show, but also with other exhibitors," said Chris Parlee, marketing and promotions manager, Bemis Adhesive Films & Coatings, Shirley, Mass. "The show allows the development of working relationships between separate companies making components that end up in the same consumer product. The show is an ideal situation for fostering these types of relationships.
"Our products are seeing a lot of cross-industry interest," Parlee added. "Typically, apparel people are interested in our products, but here we have seen automotive and upholstery people too."
"For us, this show is about creating business relationships rather than just selling machines," said Jim Alimena, vice president, marketing, Glenro Inc., Paterson, N.J. "Many visitors approached us with product ideas and wanted to know if our machines could help. One particular customer was looking for a way to make a three-ply laminated product. We have a lab line in Maysville, Ky., for running customer trials and are willing to work with customers to help them turn their products into reality."
Alimena said the most interest was shown in Glenro's flatbed laminating machinery. The company also provided information about its recently introduced powder adhesive laminating line.
"I made some good contacts," said Bernd Can, sales manager, Cavitec AG, Switzerland. "Most people I saw have old flame laminators and were interested to hear about hot-melt laminators."
For technical applications including lamination processes, EMS-GRILTECH Americas, Sumter, S.C., offered a wide range of copolyester and copolyamide hotmelt adhesive products with different melt temperatures and viscosities. The company also promoted its customer services - if the customer is not successful with one of its products, the technical staff will work with the customer to find the right adhesive solution.
"The show was more about people bringing ideas and inquiring about technologies, rather than people buying," said Karen Hesselbart, executive assistant, EMS-GRILTECH Americas. "The contacts we've made may not lead to sales for a year or two even, but this show is important for establishing relationships."
Visual Promotion,
Hands-On Demonstrations
Other exhibitors saw the show as a good opportunity to provide hands-on demonstrations of their products or to show potential customers actual product samples.
Stephan Herrmann, engineer, HSGM, Germany, and Michael K. Cox, product manager, HSGM, Heatcutting Equipment & Machines Inc., Duncan, S.C., were very happy to demonstrate the company's heatcutting tools and systems for interested parties.
"The show is a good opportunity to demonstrate our equipment," Herrmann said. "Most visitors have used our equipment at some point during their careers and just didn't realize it. For other people who have never used our heatcutters, some explanation is necessary. They may not need the equipment right now, but hopefully if they do come across a need for a heatcutter, they'll remember our name and call us. One misconception is that there is only one cutter available, but we have many different blades for a variety of applications."
A.B. Carter Inc., Gastonia, N.C., promoted air splicers for technical yarns, including aramid and fiberglass products. The company supplies various models that splice the yarn in one or multiple places - some almost invisibly - while retaining as much of the original yarn strength as possible. "We are moving worldwide as a company and are moving more and more into the industrial side of the textile business," said Carroll Craft, technical service representative.
"The show is a good opportunity to use visual displays of our product to attract visitors," said Dean Yarborough, industry manager, Shakespeare Conductive Fibers LLC, Columbia, S.C. "Our conductive fibers are supplied in many different forms and cover various applications. The show enables us to have face-to-face meetings and show physical samples."
Shakespeare® Resistat® conductive fibers, made by suffusing carbon particles onto a nylon fiber, can resist between 103 and 108 ohms per centimeter, depending on denier and filament count.
"We saw the greatest interest in products for traditional apparel applications, believe it or not," Yarborough added. "Another new area of interest is medical products."
Knitting machinery for medical applications also was of interest to TTNA visitors. "Most visitors were interested in potential medical applications for knitted fabrics," said Stefan Schäd, president, Stoll America Knitting Machinery Inc., Port Washington, N.Y. "If the customer comes with an idea, we help translate those ideas into reality. We have a wide range of machines and can work with the customer to find the best equipment for the job."
Quality Is A Must For Technical Textiles
"Quality control is just as much of an issue for a technical textile company as it is for a traditional textile firm," said Hal Good, director of marketing services, HunterLab, Reston, Va. HunterLab was one of just a few quality control instrument companies present at TTNA.
"We were looking for special segments of the industry and realized camouflage and fluorescent colors present an issue with regard to color measurement," Good said. "The new UltraScan® PRO spectrophotometer addresses some of these issues. The illumination is controlled in both the ultraviolet (UV) and visible spectrums. The ratio of UV to visible light can be adjusted and calibrated to accurately measure fluorescent colors"
(See " Dyeing, Printing & Finishing News," TW, this issue)
.
A Positive Outlook
"This was a coming-out party for us - it's our first time attending Techtextil NA," said Gary Zumstein, director of sales, Glen Raven Technical Fabrics LLC, Burnsville, N.C. "We wanted to reintroduce our technical fabrics and are trying to brand Glen Raven into technical fabrics markets. The quality of the attendees is excellent, as is the quality of fellow exhibitors."
Fiber companies also were present at the show offering a variety of new products for technical end-uses. "We saw 50/50 new and old customers at the show," said Dina C. Dunn, vice president of marketing, Nylstar, High Point, N.C. "We were promoting both the Nylstar and Kermel businesses, the latter generating the most interest." Kermel® is an aramid fiber primarily targeted toward heat- and flame-resistant clothing.
"We saw a lot of interest in our finer-denier fibers, and antimicrobial nylon and polyesters are popular at the moment," said David A. Darwin, senior market manager, North America, Hyosung (America) Inc., Rock Hill, S.C. "People seem more upbeat about the business environment. They seem more open to new development projects because they see a rosier future."
"It's taken a while for the Struto vertical lapping technology from the Czech Republic to catch on," commented Alistair H. Deas, director of sales, Wise Industries Inc., Kings Mountain, N.C. Wise represents Struto in the United States. "But we are starting to see greater interest in the technology and are selling more machines. It's primarily used for automotive products, but applications are expanding to include filtration, bedding and medical end-uses. Since October 2003, business for Wise Industries and the companies we represent is unbelievable both in the United States and internationally."
May 2004
Advertisement