Seamless Solution
Sewfree® VOC-free elastic adhesive film eliminates stitched seams and enables cutting-edge design in technical outerwear.
Janet Bealer Rodie, Assistant Editor
B emis Associates Inc., Shirley, Mass., a global manufacturer of heat-activated film adhesives, coatings, tapes and films, has a new design tool for cutting-edge technical outerwear. The company says its Sewfree® volatile organic compound (VOC)-free, modified polyurethane, elastic adhesive film will revolutionize apparel design and production by eliminating seams; improving shape retention and support; and reducing manufacturing costs as a result of labor savings and simplified, more efficient production.

Bemis developed Sewfree originally to bond garment pieces together, laminate fabric and foam, mold fabrics, and band edges in intimate apparel and bodywear applications. Later, the company began working with a few designers and makers of technical outerwear and modified the film for use in that market. It introduced Sewfree to the wider technical outerwear market at the recent Winter Outdoor Retailer (OR) Show in Salt Lake City.

"We're really targeting Sewfree to designers, but at OR, the retailers also got excited about it," said Chris Parlee, marketing and promotions manager. "The designers are the first to realize its potential. It takes a bit of rethinking to change from cut-and-sew to bonding.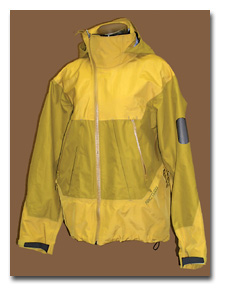 Arc'teryx, Canada, used Sewfree® to bond seams; create drawstring channels; and attach zippers, hood and design elements in the jacket above.
"A bonded seam can imitate the characteristics of a fabric better than thread," Parlee continued, explaining that Sewfree is colorless, and its elasticity allows it to conform to the stretch characteristics of the fabrics being bonded.

Parlee noted the importance of using the correct heat, pressure and length of time in the bonding process. Bemis maintains complete laboratory facilities at all of its plants and offers extensive technical assistance to designers and manufacturers to ensure optimum bonding in each application. "During manufacturing, the film penetrates the fabric to create a lasting bond," Parlee said. "Manufacturers can use a basic flat fusing press, so the barriers to entry into this segment aren't significant. However, ultrasonic and radio frequency welding also can be used."

Correctly bonded seams are as strong and durable as sewn seams and the fabric used, she added. They also are waterproof, eliminating the need for waterproofing seam tape to cover holes made in the fabric from stitching. And, because they don't absorb water, they eliminate possible chafing in garments that are worn next to the skin.

Sewfree can be used in strategic places to add stability and enhance a garment's performance, Parlee said. It can replace stitching in cuffs, hems and drawstring channels. The bonded garments are less bulky and up to 15 percent lighter in weight than those having stitched seams, seam bindings and waterproofing tape.

Sewfree is available in roll widths up to 58 inches and is provided on release paper or pre-applied to user-specified fabric. The film bonds polyurethane-, vinyl- or durable-water-repellency-coated fabrics; as well as cotton, nylon, polyester and polyester/cotton blends.
---
For more information about Sewfree®, contact Chris Parlee (978) 425-6466, (800) 543-1324.

---
March 2004
Advertisement