Research Updates LineIR® Unveils PanelIR® Heaters
Research Inc., Eden Prairie, Minn., has updated its LineIR® infrared heaters, used to concentrate radiant heat on a long, narrow area. The line now includes Model 5194, used for drying ink, forming plastic, curing epoxy and other applications. This model generates energy along a 0.08-inch- to 0.18-inch-wide line in lengths ranging from 2.25 inches to 38 inches. It achieves heat flux densities up to approximately 678 watts per inch and heats products rapidly to 2,400°F.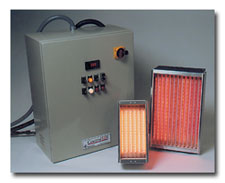 Research Inc.'s PanelIR® infrared heaters
The company's new PanelIR® series of infrared heaters features ceramic or aluminum reflectors to heat large areas in drying and curing applications involving adhesives, inks, coatings and plastics, among others. The heaters offer instantaneous heating up and cooling down. Their modular designs allow various configurations, and the heaters also offer adjustable energy emission controlled by SCR power control instrumentation. Model 4554 uses tubular quartz lamps and a ceramic reflector to heat areas of up to 38 inches by 12 inches per heater. Model 4765 uses tubular quartz, T3-style, halogen lamps and ceramic reflectors to heat areas up to 38 inches by 66 inches per heater.
March 2004
Advertisement