ITMA 2003 Dyeing, Printing & Finishing Technology
ITMA 2003 presented developments in dyeing, printing and finishing technologies including dyes and chemicals.
Gary N. Mock, Ph.D., Technical Editor, and Peter J. Hauser, Ph.D.
Editor's Note: Gary N. Mock, Ph.D., and Peter J. Hauser, Ph.D., both contributed to this feature. The feature begins with Mock's coverage of dyeing, printing and finishing machinery. Look for Hauser's coverage of wet processing preparation equipment and dyes and chemicals on page 31.

Mock, a professor in the textile engineering, chemistry and science department at North Carolina State University's (NCSU's) College of Textiles, Raleigh, N.C., holds a B.S. and M.S. in chemical engineering from Virginia Polytechnic Institute and State University, Blacksburg, Va., and a Ph.D. from Clemson University, Clemson, S.C.

Hauser is an associate professor in the department of textile engineering, chemistry and science at NCSU's College of Textiles. He holds a B.S. and Ph.D. in chemistry from NCSU.
---
By Gary N. Mock, Ph.D., Technical Editor
I
TMA 2003 held many surprises. It was the first time the show's organizer, the European Committee of Textile Machinery Manufacturers - an organization based largely on the European continent - held a show in England. Also, chemical suppliers were permitted for the first time to exhibit alongside machinery and software vendors in order to show the synergy between chemicals and machinery. All in all, the vendors were very happy with the average turnout of 18,000 visitors per day.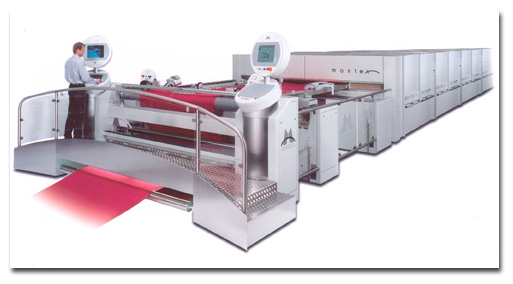 Monforts' Montex 6000 tenter features the Qualitex 740 programmable logic controllers system.
Germany-based DyStar chose to showcase its cooperation with a number of machinery manufacturers, including Eduard Küsters Maschinenfabrik GmbH & Co. KG and its Fluidyer; Thies GmbH & Co. KG and its Luft-Roto Plus; Brazzoli S.p.A. and its Innodye® and Innovat®; J. Zimmer Maschinenbau and its Chromojet; A. Monforts Textilmaschinen GmbH & Co. KG and its Econtrol; Thies and the Institute for Textile Chemistry and Textile Physics and their electrochemistry vat- and sulfur-dyeing research; and Benninger AG and its electrochemical decoloration of waste water research.
DyStar also emphasized its Controlled Coloration program and promoted Color Solutions International Inc., a company it acquired in 2002.
Piece Dyeing
Argelich, Termes y Cia S.A. (ATYC), Spain, featured a variety of batch-dyeing equipment. The TECHNODYE Rapid+CCI System features low liquor ratios (1:4 to 1:6) for man-made and cellulosic fabrics. Chamber capacities of up to 225 kilograms (kg) are available. With variable speeds from 100 to 600 meters per minute (m/min), the focus was on the Intelligent Regulation System
to avoid reel slippage by constantly synchronizing the fabric and reel speed; CCI System for the preparation of chemicals and dyes; and pump-assisted filling and draining for cycle efficiency.
The TECHNODYE Rapid features Rapid Wash for increased savings of time and water. Clean water is introduced in the booster (nozzle) while draining the bath; thus, there is no recirculation of dirty water. Dyeing cycles of one and one-half hours for polyester, two and one-half hours for viscose/polyester with disperse/direct dyes, and three and one-half hours for cotton dyed with reactive dyes were promoted.
ATYC also featured the RAPIDSTRETCH and CCI+Rapid System, a horizontal jet for delicate fabrics containing elastane or those prone to high shrinkage and friction, rope or crack marks. While the possibility of running non-heat-set goods was mentioned, this option must be subject to trials. Featuring speeds of up to 600 m/min in a relatively tensionless condition, the chamber includes overhead sprays to keep the machine clean while maintaining a uniform temperature. Added process features include the Intelligent Regulation System, the CCI System and Rapid Wash.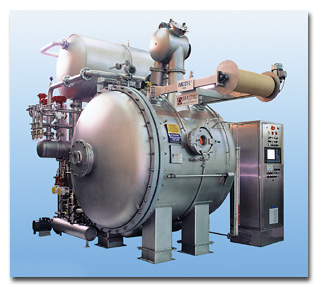 The translational treatment bath movement in Brazzoli's Innodye® eliminates the need for a plaiter.
Italy-based Brazzoli's innovations include the Innodye and Innovat, developed in cooperation with DyStar. The Innodye machine features translational motion of the treatment bath utilizing a mobile basket that traverses the bottom of the machine, thereby eliminating the need for a plaiter. Benefits include reduced bath foaming, improved homogeneity of the bath, increased fabric/liquor interaction to enhance levelness and washing, and reduced tangling. Other system enhancements include real-time pH measurement, high-temperature bath removal and charge tanks.
The Innovat is based on the Innodye and offers an oxygen-free atmosphere for the running of vat dyes. Utilizing vacuum technology and continuous rinsing, the machine promotes problem-free vat dyeings.
Flainox S.r.l., Italy, introduced the Piroga, a horizontal jet with an innovative walking floor. The fabric and dye liquor are transported under the dyeing chamber via the normal tube. The bath drains from the back of the machine when the fabric is deposited on the floor. Fresh bath is sprayed from overhead nozzles to provide fabric/bath interchange. The new system is said to offer reduced cycle times, improve dye penetration and washing efficiency; and produce less lint, pilling, twists and creases than traditional systems. The liquor ratio is as low as 1:4. Machines are available with one to four ports.
Hong Kong-based Fong's National Engineering Co. Ltd. showed a wide variety of equipment for batch dyeing. The ECO-6 is a low-liquor-ratio (1:4.5) round tube jet with a polymeric inside coating that allows capacity of 250 kg per tube and fabric speeds of up to 350 m/min. This newest-generation machine is available with up to 12 ports that may be run from the same bath. The ECO-6 also features the ETS nozzle, which has two contacts in three stages, thus helping to redirect the spiral and minimize fabric twist. Other features include: DISH, a steam-heated injection device; the Multi-Savings Rinsing System (MSR), which controls flow, temperature and total volume under high temperature; and the Multi-Function Intelligent Rinsing System (MIR), with no drop of the bath and high-temperature washing without a high-temperature drain. Reportedly, the machine can deliver five bath turnovers per minute.
The ECO-8 is a double-strand horizontal jet for the processing of crack- and crease-sensitive fabrics. It operates at a higher ratio - 1:5 to 1:7 - making possible fabric speeds of up to 450 m/min. The ECO-8 also has ECO-6 features, namely the ETS nozzle; and MSR, DISH and MIR systems.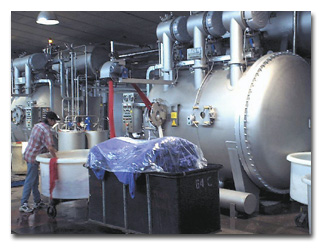 The Multiflow® dyeing machine from MCS features three chambers to provide quick and level dyeings.
The Italy-based MCS Group comprises MCS, Termoelettronica S.p.A., Europea and Europizzi. The Multiflow® single-rope, jet-dye machine is an MCS exclusive. This revolutionary concept allows movement of a single rope from chamber to chamber. In a three-chamber machine, goods loaded into port 1 move to the bottom of chamber 3, then into chamber 2, and back to chamber 1. There is no longer a favorite tube (closest to the pump) or a disadvantaged tube (farthest from the pump). All fabric passes through all tubes. It is no longer necessary to extend dyeing times to wait for all tubes to reach the proper shade. Dosing curves over a period of time are not needed. Dye and alkali are added as quickly as possible over four to six turnovers. The new hydrovario jet nozzle, which uses a stepping motor, is the first in the world to allow a change in jet pressure without changing nozzle diameter. Dye cycles for reactive dyeing on 100-percent cotton have been shortened to less than four hours.
Another innovation is the Termoelettronica TERMOdye vacuum dosing system for dispensing and dissolving dyes featuring the TERMOpowder R/L weighing system. Scale development has allowed vendors to claim incredible accuracy (± 0.01 gram). However, with small dosing and use of powder dyes, dye often is lost to the air during transfer. The enclosed TERMOdye vacuum system ensures complete transfer of all dosed dyes.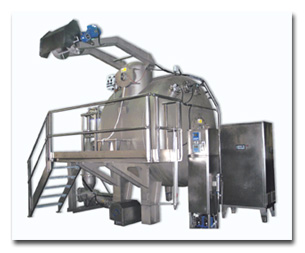 The Athenà with Wisdom from Sclavos International constantly monitors and adjusts settings during dyeing.
Greece-based Sclavos International S.A., referencing Athena, the ancient Greek goddess of wisdom, introduced Athenà with Wisdom. Promoted as a multifaceted automation technology, Wisdom optimizes process parameters by constantly monitoring and adjusting settings during dyeing. With this intelligence, the dyer may vary load sizes from 125 to 250 kg per port and still maintain control and reproducibility with a liquor ratio of 1:4.5. Other features include Cycloclean II, a new mechanism for internal machine cleaning; Excess Liquor By-Pass; on-line pH and total dissolved solids control; and a dry-salt addition and dosing system.
Germany-based Thies also exhibited a wide range of batch-dyeing equipment including the Ecomaster, which was promoted as the successor to the Eco-Soft Plus. Features include improved liquor transfer and liquor penetration, and liquor ratios of 1:3 to 1:4. Other operational advances include Multi Contact Dyeing with bath contact before and after the lifter reel, which gives improved penetration and washing; a 3-D plaiter; and the self-cleaning Vario Nozzle. In addition, the heat exchanger has been changed to a long-sleeve profile for up to 30-percent greater efficiency. Features also include a direct drive pump with no pulleys, and RINSEtronic for controlled rinsing.
Many people looked at Thies' Luft-Roto Plus, a continuing combination of airflow with water for a more environmentally friendly and cost-effective rapid-dyeing system. Because of the machine's unique design, the fabric passes under the water nozzle for rinsing before moving over the lifter reel. The airflow then contacts the fabric to plait it, and the fabric passes into a virtually liquor-free rotating chamber. The inner rotating chamber helps deliver the low-liquor goods to the front of the machine. Low-liquor ratios of 1:3 are possible. Additional process control features include Combined Cooling and Rinsing (CCR) and the Vario Nozzle.
The Soft-TRD DS XL from Thies is a horizontal jet designed specifically for fabrics that are sensitive to creasing. Operating with a flooded transport chamber above the small transfer pipe, the machine can handle two strands side-by-side with a liquor ratio of 1:8.
Package Dyeing
ATYC featured the Superflux 4V CCI+Rapid System for the dyeing of packages, stock and tops, with an operating liquor ratio of 1:4 and greater. The 4V refers to the improved circulation system that uses a valve rather than a change of pump direction. The result is a 50-percent improvement in bath circulation rate. Additional features include the Rapid System of pump-assisted filling and draining, and the CCI System for integrated dye and chemical preparation.
The introduction of the RBNO horizontal package-dyeing system by Italy-based Loris Bellini S.p.A. at ITMA '83 revolutionized package dyeing. In 2003, Bellini showed further improvements, with a heliocentrifugal pump that can handle high permeability and dense packages. The control system includes a magnetic on-line flow meter to ensure constant specific flow rates.
Fong's Allwin Series of package machines are known for their compact design, high-efficiency heat exchange, and patented V-pump. The compact design allows a low liquor ratio of 1:3.8. Additionally, pressurized hydroextraction for more efficient drying and radio frequency (RF) drying, a MIR system to save time and water, and steam washing make a winning package.
RF Systems S.r.l. and Leopoldo Pozzi S.p.A., both based in Italy, showed the value of collaboration with the introduction of Radiodry, an automated RF batch-drying system for yarn packages. Pozzi furnishes the package-dye equipment. The standard unit has a drying capacity of 4,000 kg per day of 100-percent cotton. The benefits of RF drying include uniform moisture content, virtual elimination of dye migration during drying, up to 50-percent savings in drying costs, improved hand and no discoloration from overheating.
Thies' ECO-BLOC QUATTRO for yarn, stock and tops can be operated as one or in tandem using all four kiers. Capacity ranges from one to 11,000 packages, depending on the kier sizes chosen. Sewing thread manufacturers were especially interested in this flexibility.
Beam And Jig Dyeing
MCS showed the EcoTurbo for processing difficult technical textiles. The flow system allows circulation inside-out and outside-in. The controller adjusts the flow to give equal differential pressure. The expansion tank is on top of the machine, thereby saving valuable floor space.
MCS also offered the Comby Jigger H.T., which allows dyeing to 140°C, but also acts as a low-pressure jig at 110°C. A low-volume trough allows liquor ratios as low as 1:2. In addition to speed and tension control, an anti-crease device, external heating and bath circulation, the jig is equipped with a series of spray heads for high-efficiency washing.
Thies' HT-Jigger Tiro is capable of 143°C, and is suitable for crease-sensitive and dense woven fabrics that must be processed in open width. Fully automated, the jig also features a low-volume dye trough, speed and tension control, external heating and circulation, water volume monitoring for controlled washing, and add/dosing under pressure. There are also side viewing ports to allow observation of the fabric during the process.
Continuous Dyeing
The BEN-COLOR is a continuous dyeing system from Benninger, Switzerland. All components required - Bicoflex padder with flexible roll to reliably change nip profiles; Thermray infrared predryer; Thermfix drying chamber for drying and thermo fixation; and Reacta steamer with an enclosed booster pad prior to steaming - are available from one supplier.
Germany-based Küsters' Fluidyer technology has been used successfully in carpet dyeing since 1982. Improvements for 2003 include Controlled Coloration with a full line of dyes, the result of Küsters' partnership with DyStar. The Fluidyer offers a two-position injection or overflow mode to deliver color to the carpet while changing colors within 20 centimeters at a range speed of 20 m/min.
Printing
Flat-screen printing machines continue to hold a market share of about 20 percent. These can be found as large screens for the bath and home furnishings markets. Examples include Switzerland-based Buser Print Systems Ltd.'s F8 Electric with speeds of up to 30 m/min, and Austria-based J. Zimmer's Magnoprint Trendline with speeds of up to 35 m/min. Also catching quite a bit of attention was the Zimmer Chromojet, which was shown printing custom walk-off mats.
In the rotary screen area, Stork Prints BV, The Netherlands, and Zimmer - along with at least 20 other companies - continued to show screens, washing, CAD and other integrated systems. This is a mature technology, with high degrees of automation. At ITMA 2003, Stork celebrated the 40th anniversary of the exhibition of the first rotary screen-printing machine at ITMA '63, while Zimmer exhibited the original two-screen prototype shown in 1955.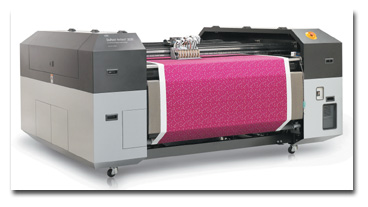 DuPont's Artistri™ is suitable for printing a wide variety of apparel and home furnishing fabrics.
Digital printing has been developed by a number of companies that have exhibited at previous ITMAs. In general, ITMA 2003 had real production machines geared to increasing market share. The DuPont™ Artistri™ 2020 from DuPont, Wilmington, Del., was exhibited as a fully integrated production digital printer for a wide variety of substrates in the apparel and home furnishings arena. The printer was developed in conjunction with Japan-based Ichinose Toshin Kogyo Co. Ltd. The machine features advanced piezo-electric printing heads with resolutions between 360 and 720 dots per inch, and productivity of 30 to 50 square meters per hour (m2/hr). The Artistri inks are delivered in self-contained delivery systems.
Reggiani Macchine S.p.A., Italy, displayed the new DReAM machine, developed in conjunction with Ciba Specialty Chemicals, Switzerland, and Aprion Digital Ltd., Israel. Reggiani developed the transport system, Aprion developed the six-color ink-jet heads, and Ciba developed special inks. Printing speeds of 150 m2/hr are reported.
Finishing
Arioli S.p.A., Italy, exhibited a new steam ager. The Vapo 2003 operates at speeds of up to 80 m/min. The modular AISI/430 stainless steel cabinet encloses the heart of the machine. The two chains move continuously and carry the moving loops using a stick rotation system so that the sticks do not touch the same place on the goods. The loop formation is aided by steam injection and a profiled cam plate made of a non-corrosive alloy, which manages the rotation of a stick pulley crank.
A new Arioli Uniwash washer with a patented AcquaJet system that features four water blades delivers a uniform sheet of water to the face of the goods while removing the water from the back via a perforation drum. One million liters of water per hour are delivered gently to the fabric.
Italy-based Biancalani S.p.A. introduced a compact version of the 10-compartment Spyra® continuous tumbler. The Spyra Compact is a four-chamber continuous and discontinuous tumbler with rotating or oscillating baskets for dyeing, softening and compacting rope-form woven, nonwoven and knitted fabrics. Once the goods are delivered into the entry, air jets convey them to the back of a tumbling chamber, which oscillates from side to side. The continuous tumbling allows compaction without introducing knots and tangles associated with traditional batch tumbling dryers.
Port Washington, N.Y.-based Fab-Con Machinery Development Co.'s S-Series Stable Sizer is designed primarily for compressive shrinkage of open-width knitted fabrics. It also is effective on woven and nonwoven fabrics. Shrinkage is achieved by a mechanical speed differential between a feed and retard roll, and a shoe is used to contain the fabric. While this technology is not new, the innovative compression station on the S-Series has a unique and patented feature that allows the use of smaller-diameter feed and retard rolls on tubular knit compressive shrinkage machines. This simplifies operation and reduces costs. The use of simple controls means an operator can switch from processing a thick fleece to a fine jersey in seconds.
GTM Goller Textilmaschinen GmbH, Germany, featured the Sintensa® open-width washer for low-tension washing of delicate and high-quality fabric requiring low-tension, crease-free fabric transport. The heart of the Sintensa concept is a rotor with a special surface design covered by a perforated drum for creating alternating pressure and vacuum pulses. A separate drive for the rotor and covering drum subjects the fabric to an intense interchange of water alternating from the top to the bottom of the fabric as it passes through a wash chamber. Each chamber is composed of two special rotor/drums and a larger drum.
A typical Sintensa range comprises, in order: a pre-wash; a vacuum; two Sintensa wash boxes; a dwell unit; two Sintensa wash boxes; and a dwell unit; followed by two final Sintensa units. Knitted, woven, open-width and tubular goods can be washed at speeds of up to 80 m/min.
The new Montex 6000 tenter by Germany-based Monforts is a gleaming white creation with a clean ergonomic design, composed of several satellite control stations and pneumatically operated lifting doors for access during cleaning. Under the facade is the electronic Qualitex 740 programmable logic controllers system with touch-screen control and output to the iTEC pocket personal computer (PC) via a wireless local area network. A machine operator anywhere in the shop can call up the most important current status and error messages and make corrections from the remote location.
The Q-soft central process control software analyzes operating data and stores it in a standardized database for output to central PCs. The Conticlean circulating air filter system uses a continuous belt screen with automatic suction and high-pressure air cleaning for constant air resistance and drying conditions.
The Santex Group has merged Cavitec AG and Santex AG, both based in Switzerland, with Sperotto Rimar S.r.l., Italy, and now offers a comprehensive range of finshing equipment. The Santex line features the Santacompact and extensive use of load cells to minimize tension. The Santaspread TS utilizes magnets to hold the fabric open and guide it, without leaving edge marks. Sperotto featured the new NOVA solvent scouring system, which uses perchloroethylene. According to the company, all permits for the solvent have been approved.
Texima S.A., the leading machinery builder in Brazil, featured the Multicaixas slasher dye machine for indigo, and the Rama horizontal and vertical chain tenter. The tenter has cast iron rails, and two robust fans above the goods and two below the goods per three-meter chamber.
Eton Systems AB, Sweden, demonstrated new products and solutions to an industry that has to deal with new and demanding market situations in a changing world.
Eton showcased the total Flexible Productivity Concept (FPC), which includes different system platforms and solutions; and is able to eliminate unnecessary material handling and speed up production for anything, from bikinis to boat covers. The Eton 4000 features new hardware and software functions, including a feeding buffer that also can sort. Integration is extremely important in today's production, and the Eton 4000 can be linked successfully to various automatic machines.
---
By Peter J. Hauser, Ph.D.
P
reparation is the first stage of textile wet processing, and perhaps the most significant one, because the quality of all subsequent processes depends on uniformly and properly prepared substrates. It has been estimated that a majority of all final fabric defects can be traced back to faulty preparation.
With the obvious importance of preparation processes, it is not surprising that machinery manufacturers change preparation equipment only very cautiously and carefully. At ITMA 2003, only incremental changes were seen in the basic preparation equipment.
One clear trend, however, was noted. Manufacturers in Asia are taking European machinery designs and offering lower-cost alternatives by taking advantage of their lower manufacturing costs. Another trend was increased focus on elastic fabrics.
Fabric Handling
Talleres Tacome S.A., Spain, has developed new machinery for loading rolls of greige fabric into continuous processes. The fabric preparation machine allows one operator to load and sew together large rolls of fabric easily and safely. The rolls are entered into the machine with a fork lift and then are taken automatically by conveyor belt to the sewing station as needed.
Singeing
Since Walter Osthoff invented a high-performance gas burner in 1912, Germany-based Osthoff-Senge singers have constantly been developed and improved, resulting in today's Double-Jet Burner that develops a constant, high-quality flame by mixing and remixing gas and air to give an uninterrupted flame band across the entire width of the singer.
Xetma Gematex GmbH, Germany, along with Xetma Vollenweider AG, Switzerland, form the Xetma Group. The Pyrotrop XIS singer is a new development from the group that uses indirect heat rather than direct flame to remove protruding fibers. The longer exposure to heat allows for better temperature control by preheating the fabric prior to fiber removal. The fabric temperature is measured and controlled automatically by varying the flame size and fabric speed. Blends of polyester and cotton can be processed at speeds of up to 150 m/min without forming "pearls" of melted polyester on the fabric surface.
Parex Mather, England, demonstrated a singeing process for tubular knits. In this process, the fabric tube is opened and held on a frame to position the fabric at the proper distance from the burner array. Various tube sizes can be accommodated by easy machine adjustments. Production speeds of up to 70 m/min are anticipated.
Desizing, Scouring And Bleaching
Switzerland-based Scholl-Then AG introduced the Autobleach Air, a fully automated batch bleaching system for knits. The system consists of a four- or six-tube Airflow machine and CHD automated chemical dispensing unit. The operator has only to load and unload the fabric. A total cycle time of 90 minutes is claimed, as well as only 12 liters of water consumed per kilogram of fabric.
TMT Manenti, Italy, showed an improved pad, available in a variety of widths and cylinder diameters. F-series pads include redesigned cylinders to provide equal pressure across the entire fabric width.
Exclusivas Tepa S.A., Spain, improved the automation and controls on its continuous and batch open-width bleaching and washing ranges. Improved electrical drives reduce power requirements by 30 percent.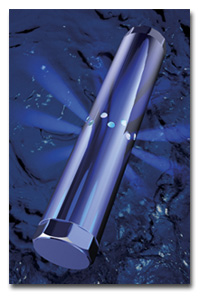 Küsters' WashProf, a soon-to-be-available on-line sensor, detects wash water color and adjusts water flow to minimize usage.

Küsters has developed improved process controls and dosing for its line of continuous preparation equipment. Touch screens and on-line controls increase productivity and consistency. In-line mixing of preparation chemicals simplifies formula changes and reduces chemical waste. In addition, significant improvements were made to Turboflush, Küsters' continuous wash box system. Improved cloth guides and spreaders allow for lower fabric tensions and permit the use of one vacuum slot design for both knits and wovens. This year, Küsters will introduce WashProf, an on-line sensor that detects the color of wash water and adjusts water flow to minimize usage while maintaining desired cleaning efficiency.
Benninger introduced no changes to its well-known product line for woven fabrics - instead it concentrated its development efforts on knit goods, especially elastic fabrics. New washing technology was seen in the Trikoflex washer for open-width knits and elastic wovens. This drum washer has close tolerances to minimize curling and a special drive system to minimize fabric tensions.
The Tempacta conveyer can be used for knits or wovens when long dwell times with low fabric tensions are needed in chemical processing. Up to five chemicals can be metered individually.
Karl Menzel Maschinenfabrik GmbH & Co., Germany, presented two pieces of equipment for desizing/scouring/bleaching. One is a uniquely designed applicator for wet-on-wet processes. The applicator combines a high-efficiency entry nip with a low bath volume in a horizontal configuration with a final nip. This configuration saves space and minimizes fluctuations in bath concentrations from dilution by incoming water on the wet fabric.
The other Menzel introduction is a conveyor steamer with a moving slat conveyor to change fabric-metal contact points while moving the fabric through the steamer. This steamer also allows fabric strands to be combined with the conveyor for additional dwell time. Fabric tension is minimized and controlled with individually controlled drive sections.
Noseda S.r.l., Italy, focused on equipment for the wet processing of knitted goods. The modular Eltex-W wash line was designed for the preparation of open-width elastic knitted fabrics that have not yet been heat-set. The equipment provides efficient oil removal using vacuum slots while maintaining very low fabric tension using driven cylinders, allowing for complete relaxation of the fabric. A dosing system is provided for pH control.
Moenus Textilmaschinen GmbH, Germany, also concentrates on wet processing equipment. Woven fabric is addressed with the new Convi-Tex-F wash unit that can be assembled in modular form to accommodate a variety of installation requirements. The unit includes doctor blades, spray pipes, and counter-flow liquor circulation for efficient washing action. It can be combined easily with application, steaming and vacuum units to form a complete preparation line.
Knit fabric is prepared with Moenus' Spray-Flow unit that is designed to prepare fabric using minimum tension on a drum dryer featuring spray pipes and vacuum extraction. High liquor flow and chemical dosing control allow for efficient and economical operation.
The Moenus Store-Tex steamer is intended for knit applications that require dwell times of up to 30 minutes. A roller bed conveyor and Teflon®-coated spreader minimize fabric tension during treatment.
Mercerization
Benninger's BEN-DIMENSA is designed for continuous hot mercerization of both light- and heavyweight fabric; and includes application, stabilization, washing and neutralization sections. The unit is designed to operate using low volumes of sodium hydroxide, minimizing changeover times between fabric styles. The amount of wash water can be controlled by measuring the sodium hydroxide concentration in the stabilization zone. The fabric is efficiently neutralized using automatic pH control.
Menzel presented a mercerizing unit designed for short runs. The Minimerc is a compact unit that first treats the goods with alkali, then changes the treatment bath automatically to a wash liquor.
Solvent Scouring And Heat-Setting
Laip S.r.l., Italy, introduced an interesting machine for solvent scouring fabric in rope form. The Wash&Dry is a patented unit designed to remove oils from elastic fabric without extensive working of the fabric. The installation includes an automatic solvent recovery and reuse system.
Several manufacturers presented machines designed to heat-set fabrics in tubular form.
Icomatex S.A., Spain, introduced the Icofix, a heat-setting unit that can treat up to three fabric strands simultaneously with no edge marks.
A unique vertical tubular heat-setting machine was shown by France-based Heliot International S.A. The Rollset treats two fabric strands simultaneously in a vertical gas-heated chamber. Specially designed adjustable fabric stretchers provide even heat-setting without marking the fabric.
Chemical Suppliers
Forty-one dyestuff and chemical suppliers from Europe, Asia and the Americas availed themselves of the opportunity to exhibit at ITMA for the first time.
BASF AG, Germany, showed a new auxiliary system for batch-dyeing polyester fabrics. The dyexact XP system is based on Basojet® XP, an alkyl phenol-free combination product that contains leveling, dispersing, trimer controlling and emulsifying agents. Other compatible products are available if additional chemical control is needed.
CHT R. Beitlich GmbH, Germany, introduced two new products for garment wet processing. Denimcol BLE gran. is an oxidative bleach for indigo that does not adversely affect elastic fibers, thereby allowing stretch denim garments to be bleached efficiently without causing fiber damage. Tubingal® 6069 is a flaked 100-percent-active cationic softener that can be added to garment-processing machines without being diluted. In addition to providing softening, it significantly reduces fading from ozone and oxides of nitrogen.
Clariant, Switzerland, presented several new products. Plexophor ECO for hydrogen peroxide bleaching is a unique biodegradable sequestrant/stabilizer that does not contain phosphorous, nitrogen or silicates. Sandoperm SE1 oil liquid is a 96-percent-active self-emulsifying amino silicone that forms emulsions with 10-nanometer particles, providing extremely soft hand without the characteristic slick silicone feel. ACTIFRESH® is a finish that combines antibacterial properties with a cyclodextrin. The antibacterial component reduces the likelihood of body odor, while the cyclodextrin component absorbs any odors that are formed.
Ran Chemicals Pvt. Ltd., India, showed a series of unique surfactant-based preparation chemicals that can desize and scour cotton goods without using enzymes. All warp sizes are removed, and the absorbency of the scoured goods is outstanding, according to the company. Specific members of the RAN-SC family of products are recommended for batch and continuous processes. Another series of nonionic polymers, the RSF family, provides silicone-like softness using hydrophilic non-silicone products, which cause little or no yellowing.
Cognis Deutschland GmbH & Co. KG, Germany, presented the Skintex™ system, a series of microencapsulated products that can deliver cosmetics such as moisturizers, anticellulites, hair retardants and tanning agents to the skin from treated textiles. The microcapsules are durable to laundering and release their active ingredients only when the textile is in contact with skin. Cognis also introduced the Colette™ system, a combination of amylases and pectases that allows desizing and scouring to be carried out simultaneously with less water and alkali than standard processes.
Amitech, Oxford, N.J., offered Pyromescent, a new flame retardant for textiles based on intumescent chemistry. This product is durable to laundering and allows treated mattresses to pass the strict California flammability requirements. Currently, applications to cotton and cotton-blend fabrics are covered by confidentiality agreements, but no such restrictions exist for other fibers.
Novozymes A/S, Denmark, presented Scourzyme® L, a pectinase product designed to scour cotton without requiring the normal high concentrations of alkali. This process, called Bio-Scouring, is becoming more attractive as environmental concerns increase over textile preparation processes.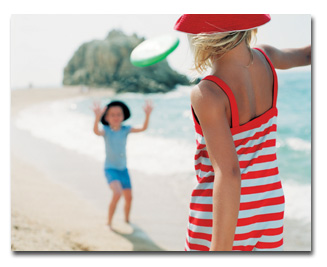 Ciba Specialty Chemicals manufactures a variety of chemicals that offer durable ultraviolet protection to fabrics.
Ciba Specialty Chemicals introduced two new processes for batch preparation of cotton knit fabrics and yarns. SMART PREP is designed for goods to be dyed, while SMART WHITE is for white goods processed with optical brighteners. These processes are shorter and use less water than traditional preparation procedures because they use INVATEX® AC, a product that allows easier cleanup after bleaching.
Dr. Th. Böhme KG Chemische Fabrik GmbH & Co., Germany, introduced CERAFIL BRS, a combination cotton preparation product that incorporates a peroxide stabilizer, sequestrant, scouring agents and dispersant into one formulation. This product not only simplifies bleach recipes, but also gives more reproducible whiteness values.
Chemical Applicators
The application of chemical finishes to textiles also was addressed at ITMA 2003.
For high wet chemical pickup applications, Morrison Textile Machinery Co., Fort Lawn, S.C., introduced the Micro Saturation, a pad that combines a low-volume pan with a double-dip, double-nip fabric path. A chemical dosing system is provided to maintain constant chemical concentrations in the pad bath.
Fratelli Carlessi S.p.A., Italy, showed a newly developed apparatus for the spray application of chemicals to fabrics. The SPRAYTEX has five or six spray heads with a reciprocating trolley that provides even applications across the fabric. The spray heads are electronically controlled to adjust for fabric width and desired application effects.
Cognis has developed a dosing system for wet-on-wet finishing that incorporates on-line monitoring of the chemical concentration in the pad bath and automatically adjusts the chemical feed to the desired level as needed. The ILD™ system provides a more consistent finished product at lower cost than traditional systems.
Tube-Tex, Lexington, N.C., has redesigned the Pro-Pad for chemical application to tubular knitted fabrics. This pad is available in two- or four-roll configurations and enables one operator to process double strands of fabric.

March 2004
Advertisement