TexTech Systems Opens Spartanburg Offices
TexTech Systems LLC, formerly based in Switzerland, has moved into new offices in Spartanburg to serve area textile manufacturers, converters, finishers, sample makers and fabric resellers.

"We moved TexTech Systems to the Spartanburg area from Switzerland because we feel the location is ideal for our business," said Bob Bullard, managing director. "With the high concentration of foreign-owned businesses, the proximity to the Port of Charleston and the growing high-tech industry in South Carolina, we are confident of future prosperity in this area."< /font>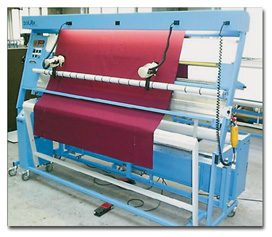 Polytex's AM panel cutter is among the
products available from TexTech Systems.
TexTech Systems offers the following services and products: production-monitoring systems installation, application and service; fabric-handling machinery including inspection, rolling, mending, cutting, slitting and semi-automatic cloth roll packaging systems; sample-making technology and process optimization; and third-party replacement for spinning, weaving and winding machinery.

Companies represented include: Porini Alphatex and F.I.R.S.T., Italy; Polytex AG, Switzerland; Polymaster Ltd., England; Elmatex, Germany; Asuier, Ireland; CCI, Taiwan; and Aranda Textiles, South Africa.

The new offices are located at: 380 Wingo Heights Road, Suite 6A, Spartanburg, S.C. 29303; (864) 580-5596; fax (864) 580-5598.
June 2004
Advertisement