Administration Puts Central American Pact On Hold
By James A. Morrissey, Washington Correspondent
U S Trade Representative (USTR) Robert B. Zoellick has given up hope of getting congressional approval for the Central American Free Trade Agreement (CAFTA) — at least until after the November election, but he has high hopes Congress will approve pacts with Australia and Morocco. As President Bush signed the CAFTA agreement with El Salvador, Costa Rica, Nicaragua, Guatemala and Honduras, Zoellick admitted it would be difficult to win approval of the controversial pact in the atmosphere of the election, but he expressed the hope CAFTA could be approved during an expected "lame duck" session after November.

US textile manufacturers, a wide range of both Republicans and Democrats in Congress and Democratic presidential candidate John Kerry all are opposed to the pact in its present form, but it has the strong support of retailers and other importers of textiles and apparel. Congressional Democrats are pressing for more labor rights provisions to be included in CAFTA, and US textile manufacturers are opposed to the inclusion of tariff preference levels (TPLs) that permit non-participating countries to enjoy the trade benefits of the free trade agreement.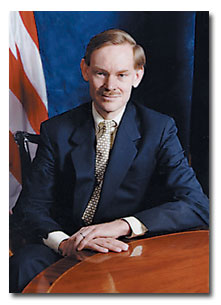 USTR Zoellick

Kevin Burke, president, American Apparel & Footwear Association, and other importing interests see CAFTA as the answer to competing with China when all textile and apparel import quotas are scheduled to be removed by Jan. 1, 2005. They don't want China to dominate textile and apparel trade in a quota-free world, and they believe CAFTA gives them "flexibility and predictability" in sourcing their goods. They say CAFTA will "solidify" trade in the hemisphere and can present new opportunities for exports of US cotton, yarn and fabric to apparel manufacturers in the region.

Because CAFTA will be considered under the fast track procedures, there is no definite date for Congressional consideration of it at this time. However, once the administration sends legislative language to Congress, that body has 90 legislative days to vote it up or down with no amendments.

US textile manufacturers believe they win one and lose one with the Moroccan and Australian pacts. They are opposed to the Morocco agreement because it includes generous TPLs that open the door to transshipments from non-participating countries. On the other hand, they like the Australian pact because it does not have any TPLs. Predictably, importing interests don't like the Australian agreement for that very reason.
Administration Pushes Far-Reaching Trade Agenda
The Bush administration continues to move forward with negotiations on a series of free trade agreements (FTAs), many of which will have major impacts on textile manufacturers and importers. The USTR says new and pending FTAs, taken together, would constitute America's third-largest export market and be equivalent to the sixth-largest economy in the world.
In the past two years, the administration has completed agreements with 11 countries — Chile, Singapore, Costa Rica, the Dominican Republic, El Salvador, Guatemala, Honduras, Nicaragua, Australia, Morocco and Bahrain; and negotiations are underway or about to begin with Panama, Colombia, Peru, Ecuador, Thailand and the five nations of the Southern African Customs Union. In May 2003, President Bush announced plans to create a Middle East Free Trade Area by 2013, and since then the United States has signed or is negotiating trade agreements with eight Middle Eastern countries. The United States already has agreements with Egypt, Algeria and Tunisia, as well as the North American Free Trade Agreement with Canada and Mexico.

While all of these agreements are on the administration's agenda in varying stages of completion, many of them are controversial and will not be concluded for months — and in some cases, years, if at all. This whole exercise is designed to prevent China and a handful of other countries from dominating international trade at the expense of less developed and developing nations. US textile manufacturers like FTAs to the extent they open market opportunities for US-made cotton, fabric and yarn, while importers support only those that provide more sources for their purchases, with a minimum of restrictions.
Commission Studies China's Trade Status
US trade officials are taking a look at China's request to be recognized as a market economy, an issue that once again will drive a wedge between US textile manufacturers and importers of apparel. China currently is considered a non-market economy because of its state-owned manufacturing, distribution and banking systems; and some of its export and domestic industry subsidies.

The Department of Commerce's import administration has solicited testimony from interested parties to help it determine whether China should be considered a market economy for purposes of US anti-dumping laws designed to prevent exporters from selling their products below their cost of production. The National Retail Federation (NRF) and other importers support the granting of market economy status to China, saying that such action would improve the environment for trading with China and create more incentives for investment. Eric O. Autor, vice president and international trade counsel at NRF, insists, however, that market economy status needs to be applied to both anti-dumping and countervailing duty statutes, two of the tools US manufacturers use to combat what they see as unfair import competition.

In a letter to the Department of Commerce, NCTO urged the commission to address a much wider range of issues including currency manipulation, cumbersome Customs evaluations procedures, product testing requirements and a state-owned distribution system that it says manipulates prices in favor of Chinese manufacturers. NCTO also said the Bush administration has failed to use the existing tools at its disposal and charged that granting market economy status without getting anything in return would simply be a "unilateral concession."
NCTO To Launch Political Campaign

The newly-formed National Council of Textile Organizations (NCTO) has announced plans to launch its election year political effort in full force at its first annual meeting July 20-21 in Washington. Formed last March by members of the defunct American Textile Manufacturers Institute and the American Yarn Spinners Association, NCTO now has more than 50 members and has added its voice to those of the American Manufacturing Trade Action Coalition and the National Textile Association, which are working with the government to implement programs to combat the decline of US industry as a result of what they believe are unfair imports.
In a letter to NCTO members, Chairman Allen E. Gant Jr. said the organization's Unity 2004 meeting is designed to coordinate strategy, review a grassroots media campaign and lobby members of Congress to seek their support for programs that would reduce the manufacturing trade deficit, oppose any further trade agreements that would " encourage offshoring of US jobs," and eliminate illegal and unfair trade practices.

The three lobbying organizations already have sent five-point questionnaires to members of Congress and candidates who are up for election this year soliciting their views on textile trade issues. While the organizations do not plan to endorse any candidates, they will publicize the results of their surveys in order to help voters determine which candidates are more likely to support their interests and save textile jobs.

July 2004

Advertisement