Datacolor Releases SF650X Spectrophotometer
The SF650X Reflectance/Transmittance Spectrophotometer is the latest addition to Lawrenceville, N.J.-based Datacolor's line of benchtop color measuring instruments. Designed for use with all Datacolor software that supports instruments in the SF line, the SF650X is capable of measuring a variety of transmissions, including haze measurement for cloudy samples, total-transmittance and sequential reflectance measurements needed for certain color-matching applications, normal transmittance of liquid and transparent solid samples, and the total and diffuse transmittance of translucent samples.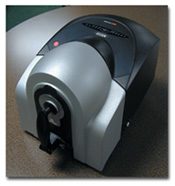 The SF650X spectrophotometer from Datacolor is equipped with holders for both liquid and solid samples.


July 2004
Advertisement