H2O Tricks
The use of directed water jets has accelerated with the continued development of nonwoven spunlacing technologies and woven fabric hydroenhancement finishing techniques.
Richard G. Mansfield, Technical Editor
T
here are two major applications for the use of directed water jets in textiles. The first system was commercialized about 30 years ago for producing spunlaced nonwoven fabrics. During the last 10 years, the production of spunlaced fabrics has accelerated throughout the world as their use in consumer products and industrial and medical uses continues to grow.
The second major application for directed water jets is hydroenhancement for fabric finishing. Hydroenhancement of fabrics can be most effective when the choice of yarns and the fabric structure are modified to optimize the beneficial effects of hydroenhancement.
Spunlaced Nonwovens
Spunlaced nonwovens are made by the entanglement of a fibrous web by fluid means. Fluid entanglement provides strength and integrity to the fibrous web. Spunlaced nonwovens now produced commercially are made using water entanglement techniques. The term "hydroentangling" also is used to describe processes for making spunlaced fabrics.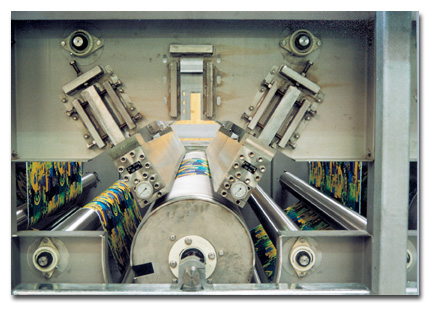 Fleissner's AquaTex, featuring InterSpun technology from Polymer Group Inc., uses water jets to enhance the finish of woven fabrics.
When the fluid entanglement is done with patterned screens, a design element can be built into the fabric. Spunlaced fabrics can be made to have drapability and hand equal to those of woven or knit fabrics.
The basic elements of the systems used for making spunlaced fabrics are:
• a web-forming system - usually a modified carding system - used on spunlaced fabrics with the exception of nonwovens made from hydroentangled long-staple wet-laid nonwoven webs;
• high-pressure water-jet injectors or manifolds with typical pressures ranging from 5 to 250 bars;
• dewatering or vacuum boxes;
• filtration and water recovery units;
• patterning or perforating units, which can be a patterned wire drum unit or a patterned conveying screen system;
• drying unit; and
• wind-up unit.
The principle of hydraulic entangling systems is to project high-velocity water jets onto a supported nonwoven web. The shape and disposition of the holes in the patterning drum or screen control the pattern of the spunlaced fabric.

Early Development
One of the earliest applications for fluid entanglement of nonwovens was realized by Chicopee, formerly a division of Johnson & Johnson (J&J), New Brunswick, N.J., which used it to make apertured fabrics for household wipes.
Some of Wilmington, Del.-based DuPont's early work with spunlaced fabrics was related to its Corfam® poromeric synthetic leather work dating back to the late 1950s and early 1960s. Spunlaced-type products were evaluated as possible replacements for the expensive woven reinforcement fabric in Corfam.
After DuPont discontinued the Corfam program, hydroentangling work was continued at DuPont's Christiana Laboratories. Although Chicopee can be considered the first company to use hydroentangling for nonwovens, DuPont was the first to introduce more sophisticated fabrics using the technology.
It is questionable whether DuPont would have continued its development work with spunlaced products if Burlington Industries Inc., Greensboro, N.C., had not entered the picture in about 1968. At that time, Burlington's research and development group was investigating potential uses for nonwovens in the company's products. Early in 1969, Burlington established a cooperative research and development program with DuPont to evaluate using spunlaced products within all of its appropriate divisions. Some of the initial product areas that Burlington investigated included bonding substrates for woolens, warp and circular knits and drapery fabrics.
As the cooperative program progressed, Burlington's research and development group recommended in 1971 that the company establish a nonwovens converting and finishing plant to process the spunlaced fabrics. This processing operation was transferred to Burlington's New Business Ventures Group.
The spunlace converting operation was later incorporated into the Burlington Formed Fabrics Division. At first, Burlington was the only processor of DuPont's spunlaced fabrics, but DuPont later broadened distribution of the product to include other processors. In the mid-1980s, Burlington was restructured and sold the Formed Fabrics Division and the nonwovens converting and processing operations to some of its former managers. They now operate operate as part of Precision Fabrics Group Inc., Greensboro.

TEI's HydroENHANCER™ subjects fabric to minute, high-velocity jets of water that bloom the fabric.

Activities At Chicopee & J&J
DuPont developed a line of spunlaced fabrics using 100-percent cellulosic materials, which were sold to J&J for use in surgical packs. J&J recognized the potential for spunlaced nonwovens to replace woven gauze fabrics for hospital/medical uses, which led Chicopee to accelerate work on its hydroentangling technology for making spunlaced fabrics under its Duralace® trade name.
By the end of 1976, Chicopee had evaluated rayon, wood fibers, polyester, cotton, polypropylene and combinations of these fibers in a range of spunlaced weights and patterns. The fabrics were produced from modified card-fed air-laid units, relying solely on water entanglement for bonding.
For many years, nonwovens technology was very proprietary and was the domain of only a few companies. As many of the early patents expired and more companies entered the nonwovens business, technical personnel could move more freely from one company to another. Chicopee's advantage as an internal nonwovens supplier began to diminish. Products that once were available only from Chicopee now became available from other suppliers at lower cost.
Spunlaced Fabric End-Uses
One of the early objectives for spunlaced fabrics was to use them to replace woven gauze in products such as laporatomy and X-ray-detectable sponges. These efforts have been successful, and spunlaced products have gained wide acceptance in these products, as well as in surgical gowns, drapes and scrub suits.
Surface veiling for fiberglass-reinforced plastics (FRP) was one of the earliest uses found for Sontara fabrics. The spunlaced polyester enables the FRP producer to use the increased toughness and resilience of the new higher-elongation corrosion-resistant resins. The tensile elongation properties of the polyester spunlaced veilings are more compatible with the resin properties and conform more readily to the contoured surfaces of the structures. Polyester spunlaced fabrics also find uses as carrier webs in pultrusion products and for use in making filament-wound pipe. DuPont makes Sontara products from its Nomex® fiber for heat-shielding applications. Sontara products also are made from Kevlar® fabrics for aerospace uses.
A trip to the supermarket reveals a myriad of wipe products - the majority of them using nonwoven fabrics, particularly spunlaced nonwovens.
Freudenberg's Evolon® Products
Evolon®, produced by Freudenberg Nonwovens Group, Germany, combines modified spunbond and hydroentangling technologies to produce structures comprised of microfilaments. The spunbond technology produces multicomponent fibers that split into microfilaments by the action of the water jets in the hydroentangling unit. The following advantages are claimed for Evolon products:
• lightweight fabrics with good hand and drapability;
• multi-directional high-tensile-strength fabrics with high tear strength; and
• the ability to make fabrics that are either hydrophilic or hydrophobic.
The Perfojet System
The Perfojet Co. was founded in France in 1984 by nonwovens innovator André Vuillaume. Under his direction, its first spunlace production unit was installed in 1985. The company was acquired by the ICBT Group in 1991 and renamed ICBT Perfojet. In 1996, the first Jetlace 2000 system began operation. The Jetlace 2000 system uses multi-sided hydroentanglement, which provides energy savings and enhanced fabric characteristics at web weights ranging from 20 to 400 grams per square meter (g/m2), at speeds of up to 300 meters per minute. In 2000, Switzerland-based Rieter Group finalized its acquisition of ICBT Perfojet, renaming the company Rieter Perfojet.
The latest spunlacing product developed by Rieter Perfojet is the Jetlace 3000 system, which optimizes energy use via new injectors linked with a special strip design. The Jetlace 3000 is used to fabricate wet wipes in a three-step procedure: entanglement of the fibers; insertion of pulp into the entangled web; and entanglement of the pulp into the web.
Rieter Perfojet has also integrated its Perfobond spunbond technology with its Jetlace 3000 system. This technique produces fabrics that combine the virtues of filament yarns and staple fiber yarns.
Today, there are more than 100 Rieter Perfojet hydroentangling lines installed throughout the world.
Fleissner's AquaJet
Germany-based Fleissner GmbH introduced its AquaJet spunlace lines in the 1990s. This product line encompasses:
• AquaJet for entangling of lightweight nonwovens up to 150 g/m2, and heavyweight nonwovens up to 600 g/m2;
• AquaSpun for entangling of spunbonded webs;
• AquaSplit for entangling and splitting of microfiber webs;
• AquaPulp for entangling and bonding of nonwovens with a pulp layer; and
• AquaTex for enhancement of woven fabrics using North Charleston, N.C.-based Polymer Group Inc.'s InterSpun technology.
Fabric Hydroenhancement
Although spunlaced nonwoven fabrics have been available for more than 30 years, the related processes to finish fabrics using water jets (hydroenhancement) have gained commercial acceptance only over the last five years. The basic spunlace technology used to produce nonwovens does not vary substantially from fabric enhancement technology, but rather varies in degree.
An important contributor to the development of fabric hydroenhancement is Gerold Fleissner of Fleissner GmbH. Fleissner and his associates have been issued a number of US patents in this field.
During fabric hydroenhancement, water jets entwine surface fibers and yarns and increase fabric coverage. Some of the major benefits conferred to fabrics from the process are:
• improved strength and abrasion resistance and fraying resistance;
• improved fabric coverage, and a softer hand and enhancement of under-constructed fabrics;
• reduction of fabric tension, which provides a flatter fabric for easier cutting;
• a cleaner fabric, particularly in cotton or cotton blends; and
• a mercerized effect on cotton.
Hydroenhancement Of Glass Fiber Fabrics
In the high-pressure laminate and printed-circuit industry, glass fiber fabrics are used to meet critical electrical, temperature, corrosion resistance and dimensional stability requirements. Hydroenhanced fabrics are suitable for this application. The Fleissner AquaTex system is being used successfully by a major supplier of glass fabric for circuit boards, resulting in its customers delivering higher-quality circuit boards
(See "
High-Tech Glass Fiber Fabric For The World Of Electronics," TW, February 2003).

HydroENHANCER™ System
Textile Enhancements International (TEI) Inc., Charlotte, provides the HydroENHANCER™ system, developed in cooperation with Valmet Inc. and Zimmer Machinery Corp. (USA), Spartanburg. TEI also has developed a number of proprietary fabric constructions designed specifically for hydroenhancement.
The technology of the HydroENHANCER system consists of subjecting cloths containing spun yarns to minute but very high-velocity jets of water to bloom the fabric and then intertwine (Hydro Stitch™) the outer fibers within and between yarns.
The system developed by Valmet uses a batch process with a multiple reciprocating device. The device is somewhat similar in appearance to a dye jig. The technique and apparatus provide reciprocating enhancement through a pair of reversible, tension-controlled, driven fabric spools with the enhancement process placed between them. The choice of which two of the three manifolds are programmed to be active on a pass determines which side or sides are enhanced. The fabric finish can be modified by using a recipe to set the number of passes and the number and sequence of jet manifolds that are activated on each pass with one loading of the machine.
February 2004
Advertisement