Glenro Introduces Infrared Conveyor Oven For Products Up To 65 Inches Wide
Glenro Inc., Paterson, N.J., now offers a rugged, energy-efficient electric infrared conveyor oven that dries products up to 65 inches wide. Six Glenro Radplane 9.8-kilowatt electric infrared heaters controlled in a single zone provide heat in the conveyor oven. Air is provided across the heated area via an air input plenum that covers the heaters, while nozzles between the heater elements direct air to the product line. The heat and air combine to accelerate drying. Blastgate dampers control the airflow.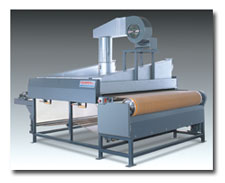 Infrared conveyor oven from Glenro
A SCR control system is equipped with a thermocouple feedback control loop to regulate the voltage and maintain a constant infrared element temperature. A coated fiberglass conveyor belt transports product at a controlled speed ranging from 1 foot to 10 feet per minute. The conveyor oven also features a heavy-duty structural steel frame, adjustable entry and exit reflectors and bottom reflector panels, and hinged and latched double-wall side door panels. It is shipped prewired to minimize installation time and costs.
February 2004
Advertisement