ITMA 2003 Nonwovens Technology
At ITMA 2003, the ever-growing nonwovens sector presented the latest technological developments and machinery.
Behnam Pourdeyhimi, Ph.D.
T
he nonwovens industry is organized differently and separately from the textile industry. While the nonwovens and textile industries share some common heritage, nonwovens has grown to present a broad array of engineered fiber- and polymer-based products that are driven by high-speed, low-cost, innovative, value-added processes. This has led to the adaptation of technologies from the pulp and paper industry, extrusion industry and the like to bring about desired products at reasonable costs, and consequently a separation from the more traditional textiles, which have been focused primarily on apparel.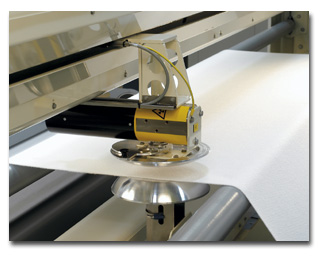 NSC's scanning gauge uses X-ray transmission technology to measure the weight distribution in both the machine and cross directions of the final product.
Overall Impressions
At ITMA 2003, for the first time in the show's history, nonwovens was included as a separate sector. Hall 4 was dedicated to nonwovens equipment.
Unlike the traditional sectors of the textile industry, there is no such thing as a "nonwovens line." The line is decided by the products that need to be produced and the economies associated with it. These lines are custom-designed and custom-built for the products they are intended to produce. A company may manufacture only one component of the line, and therefore, the customer has always had to have many companies involved in the supply of a single line. For example, a high-speed carding facility may comprise a Trützschler opener and chute, a high-speed card from Schlumberger, a calender from Küsters, and a winder/slitter from Celli; and they all may be driven by Alan Bradley/Rockwell control systems.
It is not at all surprising that, starting in the late 1980s and early 1990s, alliances and mergers began to take place. Some of these took the form of horizontal integration - the buyout of parallel or competing technologies. Some took the form of vertical integration, which encouraged one-stop shopping: The buyer could purchase complete manufacturing lines to produce nonwovens for specific markets. In the latter case, the machines from different parts of the alliance, merger or partnership were better integrated as well. This is a positive move for the growth of both the machinery and the nonwovens industry.
Companies such as the France-based NSC Group are helping to propel this growth. Through its eight companies - N. Schlumberger, Thibeau, Asselin, Monomatic, Pack'Industrie, Same, ESI and Wuxi NSC Hongyuan - NSC offers complete solutions for fiber, yarn, nonwovens, packaging, system solutions and services. A high-speed nonwovens line configuration may consist of a Thibeau nonwoven card (now including fine openers and chutes), a Monomatic winder/slitter, and a Same and ESI control and monitoring system. If a calender is required, Fairview Machine, Chicopee, Mass., or Eduard Küsters Maschinenfabrik GmbH & Co. KG, Germany, will probably be the manufacturer of choice; and if a crosslapper and needle loom are required, then Asselin will be the likely provider. What is perhaps the most critical aspect is the NSC service that will be responsible for installation, training, and continued maintenance and after-sales services. This is the closest one can get to a complete solution in the nonwovens sector. NSC is defining the future and setting the standards of how business must be conducted in this important and growing sector of the industry.
Similar trends are evident with other groups as well. Oskar Dilo Maschinenfabrik KG, Germany, now offers complete carding, crosslapping and needling solutions. Its system comprises a card from Spinnbau GmbH, Germany, a crosslapper from Autefa Automation GmbH, Germany, and a needle loom from Dilo.
Other affiliations are not as obvious. Laroche S.A., France, for example, displayed at ITMA a complete solution for bast fibers using its airlay technology, which included an Asselin needle loom.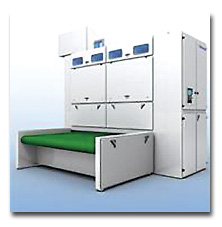 Trützschler's tuft feeder Scanfeed TF operates at production speeds of 400 kilograms per hour.
Staple Fiber Opening, Mixing And Feeding
For the staple-fibers-based nonwovens industry, new developments in bale-opening equipment and fiber preparation for carding, and now-traditional air-laid web formation processes were few and far between. This technology seems pretty stable, except insofar as improvements may consist of microprocessor-based control features; and workplace safety features - for example, capturing metal debris during pneumatic transport of opened fiberstock and near-instantaneous shutdown of the entire processing system in case a fire starts in the pneumatic transport ducts.
Germany-based Trützschler GmbH & Co. KG sets the standard in the area of bale opening, blending and mixing. Its bale openers have production rates of 1,500 kilograms per hour (kg/hr). Its mixers are continuously working mixers instead of mixing chambers. This design leads to savings in space and a more homogeneous blend. One unique and clever feature of the system is the use of a small storage unit within an opening line to obtain a more uniform material flow.
Trützschler offers two types of high-production openers. The newly developed Tuftomat model can work with bleached cotton, polyester and polypropylene. The TO-U model can process staple fibers with lengths of more than 60 millimeters (mm). Three opening rolls are offered to control the degree of opening desired.
Feeding can be done from a bale opener, through feed trunks or through feeding units equipped with opening. Trützschler offers a number of solutions for weighing and tuft blending, which can be done manually or automatically. Perhaps the most important feature of a Trützschler opening and feed system is the tuft feeder Scanfeed TF. This machine is equipped along the width with a self-regulating fiber-distribution system that operates by means of a stream of air. The Scanfeed TF also is equipped with a web profiler that monitors and controls the uniformity of the feed, thereby ensuring product uniformity.
The Scanfeed TF works according to the proven double-trunk principle. Via the distribution line, a fan blows the tufts continuously into the large upper trunk (material reserve trunk). The distribution in width in the fillhead clearly has been improved by optimizing the air current conditions. Air outlet combs at both sides of the upper trunk separate the tufts from the air. The material condenses through the permanently effective positive pressure.
The filling height in the upper trunk remains constant and regulates itself under controlled pressure. If the air outlet combs are more covered, the pressure rises. This leads to a reduction in the amount of material fed. By contrast, free comb surfaces result in a low pressure and an increased amount of material fed.
The feed roll at the lower end of the material reserve trunk seizes the tufts and feeds them to the opening roll. To ensure safe guiding and clamping of the material, the feed tray consists of individual spring-loaded elements that automatically adapt themselves to the respective fiber mass. The large-dimension opening roll, clothed with special needles, opens the material in a very gentle manner. Several fans spread across the width doff the fibers from the surface of the roll by means of a constant air stream and blow them into the feed trunk.
A constant air stream in the feed trunk is the precondition for the self-regulating distribution in width. The feeding principle of the bottom trunk functions in a comparable way. The feed roll is pressure-controlled. Its basic speed is determined by the roller card that follows. As the air takes the line of least resistance, air currents to the free comb surfaces of the feed trunk develop. By this, a self-regulating distribution in width is obtained. In the feed trunk, the comb covering (and thus, the air pressure) also regulates the amount fed.
The built-in circulating air fans of the Scanfeed TF are adjustable, thus allowing an adaptation of the condensing air stream to the fibers. Coarser and more crimped materials, for example, require a higher pressure and a stronger air stream.
The VPR integral web profile control is the only leveling unit that improves web evenness both in length and width, and is an optional supplement to the Scanfeed TF.
With the web profile control, a homogenization of the web in width and length usually is obtained. It is also possible, however, to produce selective web cross-sectional profiles. When feeding a roller card, for example, it is often desirable to reinforce the edges in order to compensate for the fiber loss in the side areas of the roller card.
The Trützschler systems have become the industry standard for fiber opening, mixing and feeding. They are being used throughout the world in conjunction with other equipment such as that offered by NSC and Dilo.
The challenge for carding technology has been to compete with spunbond products - both in the heavy (needlepunched) and light basis-weight (thermally bonded) range - for productivity and product characteristics. Operationally, the challenge translates into learning how to control the card-web structure; its lengthwise and crosswise uniformity; and its throughput rate. The Trützschler systems are a step in the right direction.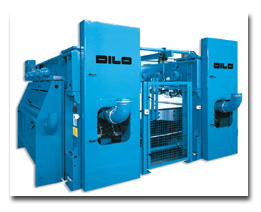 Dilo's DI-LOUR IV dual structuring machine offers patterning options.
Staple Fiber Web Formation
There was a great deal of energy evident in connection with carding technology, especially in the context of thermally bonded and needlepunched nonwovens. Carding technology continues to remain a major focus area. With opening technology becoming stable for standard, large-volume fibers such as polyester and polypropylene, the thrust in carding technology has taken some interesting turns. The technology is used extensively to make light, medium and heavy basis-weight products. Light basis-weight products tend primarily to be thermally bonded; medium basis-weight products tend primarily to be needlepunched or hydroentangled, while heavy basis-weight products tend exclusively to be needlepunched.
The Spinnbau Delta-Card offers improved uniformity and productivity in in-line and crosslapped fiber webs. It is specially designed for hydroentanglement applications. Spinnbau claims its card achieves superior web uniformity at high production speeds. In the Delta-Card, the transfer between the breast section and the main cylinder is achieved by means of a special arrangement of the transfer rolls, which are triangularly positioned (hence, Delta) and form a dual transfer system. This transfer unit, which has an adjustable transfer ratio, results in excellent fiber blending.
The multi-web SIGMA doffing system has up to four doffers and is designed using a perforated roll surface in conjunction with a negative pressure system. The transfer of the individual webs to the transport conveyor is achieved without draft and allows a combined positioning of the individual web already within the machine itself.
The card rolls are designed and manufactured with the highest precision and are made of steel, aluminum or carbon fiber composites. Integrated suction systems and direct air conditioning are new features.
These cards are offered in working widths of up to 3.5 meters in crosslapping lines and up to 6.0 meters in direct lines. The Delta-Card runs at a maximum speed of up to 200 meters per minute (m/min).
The NSC CA10 and CA11 cards have been the industry's best-recognized high-speed cards. NSC unveiled the CA12 card at ITMA 2003. This new card is capable of delivering more than 400 kg/hr per meter and offers enhanced carding through the control of air movement and relative humidity. In 1999, the NSC ProDyn® system as offered for condensing a web at a high degree of uniformity. Between 1999 and 2003, the NSC ProDyn was improved to achieve the same at higher speeds.
AirWeb® turbo units are another innovation from NSC. They combine air-laid and carding technologies to deliver isotropic fabrics of 30 to 250 grams per square meter (g/m2). These turbo units can be integrated into a card such as the AirWeb-C or installed separately in a carding line such as the AirWeb-T. These technologies broaden the range of products that can be offered by nonwovens manufacturers.
Another important feature of the NSC cards has been the gauge system used. At ITMA '99, the NSC gamma backscatter measuring gauge was set up on a traveling unit to control the whole width of the nonwoven product during production. The system was designed to continuously determine the product's statistical evenness values. At ITMA 2003, this device was an X-ray-based system, as opposed to the gamma system used previously. Because this device doesn't use gamma rays, it does not suffer from the same regulatory concerns. Working widths of 2.5 to 8 meters are available.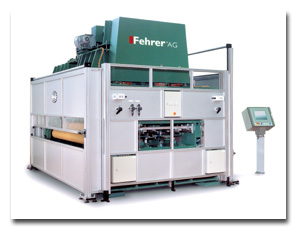 Fehrer introduced the NL11/TWIN-SE Carpet Star® structuring needlepunching machine at ITMA 2003.
Needlepunching
Some time ago, NSC and Dilo, through acquisitions and partnerships, began offering vertically integrated systems for needlepunched fabric markets. The process has moved further in the smoother integration of the capabilities of the constituent components.
In needlepunching, the emphasis has shifted to improving machine efficiency, as well as quality of the products made. The major contenders in this technology are Dilo, NSC and Fehrer AG, Austria.
Dilo's DI-LOOM OUG-II HVSCL Hyperpunch double needle loom is a universal needle loom for the production of high-quality felts for applications such as synthetic leather, car interior linings and technical felts. Unique features include kinematic elliptical needling for low-draft needling and minimal dimensional changes. The loom is equipped with DBF feed rollers with individual drives that provide for optimum pre-compression of batt and pre-orientation of the fibers.
The Dilo take-off system with draft zone allows for ultimate fiber re-orientation, which is important in molding applications.
Patterning is made possible by the DI-LOOP structuring and patterning process and DI-LOUR IV dual structuring. The DI-LOOP presents a patterning technique on the basis of a single-board DI-LOOP DS machine, and offers an increased variety of patterning capability for double-layered two-color fleeces. The DI-LOUR IV dual structuring process increases productivity by doubling the throughput speed, improving the pile stability by increasing pile density and offering improved patterning options.
Fehrer displayed needlepunching machines, friction-spinning equipment and papermaker felt needlepunching equipment at ITMA 2003. The focus of the needling technology appeared to be more on structured needlepunching for the production of rib and velour products, and in particular, structured goods with borders on all sides. Versatility is another attribute of Fehrer's needle looms. For example, the Superlooper not only produces classic, fully randomized velour patterns, but also creates a number of designs including very fine transverse ribbing.
NSC's loop or rib A.50 needle loom is a major contender in this market. The A.50 complements its velour needle looms for making structured needled felts at high production speeds. The new A.50 loom enables the production of rib floor coverings at a speed of 18 m/min, a very significant improvement over conventional needle looms.

Fleissner's AquaJet spunlace system can be used to make three-layered web structures, such as the one above with cellulose fibers in the middle layer.
Winding And Slitting
The area of winding and slitting has been a major challenge to the nonwovens industry. The ever-increasing desire for higher production speeds, automatic doffing and slitting has led to the adaptation of technologies from the packaging and paper industries. NSC's winding and slitting solution is going to be a major contender; it clearly has all the right elements for success - tension control, nip pressure, andtorque control; as well as automatic doffing, slitting positioning and web-threading systems.
Hydroentanglement
The bars have been raised. Today, some hydroentangling manifolds are capable of handling water pressures of 1,000 bars. It is claimed that the motivation for higher manifold pressures is to hydroentangle heavy basis-weight webs for filtration, synthetic leather, coating substrates and other similar markets. As a result, the technology is applied to fabrics varying in basis weight from 15 g/m2 to 600 g/m2 at production rates as high as 700 m/min or more.
It is not clear that the higher pressures offer significantly better or improved products, at least not today. It is well known that the jet strips do not last very long at pressures greater than 300 bars, and the cost of such strips can easily outweigh the efficiencies obtained by using higher pressures. While it is widely believed that higher pressures are more desirable for entangling heavier webs or for splitting fibers when using bicomponent fibers, for heavier webs - or for those that require splitting - a better solution might be found in coupling needlepunching and hydroentangling. The two offer very different properties and together may be a better solution to increasing manifold pressures.
Jet strips now can be supplied with multiple rows of orifices, and, since the last ITMA, perforated smooth drums are becoming increasingly popular in lieu of or with belts. The drum results in improved entanglement.
Germany-based Fleissner GmbH & Co. KG exhibited its duplex and triplex manifolds capable of accommodating several jet strips, instead of using several manifolds with a single jet strip. It offers lines as wide as 7 meters that can handle webs weighing from 10 g/m2 to 300 g/m2.
Fleissner also exhibited its exclusive spunbond/pulp/spunbond (SPS) and carded/pulp/carded (CPC) composite structures, in which a layer of pulp is sandwiched between two other webs of staple fiber or spunbonds. It also demonstrated the application of hydroentangling in the carpet industry, where hydroentangling instead of latex binders is used to bond carpet backing
(See " Carpet & Rug News," TW, November 2003
).
Fleissner exhibited another development related to patterning using hydroentangling. The company uses special engraved drums that can produce permanent patterning of the structure. The patterns on display were quite impressive and complex.
However, perhaps the most important development by Fleissner has to do with the elimination of jet streaks by employing an oscillating jet head, a first in the industry.
Spunmelt Technology
Thus far, the two distinct technologies under this title have been known as spunbond and meltblown. In both cases, the process is integrated to include polymer melt extrusion through small multiple orifices to obtain an ensemble of fibers, which then are arranged into webs and consolidated/bonded into a fabric. Initially, spunbonds implied continuous filament fiber webs bonded thermally through needlepunching or application of resins. The fibers were attenuated to varying degrees, depending upon engineering capability of the process and characteristics of the polymer used. Fiber fineness ranged from medium to coarse, and the toughness-to-strength ratio was quite high. It is the latter, together with the bonding technology used, that gave the resulting fiber webs their relatively high strength, toughness and tear resistance. Meltblown, on the other hand, yielded discontinuous fibers - much finer, though somewhat variable in size, without much internal structure formation and therefore having very little strength, which showed up in the corresponding webs.
The evolutions in engineering technology in the two cases have brought the two process technologies together and even integrated them so as to provide multiplexed higher-order, multifunctional roll-goods structures that are quite versatile in certain end-uses. In addition, in the spunbond case, systems are available from companies such as Hills Inc., West Melbourne, Fla., that can give sub-denier fiber webs, or bicomponent fiber webs. Correspondingly, in the meltblown case, systems are available that will yield continuous filament, bicomponent or biconstituent webs, and, thanks to revolutionary technologies such as those offered by Hills, it is possible to spin fibers with noncircular, multilobal cross sections composed of two or more polymer streams in both spunbond and meltblown technologies.
Hills showcased some exciting new developments. It began many years ago by offering filament and staple extrusion lines in both monocomponent and bicomponent configurations. Its bicomponent technology is unique, flexible and expandable. Hills began offering both meltblown and spunbond equipment some years back, and its spin beam and bicomponent/multicomponent technologies have been used together in systems offered by Nordson and Reifenhäuser.
The latest development in the area of meltblowing is Hills' 100-holes-per-inch meltblowing die. Typically, most meltblowing spin beams have around 30 holes per inch. The increase to 100 holes per inch has two significant implications:
• At the same throughput (grams per hole per minute), production can be improved significantly, reducing the need for multiple beams and offering significant cost savings.
• At lower throughputs, production can be the same or higher, by yielding significantly smaller fibers. Because of the increased surface area, a composite made up of a sub-micron meltblown web can be lower in weight, leading to significant cost savings.
Another exciting development exhibited by Hills is the ability to form spunbonds with islands-in-the-sea fiber morphology. This technology, historically utilized in making filaments and staple fibers used in the production of synthetic suede and leather, now can be offered in spunbonding. Island counts of 1,000 or more are possible using Hills' bicomponent technology. Hills showed samples of spunbonded nonwovens made from 36 islands-in-the-sea fibers. These approached the properties of typical meltblown structures (less than 2 microns) with the strength of a typical spunbond.
This developement is important on two counts:
• A single layer of spunbond may have the barrier properties required to replace a spunbond/meltblown/spunbond composite at significant cost savings.
• Fiber diameters of less than 0.5 microns may be possible, leading to a new range of barrier and filtration products at reasonable cost.
Continued innovations by Hills are anticipated. The developments in the area of multicomponent fiber extrusion coupled with needling and hydroentangling are worth watching. Equally important is the availability of water-dispersible polymers such as Kingsport, Tenn.-based Eastman Chemical's AQ series that enable the use of such technologies without raising any significant environmental concerns.
---
Editor's Note: Behnam Pourdeyhimi is a professor in the department of textiles and apparel, technology and management at North Carolina State University's College of Textiles, Raleigh, N.C., and also is co-director of the Nonwovens Cooperative Research Center. He holds a Ph.D. in textiles from the University of Leeds, England.
February 2004
Advertisement