ITMA 2003 Knitting Technology
ITMA 2003 introduced new fabrics and technologies to the knitting sector.
Trevor J. Little, Ph.D.
I
TMA 2003 turned out to be a significant event for the knitting industry. Towards the end of the exposition, machinery exhibitors indicated they had had more visitors than anticipated, and order activity had exceeded their expectations. Attendees to the knitting area were presented with significantly new and different opportunities for creating new fabrics and entering new markets.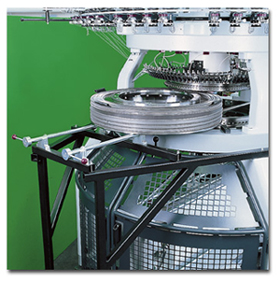 Mayer and Cie.'s OV 3.2 QC offers quick cylinder and dial change.
Circular Weft Knitting: Fine Gauge
Several circular knitting machine exhibitors showed machines with 44 needles per inch in both the cylinder and dial. These very fine-gauge machines appear positioned to compete with fine-gauge warp knitting machines. South Korea-based Keumyong Machinery Co. Ltd. showed its model KILM-108V interlock machine with 44 needles per inch in both dial and cylinder. The products made using this machine are going into underwear, swimwear and nightgown markets, according to the company.
Orizio Paolo S.p.A., Italy, exhibited its JOHN/TC in a 30-inch-diameter, 40-gauge version. This single-jersey machine features open-width put-up and automatic roll doffing. Orizio has developed a special thin needle of 0.30 millimeters (mm), according to Paolo Fumagalli, sales manager for the United States and China.
Terrot Strickmaschinen GmbH, Germany, also showed a 40-gauge single-jersey machine. Model S296-1 with open-width roll put-up was shown with a 34-inch diameter, 3.2 feeds per diametrical inch, four knitting tracks and a speed factor of 1,020. A conversion kit - the SBF296 - for three-thread fleece fabric is available for this model.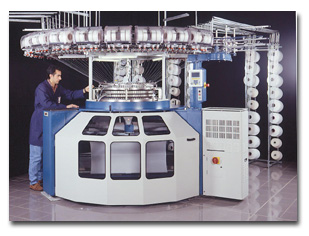 Orizio Paolo's JOHN/TC circular knitting machine features automatic roll doffing.
New Technologies
Germany-based Mayer & Cie. GmbH & Co. KG introduced a new concept machine, Model MV 3-3.2 H, which employs a new "hooked" needle. In this needle, the latch no longer exists. Instead, two hooks positively guided in a cam track relax the stress on the yarn and knitting elements. Referring to the process as "Relaxed Knitting," Mayer & Cie. claims there is less wear on the needle, and loop formation is more reliable than with the traditional latch needle. The hooked needle has the action of a compound needle, but the sliding component of the compound needle is now a hooked element. The MV 3-3.2 H is available in models with up to 44 needles per inch, according to Bill Davis, Mayer & Cie.'s US agent.
The circular knitting machine can now be equipped with a suite of enhancements to provide better quality and flexibility. These include:
• servo tape drive;
• central stitch control;
• electronic take-up settings;
• open-width roll put-up to eliminate center creases;
• individual feed metering using a DC motor-driven feed unit; and
• air cleaning around the knitting elements to lengthen needle life.
Mayer & Cie. also showed its Machine Data Acquisition (MDA) system, which monitors knitting efficiencies and assists with machine scheduling. At the show, the MDA system was demonstrated through an on-line connection to the Delta Textile knitting plant in Egypt.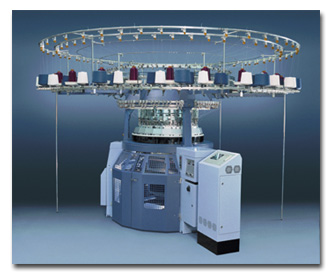 Terrot exhibited a computerized double-jersey transfer machine, the UCC 124ST.
Jumbo Rolls, High Speeds
Because of the increasing size of fabric rolls on the knitting machine, significant development has been undertaken to rotate the jumbo fabric rolls on the same machine without increasing vibration in the knitting zone. Improved designs from Monroe, N.C.-based Vanguard Supreme, (Model 4SJ4) and Terrot (Model RH216-L) offer machines specifically designed for jumbo roll knitting.
Vanguard Supreme, a division of Monarch Knitting Machinery Corp., Bronx, N.Y., exhibited the 4SJ4/ HAC12 jumbo roll machine with a speed factor of 1,500 for plain jersey fabric and 1,000 for fleece. The company also showed its Filter Flow 2000, which can increase needle and sinker life two to three times when used with open-end cotton yarn, according to Phil Renda, manager, research and development. Oil consumption also may be reduced by half.
The 2SR2/H12 high-speed double-knitting machine also was on display. According to Renda, it can produce rib fabrics at a speed factor of 1,500 and interlock fabrics at a speed factor of 1,200.
Mayer & Cie. also offered high-speed knitting with the Relanit 4.0, shown with 22 gauge and four feeds per inch. According to Davis, the Relanit 4.0 has a speed factor of 1,500 and also is equipped with a jumbo roll (500 pounds) take-up system. In addition, the Relanit 4.0 is equipped with servo motors to control the yarn input tape measuring system.
Pai Lung Machinery Mill Co. Ltd., Taiwan, exhibited the PL-KS3B-HS single-jersey four-track machine with a 34-inch diameter, 28 gauge, and 102 feeds operating at 36 revolutions per minute (rpm). This model can operate at a speed factor of 1,500 when knitting single-jersey fabric, according to Bill Moody, president, Nova Knitting Machinery - Pai Lung's Monroe, N.C.-based US representative. A kit is available to convert this model into a fleece machine for knitting fabrics in the 280- to 320-grams-per-square-meter (g/m2) range. This machine has strong markets in Canada and Central America, according to Moody. At the show, the machine was knitting a fabric in the 200- to 240-g/m2 range with a 72-inch finished width.
The Mayer & Cie. 34-inch-diameter MV 4-3.2 II with 108 feeds demonstrated the five components of MCTmatic machine automation - yarn speed, stitch length, yarn tension, take-down tension, and data storage for repeat orders. On this machine, a new cam system was shown whereby the cam can be attached using a locking pin to speed up changes in camming.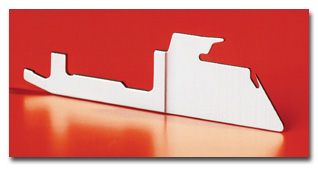 Germany-based Kern-Liebers Knitting Parts GmbH works with its customers to develop flat parts for knitting machines, such as this part for a toe-closing system.

Weft-Knit Spacer Fabrics
Another new Mayer & Cie. development displayed at ITMA was the OV 3.2 QC, shown knitting a spacer fabric. This is a cylinder-and-dial machine with quick-change features requiring one person, one shift to change cylinder and dial, according to Davis.
Monarch showed its V-LEC6BS model in 32 gauge for spacer fabrics used in intimate apparel.
Terrot showed its UCC 572 30-inch-diameter, 32-gauge, 72-feed double-jersey machine knitting an underwear spacer fabric. Spacer fabrics have become important in foundation garments and automotive upholstery, according to Klaus Kunde, marketing manager. Terrot showed developments for the manufacture of automotive upholstery that can be recycled. The developments are the result of a collaboration within an automotive upholstery supply chain.

Groz-Beckert's new patented litespeed knitting needle

Pile And Terry Machines
Mayer & Cie. exhibited two new machines for the production of terry fabrics. The first - the MPU 0.8 EE - produces fabrics in up to three pile heights using electronic needle and sinker selection.
The second - Mayer & Cie.'s fully electronic 42-feed, 18-gauge MPU 1.4 DE - was shown knitting a 300 g/m2 double plush jacquard fabric at 14 rpm. The machine was equipped with Mayer and Cie.'s CONI SEP for controlling yarn input.
Keumyong showcased its KPJS-III computerized pile loop jacquard machine with direct selection on the sinker to produce a terry effect. The 30-inch-diameter, 20-gauge, 48-feed machine was operating at 20 rpm.
The new KYPL-CV fully computerized plush jacquard machine from Keumyong was exhibited knitting high-pile fabric. The pile is cut by the cylinder needle, and the ground yarn is knitted on the dial. One hundred machines have been sold to a company in Turkey, according to the company.
Monarch's V-SECPLT12 electronic jacquard three-height terry machine employs electronic sinker selection to produce the three loop heights - high loop, low loop and no loop. The V-SECPLT12 is available in diameters from 26 to 38 inches and gauges from 14 to 24 needles per inch, according to Roger Hylton, technical sales manager and technical sales engineer.
Orizio Paolo exhibited a 30-inch-diameter, 20-gauge, 44-feed version of its JSVE electronic jacquard terry machine. This model has direct sinker selection controlled by a WAC electronic system. The main markets to date for these machines are Turkey, South America and Iran, according to Fumagalli.
Garment-Length Machines
A trend evident at ITMA 2003 was an interest in promoting fine-gauge garment machines for the production of lightweight knit tops. Garment-length machines usually are offered in a 34-inch diameter and in gauges ranging from 12 to 18 needles per inch.
Monarch exhibited its V-AERGY in a 34-inch-diameter, 18-gauge version with a speed factor of 600, equipped with three-position needle selection on dial and cylinder, synchronized or delayed timing by auto timing system, and four-color striping and knit-in draw thread. Monarch's V-LEC 3 DGTY2, the fully electronic version of the garment-length machine, has bidirectional transfer at all feeds and three-position selection on cylinder and dial.
The Mayer & Cie. OVJA 1.1 TTRB with electronic needle selection on both dial and cylinder plus transfer is the company's solution to fine-gauge knitting of garment blanks with separating yarns. The 34-inch-diameter, 36-feed, 18-gauge machine was shown knitting a 150 g/m2 garment at a speed of 14 rpm.
Terrot exhibited the UCC 124ST, a computerized double-jersey transfer machine. According to Kunde, this model offers the highest versatility combined with computerized jacquard patterns for better-quality sweaters, with or without separation thread. The machine was shown in a 38-inch-diameter, 24-feed, 12-gauge version with five-color striping and electronic racking of ± six needles, operating at a speed factor of 608. Coupled with the dual transfer from cylinder to dial, this machine can productively produce typical flat-knit structures, according to Kunde.
Seamless
Italy-based Santoni S.p.A. exhibited its SM8 TOP2, a single-jersey, 17-inch-diameter, 24-gauge machine with eight feeds. Santoni is known as a pioneer in the development of seamless fine-gauge knitwear for underwear, swimwear, sportswear, outerwear and homewear, according to Fiorenzo Sandonini, marketing manager for the Santoni Group. Santoni also showed a 16-inch-diameter, 15-gauge, double-jersey SMD machine. At ITMA, Santoni featured new software that assists the design process, and also presented improvements that make its knitting equipment fast (1,430 speed factor is available) and flexible. The major market is lingerie, but Sandonini indicated there is a lot of interest from brands such as Nike and Columbia Sportswear.
Orizio Paolo exhibited its BS model, a 15-inch-diameter, 28-gauge, eight-feed machine for the production of seamless underwear, as well as sportswear and swimwear. Each feed has six-finger striping, three-position knitting and electronic needle selection.
Steiger Ltd., Switzerland, exhibited its Aries machine at Paris-based Lectra's stand. This electronic flat machine has up to 24 electronically and step-motor-controlled yarn carriers, which, in conjunction with a straight feed-yarn path created by eliminating the bow connections, enables unlimited knitting of specialty fabrics and structures, according to Gerard Steiger, senior head technician. Steiger collaborated with Lectra to offer KnitExpert software. The package, comprised of Lectra's Prima Vision and Steiger's Model software, allows for 3-D structure, and jacquard and intarsia pattern design.
A Better Rib
Rib fabrics continue to be popular for a wide range of apparel. One interesting new feature is the ability to change from plain to rib and maintain the same stitch size. Monarch exhibited the VC-SDR (stitch differential rib) machine with two cylinder stitch tracks offering knit, tuck and miss, which enables two different stitch lengths to be selected at consecutive feeds. It was exhibited in a 30-inch-diameter, 18-gauge version with 62 feeds, operating at a speed factor of 900.
Monarch's V-7E00 model, known as the interlock/inter-rib, is designed to offer quick changeover from interlock-based structures to rib-based structures. The machine was shown in a 30-inch-diameter, 20-gauge version with 72 feeds. The V-7E00 has five-position knitting - tuck, welt, support, and two knit positions for delayed and synchronized timing -and is equipped with a two-track RDS cam system.
Pai Lung exhibited the PL-XRTCJ/DJ/CS6 for rib transfer mesh structures. The 34-inch-diameter, 18-gauge, 50-feed fully electronic double-jersey machine was shown knitting rib mesh in various mesh designs in the 180- to 260-g/m2 weight range.
Warp Knits, Electronics
Warp knitting developments at ITMA 2003 focused on spacer fabrics, electronics, technical textiles and increased production speed for basic fabrics.
Germany-based Karl Mayer Textilmaschinenfabrik GmbH introduced a new approach to nesting the guide bars on multi-bar jacquard lace machines and multi-bar lace machines. Known as string bars, the guides are mounted in single nests of six guides, which are moved via strings to motors at the side of the machine. This permits much greater patterning capability, especially when coupled with the jacquard lace bar, according to the company. Karl Mayer's Textronica Lace 66/1/36 has 66 total nested bars, one jacquard bar and 36 pattern guide bars in front of the fall plate. It is used for the production of artistic and narrow lace fabrics such as those used for foundation garments and trims. The Fascination Lace (FL) 20/16 comes equipped with 16 string bars and is used for the production of functional underwear fabrics.
In recent years, the warp knitting machine has made significant advances towards becoming fully electronically controlled. Karl Mayer's TL 66/1/36 features electronic beam control, electronic take-up and electronically shogged main bars, as well as the new electronic string bars.
Italy-based Comez S.p.A. exhibited the Decortronic 1000/EL crochet machine featuring up to 10 weft bars with electronic control. Comez also exhibited the Decortors 1000/EL model featuring eight electronic weft bars and a tassel twisting attachment. Comez technology, coupled with ComezDraw design software, has produced a wide range of raschel-crochet machines for producing decorative narrow fabrics and innovative decorative fringes.
Warp-Knit Spacer Fabrics
Warp-knit spacer fabrics have significant potential in many industrial textile markets. Karl Mayer's HDR 6 EL model, a double-needle-bar raschel machine with six guide bars and electronic guide control, is specially designed for spacer fabrics. The HDR 6 EL can produce "HighDistance" spacer fabrics in thicknesses up to 60 mm in the spacing between the guide bars. The spacing can be altered continuously with additional adjustments to the guide bar assembly, and the spacer guide bar can lap over 18 needle spaces.
Germany-based Liba Maschinenfabrik GmbH exhibited the DG 506-15 model for the production of double-needle-bar spacer fabrics. This machine comes equipped with six guide bars and produces a spacer fabric in the 15-mm space between needle bars. It is available in widths of 84 and 130 inches.
Warp-knit spacer fabrics are very different from weft-knit spacer fabrics due to the guide bar lap capability, which yields a resilient structure for repeated compression applications. In particular, spacer fabrics are considered appropriate for shoe and upholstery applications.
Warp- and weft-insertion warp knits continue to be in demand for the production of technical textiles, including geotextiles. Liba showed the HS-1-ST model knitting at 1,800 rpm and inserting yarns measuring up to 2,000 denier.
Karl Mayer exhibited its Biaxial NM Malimo technology for weft insertion with the option to add chopped fibers and vary the insertion angle. In addition, Karl Mayer showed the RS 2 (3) MSUS-V geotextile fabric machine feeding a needlepunched nonwoven fabric as the substrate and adding warp- and weft-insertion yarns of up to 37,400 decitex for the weft insertion. The intended applications are road and rail stabilization; construction of bank reinforcements; and coating carriers for protective suits, tents and awnings.
Warp-knitting speeds have reached the 3,500-rpm benchmark. Karl Mayer's HKS 2-3 for the production of two-bar swimwear and lingerie fabrics was demonstrated operating at 3,500 rpm. Liba exhibited its Copcentra 2K-E model with two bars, also operating at 3,500 rpm. The Copcentra 2K-E is fitted with a carbon-filled needle bar, and is used mainly for the production of elastic swimwear and activewear fabrics, according to the company.
Needle Technology
Groz-Beckert GmbH, Germany, introduced the patented, longer-life litespeed circular knitting machine needle at ITMA. According to the company, in tests conducted by machine manufacturers and knitting mills, the needle has reduced machine temperature by 15 to 20 percent and needle energy consumption by 10 to 20 percent. The lower operating temperatures make fixing machine problems or performing a needle or sinker change much easier.
New Opportunities?
ITMA 2003 was a source of many new innovations for the knitting industry. Many other vendors and existing technologies also were evident in the area of knitting. The advances described here will yield a new wave of opportunities for many sectors of the industry. Advances in electronics clearly have given the knitting industry many new products and the potential to enter into new markets. Seamless and garment-length machines offer a new stream of innovations. Spacer fabrics have the potential to make significant inroads into the foundation and upholstered fabrics markets. It is now up to the industry to invest in technology that will serve the needs of the market.
---
Yarn Control From Memminger-IRO
Germany-based Memminger-IRO GmbH storage feeders and positive-yarn-control feeders have been used on leading brands of knitting machines. At ITMA 2003, the company featured three new products.
The new Memminger Combi-Feeder (MCF) was developed for circular knitting machines. The MCF is a combination device for both positive feed and storage feed. The positive feed mode is used for basic constructions in which the demand for yarn is constant, and the device is driven by toothed belts. When yarn consumption is intermittent, the device's DC motor continuously monitors and regulates yarn storage up to a yarn speed of 450 m/min.
The new DIGI ONE electronic yarn feeder is designed for hosiery and undergarment knitting. The feeder can accommodate bare and covered elastomer yarns, as well as regular yarns. The control system monitors and establishes the yarn tension required, and the DIGI ONE senses the tension and adjusts the yarn speed to yield constant knitting tension, according to Don Thomas, sales manager, IRO Inc., Memminger-IRO's Charlotte-based sister company.
The DIGI ONE can operate in a graduated tension mode. The minimum-to-maximum tension range can be divided into 200 steps and programmed into the electronic yarn feeder. This is an important advance for knitting of different loop sizes on fine-gauge hosiery and underwear machines.
Memminger-IRO also featured a new fully electronic yarn-length and yarn-tension meter, the MLT-Wesco. It is designed for use on circular knitting machines and also can measure the exact speed of machine rotation to compute exact yarn consumption data.
---
Protechna Herbst GmbH & Co. KG
Protechna Herbst GmbH & Co. KG, Germany, offers monitoring equipment for a wide range of textile manufacturing machinery.
The Laserstop 4080 on display at ITMA is a new laser light barrier system that comes in a variety of configurations to conduct needle surveillance, sense fabric defects, control weft insertion, detect broken threads, and control the elastomer beam on the warp-knitting machine.
Protechna's new Tensoscan provides yarn surveillance and thread tension monitoring for warping and beaming operations. The Tensoscan travels across the yarn sheet, and the integrated thread probe measures the tension of each individual thread in the yarn sheet. The tensions on the individual yarns are displayed together with the acceptable quality levels determined by the warping department. Yarn separation distance can be as low as 0.7 mm to be able to measure each yarn's tension, according to Wolfgang Kolbl, sales executive.
Protechna also markets sensing and monitoring systems for knitting equipment. Such systems include the contact-free Scanner 5390 for warp knitting machines, Camscan II for warping, Warpstop for yarn faults during warping, and ProCam 5310 for optical on-line fabric inspection on fabric-producing machines.
---
Monitoring Instruments From Appalachian
Appalachian Electronic Instruments Inc., Fairlea, W. Va., offers a range of products for textiles, medical, railroad, mining and nuclear instrumentation. At ITMA 2003, Appalachian featured seven new or significantly improved products in addition to other standard products.
The company's new warp scanner provides a more cost-effective approach to end-break detection in warping. The operator inputs the end count into the WarpScan control, and the processor scans the total end count several times per second to verify it. If the sensed count does not agree with the input end count, the warper is stopped and the end break is identified on the liquid crystal display screen.
The Yarn Inspector 600 is an improved version used for close inspection of warps at high speeds. The device uses a visible laser light source and ultra-sensitive photo detector, according to Mike McClung, vice president, marketing and sales. The Yarn Inspector 600 also can be used on elastomer yarns to detect broken ends.
The 20MP Scannair is an updated version that detects warp ends that break, for example, during warp knitting or weaving. It uses a laser beam as the sensor, and, according to McClung, can sense a 15-denier yarn break across a 180-inch machine.
McClung said Appalachian also has upgraded its ASM-12 warp-knit traversing scanner by including its own communication control box and features to make the system brushless and wireless.
Appalachian specializes in tension controls for warping creels, and continues to enhance its technology for warping tension control. The programmable Tension Control System permits the user to control individual yarn tensions, as well as establish zones of tension from front to back of the warping creel, and give constant tension across the yarn sheet. The system includes sensors to detect broken ends at the creel.
Appalachian also introduced two new systems for the carpet industry. TuftScan is designed to detect carpet defects during tufting. It can detect missing yarns on carpet and also can be used with sculptured carpet constructions. TuftVision uses high-speed video processing to detect change in carpet density and surface defects to reduce mend lengths and improve overall carpet quality.

February 2004
Advertisement