IFAI Expo Comes To Steel Town
The industrial fabrics industry presented an array of product developments at Pittsburgh's world-class convention center.
Alfred Dockery, Technical Editor
I
FAI Expo 2004, organized by the Roseville, Minn.-based Industrial Fabrics Association International (IFAI), made a strong showing recently in Pittsburgh, with more than 6,500 attendees including 848 visitors from 51 countries. That's down a bit from the near-record 7,425 attendees in Las Vegas last year. This year's show had 413 exhibitors including 40 companies from outside the United States. There were 60 new exhibitors.
The annual event continues its evolution from an awnings show to a coated fabric show to a high-tech textile expo that encompasses traditional performance textile applications and serves an array of specialty niche markets.
"Our industry has seen a dramatic shift in the supplier base from traditional textile fabrics to more advanced flexible fabrics," said Steven M. Warner, president, IFAI. "We've seen tremendous growth in niche markets like medical and military."
"There was more diversity of companies, with both exhibitors and attendees walking the aisles that previously wouldn't have considered IFAI as part of their core business focus," said Edward C. Gregor, managing director, Edward C. Gregor & Associates LLC, Charlotte. "Many companies, which struggled over the last three to four years, seem to be discovering that niche industrial market segments are where new ideas can create growth and profit opportunities."
At IFAI Expo 2004, more than 1,200 participants attended more than 17 business- and market-specific educational tracks and conferences, covering medical textiles, signs and graphics, safety and protective, textile construction, awning and canopy, sports and recreation, filtration textiles, upholstery, marine fabrication, transportation textiles, equipment and technologies, and business and leadership.
This year's pre-show conferences, Medical Textiles 2004 and the 4th International Conference on Safety & Protective Fabrics, attracted 103 and 131 participants, respectively.
This year's keynote speaker, Robert Gates, Ph.D., a former director of the Central Intelligence Agency, delivered a speech entitled "Living in a Secure World." After warming the crowd up with some insider Washington jokes, Gates addressed three main tenets: terrorism; rogue states; and the proliferation of weapons of mass destruction. Gates also touched on globalized crime, foreign government-sponsored targeted espionage and the erosion of the United States' ability to produce manufactured/industrial products.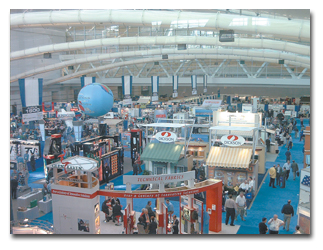 IFAI Expo 2004 was held at the David L. Lawrence Convention Center in Pittsburgh.
Fiber And Fabric: The Stars Of The Show
Avondale Mills Inc., Monroe, Ga., promoted its pigmented and clear coatings capabilities at IFAI Expo.
"We thought the show was excellent, as we made a lot of contacts that could add to business," said Kevin Crean, vice president, Avondale Specialty Fabrics. "We did book some orders at the show, which is a little different than other IFAI shows."
The division's commission finishing business is always growing. The company also is looking at purchasing new equipment in order to meet customer demands through expanded capacities.
"Business conditions over the past year have been very strong," Crean said. "Our boat cover fabric business grew like gangbusters because boat sales exploded. We hope that boat sales and a strong aftermarket continue through this calendar year and into the boating season in 2005."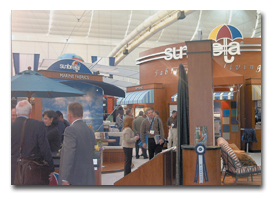 Glen Raven emphasized its Sunbrella® brand of fabrics.
Glen Raven Extends
And Freshens Sunbrella® Brand
Glen Raven Inc., Glen Raven, N.C., had a major presence in Pittsburgh with two booths: one for Glen Raven Custom Fabrics LLC and a second for Glen Raven Technical Fabrics LLC. This time around, the company is spending more time and effort promoting and showing its decorative fabrics.
"We are trying to bring the performance story to the residential indoor business," said Harry Gobble, marketing director, Glen Raven Custom Fabrics. "As we continue to extend the brand, we have some issues where we have to offer individual markets something unique. We may have to tweak the performance factors in one area, soften the hand in another. It is not 'one Sunbrella® fits all.'"
The company will introduce in 2005 seven solids and 12 stripes to expand and freshen its awning and marine fabric collections. The most innovative of the new awning patterns is a group called Coastal Stripe, which represents the first time Glen Raven has incorporated slub yarns into awning fabrics.
"The way to create texture within an awning fabric is through the use of specialty yarns," said Gina Wicker, design director, Sunbrella brand fabrics. "By using slub yarns, which have thick and thin areas, Coastal Stripe will have a natural fiber look that will be striking when viewed from both outside and inside a home."
EMS-GRILTECH, Switzerland, showed its line of copolyamide (CoPA) and copolyester hot melt adhesives, Grilon® polyamide 6 fibers, staple fibers and CoPA mono- and bicomponent fibers. Earlier this year, the company started up a new pilot plant for staple fibers and yarns for thermoplastic polymers with a melting point of up to 350°C
(See " Fiber World News," November 2004)
. The yarn count can be 1.7 decitex (dtex) to 200 dtex for each filament. The company plans to extend its range of bicomponent fibers and bicomponent yarns.
Hyosung Corp., Korea, had on display technical yarns including polyester for coated and laminated fabrics, seat belting, industrial webbing and nylon 6,6 for airbags. The company also produces fibers for apparel and is the largest spandex manufacturer in China. With an annual production capacity of 14,000 tons, it accounts for 10 percent of China's entire spandex market.
Unifi Inc., Greensboro, N.C., stressed its Satura™, A.M.Y.® and Sorbtek® yarns for outdoor and medical applications. Satura is Unifi's family of solution-dyed yarns that can be produced in a wide array of saturated colors, including custom-matched colors
(See " Quality Fabric Of The Month," October 2003)
. Satura yarns provide superior color consistency, excellent lightfastness and are bleach-cleanable. At the expo, Safety Components Fabric Technologies Inc., Greenville, presented to the awning and marine markets its WeatherMAX™ line of high-performance fabrics made with Satura yarn.
For medical textiles, Unifi has antimicrobial A.M.Y. yarns, which provide bacteriostatic, odor-controlling properties permanently embedded in the yarn polymer. Silver, which has been used as an antimicrobial agent for centuries, is present in the polymeric matrix in A.M.Y. yarns.
Sorbtek yarns provide superior moisture management, making them an excellent choice for medical sheeting. Sorbtek's proprietary "catch, move and release" moisture-management system is embedded in the yarn's molecular structure, which allows the absorption and wicking properties to last wash after wash, according to Unifi.
SI Expands Into New Markets
The expo found SI Corp., Chattanooga, Tenn., with record revenues, but much of this top-line growth can be attributed to recent spikes in raw material price increases, which forced the company to raise prices. Polypropylene resin costs have almost doubled over the last two years.
"[Rising costs] have made us really look at lean initiatives and cutting excess waste," said Kemp Harr, vice president, marketing. "In fact, we are producing more with the same equipment."
SI has seen growth in several market areas. Pool cover and trampoline fabrics for the recreational market have shown significant increases.
SI's domestic furniture and bedding business is declining. The upholstery business is quickly going overseas. The company has found other market areas to compensate including automotive interior fabrics. The liquid filtration business is steady. Demand for filtration products used in processing aluminum and steel are growing due to the high demand for metals.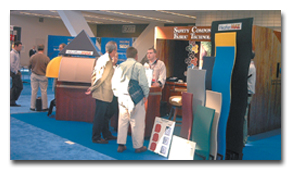 Safety Components Fabric Technologies presented WeatherMAX™ fabrics made with Unifi's Satura™ yarn.
Machinery Makers
Stress Networking, Innovation
American Dornier Machinery Corp., Charlotte, reported good traffic at its booth. The company found its customers that attended the show were upbeat. Business appears to be rallying in several woven fabric segments including the military, ballistic, protective and carpet areas.
Gerber Technology Inc., Tolland, Conn., showed computerized pattern design, nesting and cutting solutions for industrial fabrics. The ballistic fabrics market in particular has been booming, according to Dudley Fenn, global sales support executive, Industrial Applications. He also noted many small companies that are just getting into computer-aided design and automated cutters are finding Gerber's technology affordable.
"Our business in this market continues to expand," Fenn said. "We are always looking to modify various aspects of our equipment to address the needs of this industry and listen to the voice of the customer on an ongoing basis. That is what has made us successful over the years."
Lang Ligon & Co. Inc., Greenville, introduced the Eureka automatic debatching, inspection and packaging machine from Testa S.p.A., Italy, to the industrial fabrics industry. The machine allows the user to automatically cut and package large rolls into smaller rolls that conform to customer specifications. Another advantage of the system is that it can optimize the yield of first-quality fabric from large input rolls. It also offers labor savings.
"I am far more enthusiastic about this show compared to the Las Vegas show last year," said Harrell Ligon, vice president. "There were much healthier conversations and positive outlooks going forward from industrial fabric makers."
Japan-based Seiko Sewing Machine Co. showed heavy-duty, zigzag, double-chain-stitch and long-arm sewing machines. Two standouts were the STH-8BLD-3 single-needle, large horizontal axis hook, compound feed and walking foot, lockstitch machine; and the SKZP series single-needle, heavy-duty, post bed extra-large horizontal axis hook, drop feed, zigzag stitch machine.
Shanghai Shenda Kobond New Materials Co. Ltd., Shanghai, displayed industrial fabrics for a variety of markets including graphics, transportation, architecture, protective, geotextiles and awnings.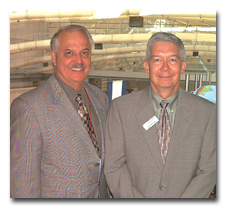 George K. Ochs, FabriTec Structures LLC (left), Costa Mesa, Calif.; and Steven M. Warner, IFAI
Updating Chemicals And Testing Equipment
Ciba Specialty Chemicals, Switzerland, emphasized new flame-retardant products targeted to meet emerging regulations from California and the US government. Ciba also showed products that impart high levels of ultraviolet stability.
Mitsubishi International Specialty Chemicals, a business unit of New York City-based Mitsubishi International Corp., highlighted its Repearl® performance fluorinated water- and oil-repellent finishes. Repearl provides durable, high-performance fluorochemical finishing to apparel, upholstery, carpeting, nonwoven and industrial fabrics.
Cleveland-based Q-Panel Lab Products showed its Q-Sun Xe-1 test chamber for lightfastness testing. The company offers the latest technology in flat-array, air-cooled Xenon test chambers. Smrithi Kumar, export sales manager, Southeast Asia, reported quality leads and said two companies based in India placed orders at the show.
Testrite Instrument Co. Inc., Newark, N.J., displayed large-format, double- and single-sided roll-up and virtual-billboard indoor banner stands. These portable, lightweight, collapsible graphics are designed for tradeshow and advertising use.
Zwick USA LP, Atlanta, showed material-testing machines and instruments for tensile, elongation and modulus, burst, seam slippage and other tests. Zwick serves the textile, plastics, metal and rubber industries and was a first-time exhibitor at IFAI Expo. Its new ProLine family of testing equipment is a lower-cost solution for entry-level users.
IFAI Expo 2005 will be held Oct. 27-29, 2005, at the Henry B. Gonzalez Convention Center in San Antonio and will include Fabric Structures 2005 and Textiles and Graphics 2005 conferences.
December 2004
Advertisement