IFAI Announces EXPO 2004 Keynote Speaker
The Industrial Fabrics Association International (IFAI), Roseville, Minn., has announced that Robert Gates, Ph.D., a former director of the Central Intelligence Agency (CIA), advisor to six US presidents and current president of Texas A&M University, will deliver the keynote address at IFAI Expo 2004, to be held Oct. 27-29 at the David L. Lawrence Convention Center in Pittsburgh.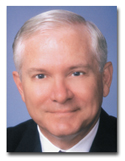 A respected expert on global terrorism and risk assessment, Gates will address the current state of world affairs including political and economic instability. According to IFAI, his insights will be invaluable to manufacturers of specialty fabrics for military and homeland security applications related to antiterrorism efforts.
Gates, who began his career in the CIA as an entry-level employee, moved up through the ranks, ultimately serving as director of central intelligence in the early 1990s under President George H.W. Bush. He has received numerous medals in recognition of his service, including the National Security Medal, the Presidents Citizen Medal, the National Intelligence Distinguished Service Medal (twice) and the Distinguished Intelligence Medal (three times).


August 2004
Advertisement