Fiber's Shifting Focus
Part one of a two-part series addressing the shifting focus of fiber companies as they deal with change in the textile industry
Virginia S. Borland, New York Correspondent
W
ith Celanese, INVISTA™ and Tencel under new ownership, customers, company employees and competitors are uncertain about the future. For some, it may be an opportunity; for others, it's business as usual.
Celanese AG, Germany, was purchased in April by the Blackstone Group, New York City. So far, new ownership has not changed product or marketing strategies for the world's largest acetate producer. Invista Inc., formerly headquartered in Wilmington, Del., has downsized and refocused following its purchase by Wichita, Kan.-based Koch Industries Inc. Intimate apparel, a profitable area for nylon and spandex, is on the front burner - the jury is still out for other sectors. Tencel Ltd.'s takeover from parent company Corsadi BV, The Netherlands, by Lenzing AG, Austria, could strengthen brand awareness and marketing effectiveness for lyocell.
"We're getting a lot of phone calls, especially for nylon," said David Darwin, senior marketing manager, North America, Hyosung (America) Inc., Rock Hill, S.C. "With changes at Invista, the market has a lot of questions. Customers are not dealing with the same relationships. They are asking, 'with these changes, what are my best options?'"
Basil B. "Sonny" Walker, president, Nylstar Inc., Greensboro, N.C., echoed these sentiments. "Nylstar is picking up some market share," he said. "It is an opportunity for a specialty fiber producer that is quick on its feet."
At the Greensboro, N.C., offices of Israel-based nylon producer Nilit Ltd., there have been inquiries for Sensil® nylon products, especially from warp knitters that sell to the intimate apparel industry.
William "Bill" Girrier, vice president, sales and marketing, RadiciSpandex Corp., Fall River, Mass., said: "There is uncertainty regarding suppliers in the market. Demand for spandex is increasing in the United States, especially with warp knitters. We are sold up and are having to reallocate some of our foreign business to keep up. We're expanding with key clients who say to us, 'we're growing - will you grow with us?'"
At Invista Apparel, Wilmington, President Bill Ghitis said the acquisition by Koch Industries clears the way for his management team to complete the transformation from what historically was a science-driven supplier of fibers and textile finishes to a more broadly based market-driven source of apparel innovation. "We're going to concentrate our resources on products, services and brands that have the greatest commercial potential and on those key partner relationships we believe can spearhead industry change and lead to profitable growth opportunities," he said.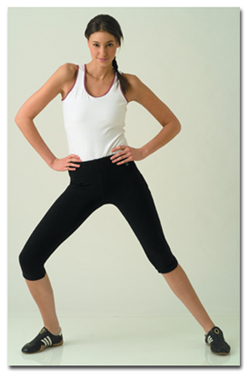 Spandex fibers from RadiciSpandex Corp. are incorporated in a variety of performance apparel.
Global Expansion
China and trade agreements are other topics that come up frequently in conversation. Will tariffs be extended, and what about the Central American Free Trade Agreement (CAFTA) and the North American Free Trade Agreement (NAFTA)? Several global producers looking to expand are waiting until after the November elections to make any decisions.
Brad Miller, global commercial director, Dow Fiber Solutions, Midland, Mich., said: "We're in a global business. Apparel brands need global sourcing. We work closely with brands that source from key mills in Asia. Mills are quick to incorporate DOW XLA™ elastic fiber into fabrics because of quality and performance."
Dow is building a facility in Spain to produce XLA, which has the generic designation "lastol." The plant, expected to be operational later this year, will serve continental Europe. "With the demand for DOW XLA in Europe, we anticipate this plant [will] run at capacity. It can be expanded as the need arises. A lot of innovation comes from Europe, so it is the mill base we developed first," Miller said.
Darwin noted Hyosung's factory in China is into its second expansion. The company has been discussing building facilities in Europe and Latin America. These discussions are now on hold until January 2005, dependent upon trade agreements and possible changes in CAFTA. "Globally, everything is in China," Darwin said. "China is buying raw materials, such as oil and lumber, that feed its economy."
Ghitis said Invista is boosting brand visibility and consumer appeal for Lycra® in China, ahead of increases in spandex manufacturing capacity that will be announced later this year.
Walker said Nylstar is working through the Caribbean Basin Initiative and NAFTA to keep a strong foundation for business after quotas for Chinese textiles are removed in January. "We are focused on market segments that are sustainable for the United States, and not competing with low-end goods coming from China," he said.
Intimate Apparel And Warp Knits
According to Girrier, there is a swing to warp knits that started two years ago. Intimate apparel and swimwear are major end-uses. "Warp knitters in America are changing and recognizing that to stay in business they must be able to handle shorter runs and faster deliveries. The market has downsized. It's now niche marketing, and as a result, more innovative fabrics are being developed."
RadiciSpandex is selling more fine deniers and chlorine-resistant spandex. H. Warshow & Sons Inc., Milton, Pa., is one warp knitter Girrier mentioned.
Swimwear is a new target area in development at Dow. According to the company, XLA has superior chemical and heat-resistant properties. "We're taking it into segments where it has a differential and is of value," Miller said. The company developed XLA for circular and warp knits. It expects to see commercial products selling at retail in the fourth quarter.
In late May, Invista introduced two new nylon products. A fine-filament Tactel® has been designed especially for warp-knitting applications. Combining comfort, fit and performance, this fiber variant is expected to bring innovation to swimwear. A new, lightweight Supplex® Micro, created for warp and circular knits, has a cottony-soft hand and natural touch. Blends of Supplex Micro and Lycra are aimed at underwear markets for men and women.
Nilit also is focused on warp knits. Recently, it introduced Sensil BodyFresh - a high-performance, fine, antibacterial microfiber yarn that is aimed at the athleticwear market; and Sensil ESP, a high-performance yarn that offers ultraviolet protection. Both are offered in a variety of yarn counts; and provide fit, comfort and performance.
More Innovations
DAK Americas LLC, Charlotte, is actively promoting Delcron® HydroPur - a staple fiber that combines the moisture-management features of the company's Delcron Hydrotec fiber and the antimicrobial properties of its SteriPur® AM fiber - for apparel, home furnishings and industrial segments. Delcron HydroPur - which features Spartanburg-based Milliken & Company's AlphaSan® antimicrobial technology - inhibits bacterial odor growth; prevents discoloration and odors caused by fungal growth, and deterioration from microbes; and is fast-drying, according to DAK.
"This next generation fiber allows fabric manufacturers and brand houses to optimize their performance apparel offerings," said Jim Netzel, marketing director, DAK Fibers. "Engineering one fiber to deliver both moisture management and antimicrobial properties is raising the bar on what a performance garment can deliver to the consumer. Comfort and secure performance provide the consumer the best value in their purchase," Netzel said.
Hyosung, producer of creora® spandex, is concentrating on functional products and brand names. It is a $4 billion-dollar-a-year company, and the second-largest producer of spandex. Nylon and polyester are other fibers in the company's portfolio.
There are a lot of new developments at Hyosung. One recent introduction is antimicrobial spandex that is sampling in circular and warp knits. Available in fine deniers, it is going into intimate apparel, athleticwear and industrial end-uses such as boat covers. Diapers and hosiery are other products mentioned. One new polyester combines antimicrobial and moisture-management properties.
Xanadu is a new bicomponent fiber developed by Hyosung. It is a polyester/polypropylene terephthalate comfort stretch fiber with a soft touch. It dyes well, has good moisture-management properties and is chlorine-resistant. It is described as having the elongation and recovery of a cotton/spandex blend, and processes like polyester. Aimed at swimwear, golfing apparel, intimate apparel and denim markets, it is sampling in 75 and 150 deniers.
In nylon, Hyosung is known for ultra-fine-denier microfibers. Moisture-management and antimicrobial products Aqua-F and Magic Silver are new. A new moisture-management polyester called Aerocool also is available.
Nylstar is expanding in the area of microdeniers. According to Walker, there has been dramatic growth in 70-denier/68-filament yarns. "The polymer formula is different," he said. "It creates a softer fabric with a matte luster." He also mentioned Meryl® 40-denier/48-filament and 70-denier/96-filament yarns. Meryl Skinlife, a fiber that inhibits growth of bacteria, is selling well in Europe. Sportswear, socks and military apparel are major end-uses.
Innovation at Masters of Linen, Paris, continues to focus on easy wear and easy care. The company has come up with seven crease-resistant solutions; each can be used alone or combined with other treatments, depending upon the fabric weight, composition and aesthetics. Double-twisted yarns; blends with nylon, polyester or wool; special weaves such as diagonals or herringbones; mechanical treatments including tumbling, aero, turbo or zephyr; enzymes; liquid ammonia; and resins are suggested.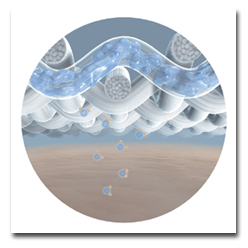 Lenzing Lyocell® improves air moisture regulation, preventing the formation of mold and growth of mites in bed and bath products.

New Product Areas
Cotton Incorporated, Cary, N.C., has developed innovative rugs in 100-percent cotton and cotton blends. Rugs of 100-percent cotton have been pretreated using cationic chemistry. By treating the yarns prior to tufting and then piece-dyeing the rugs using reactive or direct dyes, a yarn-dyed effect is achieved. Braided cotton/acrylic reversible rugs use a unique Ne 15/15 yarn composed of 15 different colors, combined with Ne 2/2 solid yarn. Yarn-dyed rugs with a confetti surface are another development. A Ne 15/15 yarn cotton/acrylic has been tufted in a 1-inch cut pile height.
S-45, a heat-resistant spandex fiber from RadiciSpandex, blended with polyester microfiber and dyed using Ciba Terasil® WW dyes from Ciba Specialty Chemicals, Switzerland, is going into ultra-fine fabrics that have a luxurious look and feel but are less costly than nylon. Another new area for RadiciSpandex is denim. Core-spun stretch yarns blended with cotton got started in Turkey. They are just beginning to sell in the United States. R.L. Stowe Mills Inc., Belmont, N.C., is one spinner producing these yarns.
After a successful launch and market penetration in shirting fabrics, Dow Fiber Solutions is developing wool blends. "The response has been incredible," Miller said. "What excites mills the most are the aesthetics, the beautiful drape and touch. DOW XLA never alters the base fiber. The touch is like pure wool." Modest stretch of 15 to 18 percent, or a higher amount of more than 25 percent can be achieved. Commercial programs are underway with several Italian mills, including Luigi Botto and Verzoletto.
Lenzing's Lyocell® has been steadily gaining recognition in Europe for bed and bath products. The moisture-transport properties of this fiber help prevent mold formation and mite growth. Duvets and pillows are selling at Debenhams, England; and Galleries Lafayette, Au Printemps, La Samaritaine and Monoprix, all based in France. Mattress ticking, sheets and towels are other end-uses. Bath rugs containing modal are a new area. Lyocell in both rugs and carpets is in development.
---
Stretch To The Future
Noted fashion designer Nicole Miller was this year's designer judge and honoree at the sixth annual RadiciSpandex Stretch to the Future design scholarship competition at New York City's High School of Fashion Industries. Sixty-three garments were submitted, all using stretch fabrics containing RadiciSpandex fiber.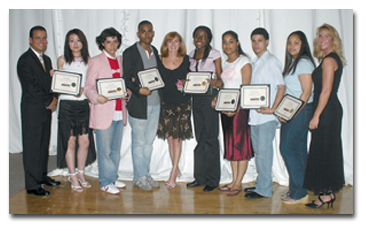 From left to right: Rob Rebello, CEO, RadiciSpandex Corp.; Xiao Jing Dong; Juan Vargas; Anthony Hendrickson; Nicole Miller; Danielle Dwomoh-Piper; Alfonsina Jimenez; Gueri de la Rosa; Lynnes Adames; and Kim Henley, sales representative, RadiciSpandex.
Senior Xiao Jing Dong won the Grand Prize, as well as awards in the Eveningwear and Fantasy categories. Her gowns were made using stretch fabrics from H. Warshow & Sons.
Other judging categories were for children's wear, lingerie, women's sportswear, menswear and swimwear.
Cyberknit/Paul Gottlieb, Darlington Fabrics, Deer Creek, Ge-Ray Fabrics, Green Textiles, Hornwood & Lee Fashion Fabrics, McMurray Fabrics, Milliken & Company, Native Textiles and Symphony Fabrics joined H. Warshow & Sons in donating fabrics for the competition.
August 2004
Advertisement