Textile Technology Center Stage In Greenville
ATME-I® 2004 is slated to feature more than 400 exhibitors with nearly 80 first-time exhibitors interested in the US industry.
TW Special Report
F
or the first time since 1973, the American Textile Machinery Exhibition-International® (ATME-I®) 2004 will host exhibitors from all sectors of textile manufacturing at a single show to be held at the Greenville-based Palmetto Expo Center. The expo center has hosted ATME-I since 1969, and this year is no different - except that it will be the last time the show is held in Greenville.
Traditionally held every four years, ATME-I, touted as the "largest show of its kind in the Western Hemisphere," will bid farewell to the "Textile Capital" after its Sept. 13-17 run this year.
Starting in 2006, the show will relocate to Atlanta's Georgia World Congress Center, where it will again pick up its traditional schedule. With four times as much floorspace as the Palmetto Expo Center, the Georgia World Congress Center will allow the show to reunite permanently into one all-inclusive event.
As in the past, ATME-I 2004 is jointly sponsored by the American Textile Machinery Association, Falls Church, Va., and Textile Hall Corp., Greenville. Textile Hall Corp. also produces and manages the event.
ATME-I organizers expect to welcome exhibitors and visitors from more than 60 countries in 2004. As of
Textile World
's press time, the show has attracted 432 exhibitors from 25 countries, including 79 companies participating for the first time.
As expected, the majority of the exhibiting companies are from the United States (more than 200), but international companies, such as those from Germany and Italy, also will have a significant presence. Companies from Asia, with Japan having the majority, make up about 7 percent of all exhibitors.
Among the top 10 exhibitors with the largest booth space are four US manufacturers: Tubular Textile Machinery, Lexington, N.C.; Monarch Knitting Machinery Corp., Glendale, N.Y.; Stäubli Corp., Duncan, S.C.; and Dilo Inc., Charlotte. Stäubli Corp. and Dilo Inc. represent parent companies in Europe. Other top 10 companies will come from Germany, Belgium, Switzerland and Hong Kong.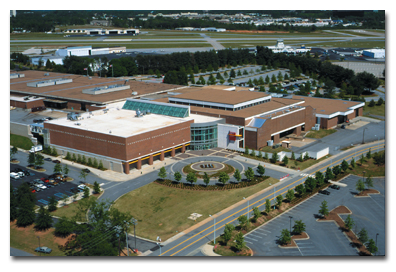 ATME-I® has been held at the Palmetto Expo Center in Greenville since 1969.
Under The Same Roof
A new feature of this year's show is the co-location of the Research Triangle Park, N.C.-based American Association of Textile Chemists & Colorists' (AATCC's) International Conference & Exhibition (IC&E).
According to show organizers, the dyeing, printing and finishing sector is one portion of the US textile industry that continues to show strength. "The ability to make and deliver quick style changes to the US marketplace has kept the US dyeing, printing and finishing industry strong despite a downturn in other areas," said Butler B. Mullins, ATME-I director, and president, Textile Hall Corp.
Other sectors to be represented at the show include fiber and yarn manufacturing, weaving and knitting, nonwovens manufacturing, and plant engineering and maintenance.
Through another co-location arrangement with the Boston-based National Textile Association, visitors to ATME-I also will have a chance to see the Knitting Arts Exhibition-Fabric, which will take place alongside the show.
Seasoned ATME-I Exhibitors
"As one of the world's major textile machinery shows, ATME-I is an important and necessary part of our business," said Barry Kelly, salesman, Karl Mayer Textilmaschinenfabrik GmbH, Germany. "We will have a nicely sized booth displaying two machines - one of which was introduced at ITMA [2003] and the other, [featuring] new technology for weft insertion, [which] will have its first showing at ATME-I."
Kelly said the US market is an important one for Karl Mayer - its new technology for warp knitting reflects the market's shift from apparel production to the manufacture of industrial fabrics.
While Germany-based Dilo System Group officials are tight-lipped about what will be on display at its ATME-I 2004 booth, it is no secret that the company is among the Greenville show's 10 largest exhibitors.
"ATME-I is the only major machinery show in the United States and it's important for international players to have a real presence there," said Terry Purdy, Ph.D., sales manager, Dilo System Group. "It is an efficient way for us to see existing customers and meet potential customers."
Purdy said there still seems to be a reluctance among US mill officials to travel abroad, "so it's important to come to them," he said. When asked about Dilo's expectations for ATME-I 2004, Purdy said they have their fingers crossed. "Of course, we had the same feelings about ITMA, and we were very pleasantly surprised."
First-Time ATME-I Exhibitors
Companies exhibiting at ATME-I for the first time in 2004 are doing so for a variety of reasons. Some are coming by way of the AATCC co-location, and others say they chose ATME-I 2004 as a way to expand their US contacts. Then there are those that have established product lines in other industries or other parts of the world, and see ATME-I as a way to introduce their product applications to the US textile industry.
One such company is Update Texware GmbH, Germany. The market leader in German-speaking countries, Update Texware has successfully implemented major international projects over the past two years, according to Anja Wehrfritz, marketing manager. "Being present at ATME-I 2004 will give us the opportunity to further grow and evolve internationally," Wehrfritz said. Update Texware will introduce its custom-designed software for the entire textile chain "from sheep to shop."
Another ATME-I first-timer, Trident-ITW of Brookfield, Conn., will introduce its FabricFast™ Digital Ink Jet ink at the exhibition. Trident's ink-jet products are used primarily in the packaging, banking and postal industries, and company officials have chosen ATME-I as the venue to introduce its product to the US textile industry
(See " Dyeing, Printing & Finishing News," August 2004)
.
"Based upon past US leadership in integrating higher technology whenever required, we believe the US will be a leader in digital textile printing," said Steve Liker, director of marketing for Trident-ITW. "ATME-I is the primary US exhibition for such technology. We expect ATME-I 2004 to be highly beneficial for us in establishing contacts."
AATCC Co-Location
The co-location of AATCC's IC&E brings its share of first-time exhibitors as well. ATME-I will give AATCC member companies a broader audience for their products and services.
"Co-locating with ATME-I will enable our traditional exhibitors to take advantage of a major global textile trade show, and give AATCC a larger audience to target timely and informative technical and marketing programs," said John Y. "Jack" Daniels, executive director, AATCC.
From its booth on the show floor, AATCC will offer training CDs covering test methods, dyeing and fibers; and will introduce its Online Buyers Guide for soft goods, consultants, services, dyes, pigments, chemicals, machinery and supplies. The association also will present seminars and tutorials on textile design, merchandising and coloration, preparation, dyeing, printing and testing, according to Daniels.
Charlotte-based Cognis Textile Technology is a first-time ATME-I exhibitor by way of AATCC. Cognis will display its line of fiber finishes, wet processing auxiliaries and specialty functional finishes; and its ILD In-Line Dosing equipment.
Why Attend ATME-I?
"We send all of our engineers and plant supervisors to ATME-I, where they have the opportunity to learn and meet with the experts," said Mark Kent, president and CEO, Kent Manufacturing, Pickens, S.C., and a director, Textile Hall Corp. "Conversely, the experts have the opportunity to learn from our people. I've attended a lot of textile machinery shows around the world in the last 20 years, and we learn more at ATME-I than at any other show."
ATME-I Opening Night Festival
ATME-I 2004 is not all business - the city of Greenville will roll out the red carpet Monday, Sept. 13, for an opening night street party. Sponsored in part by
Textile World
,
Textile World Asia
and
Textiles Panamericanos
, the 6 p.m. event on Main Street will include music, food and drinks, and street performers.
"The Opening Night Street Festival is a great opportunity to renew old acquaintances, meet new friends and have a little fun before getting down to business," Mullins said. "It's also a way for Greenville to say 'thank you' to an event that has been part of the community for 35 years, and one that truly put Greenville on the international map."
---

US Textiles And The US Economy
Despite a steady decline in the past decade, the textile industry still plays a role in the US economy. According to the Bureau of the Census, the United States is the fifth-largest textile exporter in the world, accounting for 7 percent of total global exports. Domestically, the textile industry employs more than 6 percent of the country's non-durable manufacturing workforce, and it added about $27.2 billion to the gross domestic product in 2001.
According to the Bureau of the Census, there were more than 2.8 million spinning positions in use in 2003, more than 41,000 looms in place in 2002, and more than 13,000 knitting machines in operation in 2001.
In terms of mill fiber consumption, the US industry used more than 14 million pounds of cotton, wool and man-made fibers in 2002, according to US Department of Agriculture statistics.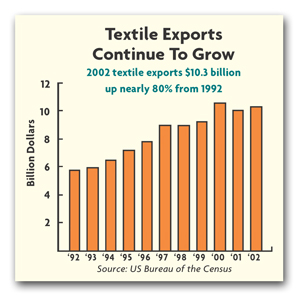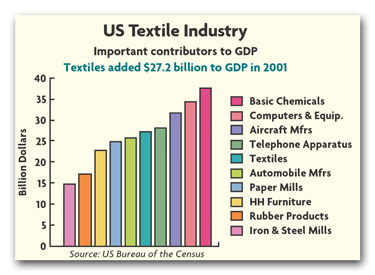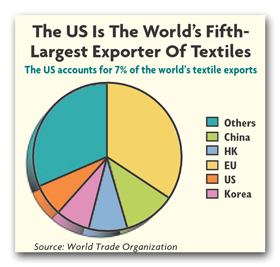 August 2004
Advertisement