Cotton's Sourcing Summit 2004
Cotton event focused on fostering communication among US, CBI, Andean and African supply chain participants.
James M. Borneman, Editor In Chief
D
ifficult times often set the stage for the best conferences, and Cotton's Sourcing Summit 2004 was no exception. The three-day event - which featured presentations, panel discussions, mini-trade shows and strong networking opportunities - brought together textile manufacturers, contractors, sourcing managers and importers associated with US cotton products. Sponsored by Cary, N.C.-based Cotton Incorporated, Washington-based Cotton Council International (CCI) and the Importer Support Program of the Memphis, Tenn.-based Cotton Board, the summit brought clearly into focus the challenges and questions facing the textile industry in light of quota removals in 2005.
"There are many concerns and uncertainties regarding trade in a quota-free environment," said Dean Turner, senior vice president, global product marketing, Cotton Incorporated. "This year's strong attendance [350 attendees] at Cotton's Sourcing Summit seemed to indicate a commitment and real interest in making the most out of the opportunities available through the trade preference acts that favor the Caribbean Basin Initiative (CBI), Andean and sub-Saharan regions, along with US-made cotton yarn and fabric."
Panel moderator Michael T. Fralix, Ph.D., president and COO of Textile/Clothing Technology Corp. ([TC]
2
), Cary, N.C., added a new twist to event discussions by using electronic audience voting technology. By asking questions of the audience at key times during the discussions, Fralix not only let the audience weigh in on the discussions, but also then was able to segment the responses of textile manufacturers, apparel manufacturers and retailers. Rather than being divisive, this instant polling illustrated many of the concerns and challenges held in common by the participants. Fralix skillfully integrated these responses into the panel discussions, directing the discussions into areas of agreement and disagreement within the industry.
Keynote speaker Fareed Zakaria, editor of Newsweek International, and an analyst for ABC News, spoke about globalization. He noted the phases of globalization that have taken place since the information revolution, capital market flow and the collapse of communism. Offering a frank analysis of the uneasiness associated with globalization, Zakaria also pointed out that China has the advantage of having a centralized authoritarian regime that uses its power to achieve national development and economic growth, while India lacks an enabling government. Zakaria also noted issues of education, healthcare and infrastructure as keys to success among all global participants.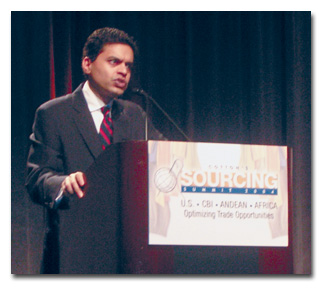 At Cotton's Sourcing Summit 2004, Fareed Zakaria, Newsweek International editor and an ABC News analyst, presented a keynote speech on the topic of globalization.

China, China, China
"With the ever-changing global landscape, we believe it's extremely important to stay informed and aware of all the issues involved in international trade," said William Crawford, president and CEO, Cotton Board. "We have assembled some of the most dynamic and knowledgeable speakers in the textile, trade and apparel industries to give you their perspectives on 2005 and beyond." The panel discussions did just that, beginning with a discussion titled "Sourcing Strategies in a World Without Quota." Presentations by Martin Trust and Robert J. Zane framed the discussion. Trust, president, Brandot International Ltd., held that there will be increasing investment from China in the African Growth & Opportunity Act and other regions, that retailers and wholesalers won't use an "all eggs in one basket" approach regarding China, and that the US government will impose safeguards in response to the quota removals. Zane, senior vice president, manufacturing, sourcing, distribution and logistics, Liz Claiborne Inc., highlighted the transition and adjustment to quota removal, and spoke of a migration to large, integrated manufacturers that coordinate and deliver more services and product development, and ship directly to the retailer. Initial stages of this transition will include softer prices for apparel as competing suppliers position themselves in the new, quota-free environment and attempt to make a stand as key suppliers in the supply chain.
The first panel included Nancy Marino, president, Nancy Marino Associates Inc.; Joe McConnell, vice president, strategic sourcing, Kellwood Cos.; and Ted Sattler, corporate group executive vice president, foreign operations, Phillips-Van Heusen Corp.
The discussions broadened with the second panel. Presentations by Peter McGrath, senior vice president, and director of product development, trend, quality and sourcing, JCPenney; and Jerry D. Rowland, president and CEO, National Textiles LLC, built on the previous panel's discussion by focusing on how to deal with the changing environment. McGrath gave some insight and suggestions for suppliers' survival such as: know your customer; understand your place, your niche, and your best-in-class; know what drives your buyers' decisions in the 2005 environment; understand and take advantage of partnership alliances and verticalization in a global paradigm; improve productivity in all aspects; and understand that governments make a difference.
Rowland presented innumerable data that illustrated the manufacturing ills of the North American textile industry. With no lack of candor, he stated that even with 11-percent cost reductions since 1997, his company will be forced to move all manufacturing assets out of the United States, with the possible exception of open-end spinning.
The panel included Carlos Arias, vice president, Koramsa; Harold Mayer, COO, Ciel Textile Group; and Andres Von Wedemeyer, president, Creditex. Notable was Arias's confidence in Koramsa's ability to compete and his optimism for the future.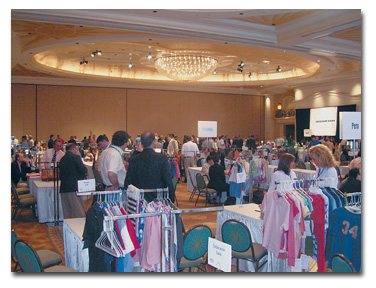 Cotton's Sourcing Summit 2004 featured a table-top trade fair, which gave US executives a chance to present to interested parties yarn and fabric samples; and CBI, Andean and sub-Saharan African executives an opportunity to showcase apparel samples .
Demand And Cotton Prices
In his opening remarks on the second day of the summit, J. Berrye Worsham III, president and CEO, Cotton Incorporated, addressed the disparity of falling apparel prices and rising raw cotton prices. "Although the retail market was sluggish in terms of dollar volume growth, declining prices contributed to relatively strong unit volume growth," Worsham said. With that growth, cotton demand grew as it maintained a high market share. He illustrated that there is no significant statistical correlation between retail apparel prices and raw cotton prices, and that the price of raw cotton is driven by fundamental supply and demand.
In summary, Worsham said:
• Retail competitiveness and trade liberalization have increased global sourcing, particularly from China.
• Lower retail prices have stimulated unit volume sales for apparel products.
• China's textile usage of cotton exceeds its level of production.
• China's raw cotton imports have reached record levels.
• Cotton prices have risen as global demand has increased relative to supply.
Worsham said China's imports have soared. It is estimated that in 2003, China's demand was 30.5 million bales of cotton, while it had production levels of 22.4 million bales.
Worsham was followed by Gregory Miller, vice president and chief economist, SunTrust Bank Inc. Miller focused on a positive economic forecast for 2004.
Cotton's Sourcing Summit perennials Jonathan Fee and Janet L. Labuda led off the presentations during the final summit section, titled "US Customs Requirements: Regulations, Logistics and Security." Labuda, director, Textile Enforcement and Operations Division, US Customs and Border Protection, Department of Homeland Security, led attendees through the labyrinth of regulations and influences affecting textile imports. Fee, partner, Alston & Bird LLP, presented the opposite perspective of clients facing seemingly tortuous slowdowns and regulations in contrast to direct imports from Asia. The panel included John Clark, vice president, production and import administration, Paul Davril Inc.; Maureen Gray, vice president, international trade and government affairs, Polo Ralph Lauren; and Stephen Odom, director of international trade and regulatory compliance, Eddie Bauer. Privately, even with mixed support for the Central American Free Trade Agreement (CAFTA), North American manufacturers questioned the complexity of import requirements from within CAFTA countries versus the seemingly porous border as detailed in the General Accounting Office report on transshipment, as well as the relative ease of importing from regions not offered tariff-free incentives.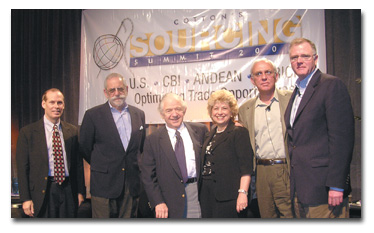 "Sourcing Strategies in a World Without Quota" panel members (left to right): Michael T. Fralix, Ph.D., [TC]2; Robert J. Zane, Liz Claiborne Inc.; Martin Trust, Brandot International Ltd.; Nancy Marino, Nancy Marino Associates Inc.; Ted Sattler, Phillips-Van Heusen Corp.; and Joe McConnell, Kellwood Cos.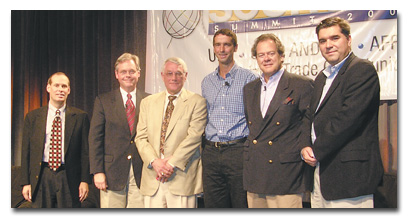 "Preparation for 2005 — Competitive Strategies" panel members (left to right): Peter McGrath, JCPenney; Jerry D. Rowland, National Textiles LLC; Harold Mayer, Ciel Textile Group; Andres Von Wedemeyer, Creditex; and Carlos Arias, Koramsa
Trade Fairs And Innovations
An integral part of Cotton's Sourcing Summit 2004 was the table-top trade fair, which changed each day of the event to accommodate different aspects of the industry. The first day, CBI, Andean and sub-Saharan African apparel executives presented product samples to interested parties in a one-on-one forum. On the second day, US mills presented fabric and yarn products available to US apparel importers, together with the apparel contractors.
The Cotton Incorporated Innovations Center put a spotlight on the many research and promotional efforts underway at the company to increase the demand and profitability of US cotton. Eight initiatives were highlighted:
• information services;
• Seal of Cotton;
• educational CD-ROMs;
• fashion services;
• sourcing assistance;
• fabric development;
• a womenswear initiative; and
• textile chemistry/dyeing and finishing research.
Attendees were able to review the new educational CD-ROM series -featuring weaving, knitting, and dyeing and finishing titles - on individual computers. The recently completed series, funded by the Importer Support Program of the Cotton Board, offers an educational look into the manufacturing processes and provides an interesting tool for all members of the textile supply chain.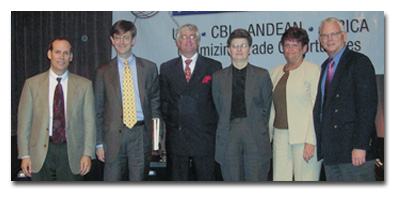 "US Customs Requirements: Regulations, Logistics and Security" panel members (left to right): Jonathan Fee, Alston & Bird LLP; Stephen Odom, Eddie Bauer; Janet L. Labuda, US Customs and Border Protection; Maureen Gray, Polo Ralph Lauren; and John Clark, Paul Davril Inc.

Challenging Times
"The summit is held at a challenging time for the world's fiber, textile, apparel and retailing industries as everyone looks toward 2005," said David Stanford, president, CCI. "We know that our future is directly linked to your success and growth. We are determined for US cotton to play an integral part in that future."
April 2004
Advertisement