April 2004
The SM4 Universal Tension Meter from BRECOflex Co. LLC , Eatontown, N.J., measures the frequency in Hertz (Hz) of all belt types, from 6 Hz to 350 Hz, to ensure consistent belt tensioning during production runs.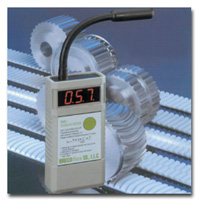 Brecoflex's SM4 Universal Tension Meter
Air Products Polymers L.P. , Allentown, Pa., has increased by 2 cents per wet pound the price of its vinyl acetate homopolymer and copolymer emulsions; and ethylene vinyl chloride-based emulsions.

The pockeTern™ Software Toolkit from alpha gear drives inc. , Elk Grove Village, Ill., allows operators to turn a pocket personal computer or personal digital assistant into a portable teach pendant to commission, test and download data; and recalibrate alpha Ternary® actuators on-site.

The Fluid Power Society , Cherry Hill, N.J., now offers a new Hydraulic Specialist Certification. The certification manual for the test is available at www.ifps.org.

The 2003 edition of the Switzerland-based International Textile Manufacturers Federation 's International Production Cost Comparison is now available. The edition provides yarn and fabric production costs in China, Brazil, India, Italy, Korea, Turkey and the United States.

BBA Fiberweb™ , Nashville, Tenn., has increased the price of its entire product line by up to 10 percent.

Charles V. Bremer has founded Consultex to serve textile and apparel companies, trade associations and the media. The consulting company is located at 4141 North Henderson Road, Suite 518, Arlington, Va. 22203; (703) 527-0666; dr.denim@verizon.net.

Blythewood, S.C.-based Spirax Sarco Inc. now offers the 2004 edition of its steam system components and controls product manual, which includes one volume dedicated to mechanical products and another to controls and instrumentation.

Sellers Engineers Ltd. , England, has changed its e-mail address to admin@sellersengineers.com.

The Specialty Graphic Imaging Association , Fairfax, Va., has updated its website, www.sgia.org, to include an Industry & Market Research Center. Visitors to the site can take part in and view results of surveys designed to track industry dynamics and demographics.

Sensor Products Inc. , East Hanover, N.J., has introduced EZ-Nip® thin impression paper to measure nip width. The paper changes color upon application of pressure when it is inserted between two mating rolls, allowing determination of proper crowns, roll parallelism and alignment, and symmetrical loading.

American M & M Screen Printing Equipment , a division of the Chicago-based A.W.T. World Trade Group, has launched a website at www.screenprintmachinery.com.

Chromalox Inc. , Pittsburgh, now offers a Sentinel monitoring alarm option on its weatherTRACE freeze-protection heat-trace panels. The alarm constantly monitors voltage supplied to individual heat-trace circuits, and automatically alerts plant personnel of voltage loss or a ground fault condition.

Industrial Specialties Manufacturing Inc. , Englewood, Colo., has released a 312-page full-color catalog of miniature pneumatic products and accessories. The catalog also contains an engineering data section and a chemical compatibility chart.
Malcom Hot Air Systems , Portsmouth, R.I., offers the Malcom MCH-100 Battle Damage Repair Kit, a portable heat gun kit that is used to repair tarpaulins, liners and tents in isolated locations.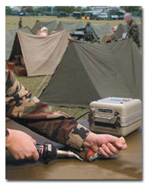 Malcom MCH-100 Battle Damage Repair Kit
Dow Chemical Co. has increased by 4 cents per pound the off-list price of its propylene glycol products in North America.

Catbridge Machinery LLC has relocated to: 222 New Road, Parsippany, N.J. 07054; (973) 808-0029; fax (973) 808-0076.

Charlotte-based DAK Fibers LLC has increased the price of staple fiber products sold to the fiberfill, apparel, industrial and home furnishings sectors by 6 to 9 percent.
April 2004


Advertisement