Supply Chain Developments
Supply chain solution providers expand options to manage each stage in the apparel chain.
Apparel Supply Chain TW Special ReportSupply ChainDevelopments Supply chain solution providers expand options to manage each stage in the apparel chain.Supply chain management options continue to grow in size and scope. Everything from outsourcing logistics to integrating the processes of delivering apparel products to retail customers has broadened the opportunities for all members of the supply chain. Textile Worlds overview of supply chain newsmakers features several firms that illustrate the scope of available options and solutions.Product TrackingICICI Infotech Ltd., a global information technology solutions provider with offices in Farmington, Conn., and Edison, N.J., has launched Product Tracking, a Web-based solution offering real-time information along every step in the global supply chain. Integrated with existing systems, the solution tracks the status of each stage, from development to shipment and delivery, reducing costs and production cycle times.The latest module to be developed for Product Tracking is scanning and packing for easy on-line packing-list creation. This enables factories to apply industry-standard Uniform Commercial Code (UCC) 128 labels to shipping cartons, scan the labels with a handheld scanner, and generate an on-line packing list for real-time access. Real-time visibility also allows for preallocation of inbound shipments before they arrive in the warehouse.Manufacturers have to act fast to meet demands and react to new trends. At ICICI, we have designed modules specifically for the apparel industry that can provide the level of detail required in real time, said Vincent Candela, vice president, fashion technology at ICICI. While our solutions manage production and development through the entire supply chain, they are also very visual to suit our end-users within fashion, for increased usability and productivity.One of the first customers to implement the Product Tracking system with the new scanning and packing module is Weathervane Corp., New Britain, Conn., a specialty-clothing retailer for teenage girls. Bringing products to market is a long and complex process in fashion, but with accurate status information at each stage of the production cycle, manufacturers are better placed to respond, and therefore save time and money, said Mr. V. Srinivasan, Managing Director and CEO of ICICI Infotech Inc. We have designed the Product Tracking system for the apparel supply chain with these unique needs in mind. This is part of ICICIs strategy to develop industry-specific solutions to deliver better value.

GAC's 50,000 square meter flagship distribution center in Dubai, United Arab EmiratesForming Textile LinkagesOne up-and-coming entry in the domestic textile and apparel software market is Italy-based Porini S.r.l., which has just opened two additional offices in the United States. Porini is quickly gaining momentum by offering the first Complete Enterprise Management (CEM) solution in the industry. The Porini product line provides integrated, industry-specific, Web-enabled tools for collaboration and management, from product inception through sourcing, manufacturing and distribution. Extending the traditional enterprise resource planning (ERP) software footprint with integrated products for CAD/CAM in both textiles and fashion, collection development, pre-production, interfacing with machine controllers, shop floor monitoring, quality control, forecasting, supply chain management and business intelligence, allows Porini customers to more effectively compress overall time to market and improve supply chain performance, while streamlining operations and eliminating redundancies.The traditional application boundaries that require costly and cumbersome integration or, worse yet, create visibility gaps, duplication of effort and disruptive exceptions are no longer permissible. According to Ken Gould, COO, Porini USA, Whether its integrating product development with manufacturing and ERP, collaborating on product specifications with a remote factory or synchronizing supply chain activities with global partners, the dynamics of textile and apparel manufacturing in todays climate demands a complete solution.Porini and NedGraphics, The Netherlands, have more than 2,500 customers worldwide and are part of Belgium-based Blue Fox Enterprises NV. US clients for Porini include Hanes Menswear, Sebago Shoes, London Fog/Pacific Trail, H.H. Brown/Born Shoes, Quaker Fabric Corp., Ramtex, Wearbest and Mohawk Home.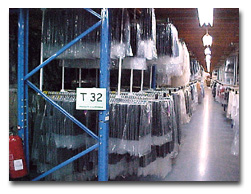 Hanging storage facilities for MarksandSpencer garments at GACs distribution centerOutsourcing Logistics

Bill Hill, group vice president, Logistics Division, Gulf Agency Co. (GAC), Dubai, United Arab Emirates, noted that more and more apparel manufacturers, distributors and retailers faced with escalating production overheads, eroding margins and rising competition have started to seriously evaluate the processes driving their entire supply chain. Partnering with a third-party logistics specialist that has a well-established infrastructure, resources and services becomes the quick and effective solution. According to Hill, industries such as automotive, pharmaceutical and electronics have been the pioneers in turning to external expertise for their logistics and supply chain management requirements. Now apparel companies are recognizing that outsourcing their supply chain is an effective way to cut costs and generate value along the line. This has led to growing acceptance of specialists such as GACs Logistics Division a full-service global logistics company whose clientele includes both international and domestic apparel brands.In Singapore, for instance, GAC manages logistics for the exclusive distributor of UK apparel brands such as Top Shop, Karen Millen and Warehouse. GACs services cover purchase order tracking, consolidation, fixed pick-up orders directly from its warehouse in the United Kingdom and delivering via a fixed airfreight schedule. And in Dubai, MarksandSpencer is among GACs largest textile clients.Hill stated several major ways in which a global logistics services provider assists in overcoming the challenges in todays textile industry. Cost efficiency, global reach, value-added services, reverse logistics, and landed duty-paid support all lead to a wide ranging impact.The outcome, according to Hill improved demand forecasting, better matching of supply and demand, less inventory sold on markdown prices, and trendier fashion for customers.E-Commerce In Seven WeeksAccording to the latest news from Germany-based SAP AG, Mascot International A/S, Denmark, a midsized workwear company, successfully implemented the SAP Internet Sales packaged solution in seven weeks to automate sales transactions, enhance customer service and lower operating costs. Designed for enterprises of all sizes, SAP Internet Sales provides an e-commerce solution that is quick to implement, and according to SAP, fully integrates with SAP R/3 and leverages the powerful e-commerce capabilities of mySAP Customer Relationship Management (CRM) without requiring a full-fledged CRM implementation. According to SAP, the solution is helping Mascot turn the Internet into a profitable sales and interaction channel throughout its retail distributor network, automate sales transaction processes and reduce total cost of sales and service.SAP stated that Mascot is the first customer for SAP Internet Sales in the apparel and footwear industry. Mascot designs, manufactures and distributes a range of more than 1,200 workwear articles, with sales operations in Western Europe and Scandinavia, as well as production sites in Eastern Europe and the Far East. Mascot is a privately held company with a staff of 170 in its main office, and was in need of a cost-effective, easily implemented, business-to-business (B2B) e-commerce solution to efficiently run end-to-end sales processes for its more than 13,000 stock keeping units (SKUs). The company looked to SAP to deliver an e-commerce solution that could seamlessly integrate with its existing implementations of SAP Apparel and Footwear (AFS) and SAP R/3 and provide a quick return on investment. Adding to this, Mascot wanted to enable an easy upgrade path to a full deployment of mySAP CRM for the companys rollout of the solutions interaction center and mobile sales capabilities to begin soon. The company is running a pilot installation of the customer interaction center capabilities of mySAP CRM and plans full deployment next year.According to SAP, Mascot gained immediate cost savings by fully automating its sales transaction processes. The e-commerce solution has been well-received by its retail customers, and so the companys sales force has been freed from taking inbound calls and is able to dedicate more time to proactive calls.To differentiate ourselves from our competitors, we felt it was essential to complement our quality product offering with exceptional service, said Michael Grosbol, managing director, Mascot. We needed a B2B e-commerce solution, but we didnt want to undertake a costly and time-consuming integration project or completely restructure our business processes. SAP Internet Sales is a perfect fit for our needs, giving us a quickly implemented solution that creates real value and convenience for our retail customers and reduces sales and service costs. Had the Christmas holidays not delayed the process, the implementation would have taken less than five weeks.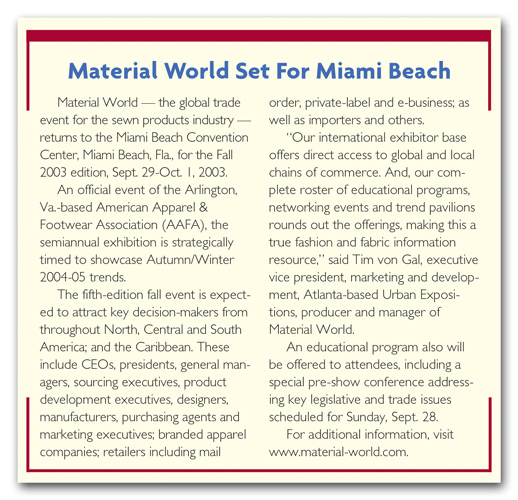 September 2003
Advertisement