Symtech To Represent Roaches, Automation Partners
Spartanburg-based Symtech Inc. has added two new product lines to its offerings for the US textile industry.

Roaches International Ltd., England, has chosen Symtech as exclusive US representative for its laboratory dyeing, finishing and testing equipment. Symtech has spare parts in stock and also provides technical service for the product line. Tony Gowan is Symtech's product manager for Roaches' products.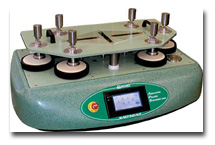 Roaches International's Martindale APS wear and abrasion tester
Automation Partners Inc., Sunnyvale, Calif., has named Symtech exclusive representative for the US market excluding California for its electronic monitoring and control products for knitting and textile finishing. Symtech has designated Herbert Busch and Tony Gowan as joint product managers for Automation Partners' products.

October 2003
Advertisement