Price Relief Unlikely
Robert S. Reichard, Economics Editor
M
ill quotes continue to disappoint. Textile averages, as measured by
TW
's all-inclusive price index, have remained relatively unchanged for four straight years now. More importantly, these tags are now some 3.5 percent under the highs hit back in 1998.
All this is in sharp contrast to the near 9-percent advance in overall US finished goods prices over the same five-year period. Most of textiles' key categories have been affected by this price weakness — with greige goods, finished fabrics and home furnishings all hard-put even to keep up with year-ago levels. Indeed, only carpets (with a near 3-percent yearly advance) have managed to escape this pricing malaise.
The near-term pricing prognosis isn't all that encouraging either. In fact, all signs point to continuing problems as foreign competition remains a king-sized headache, mill operating rates (now in the upper 60s range) sink to new lows, and downstream hold-the-line pressures from apparel makers and retailers intensify as these firms struggle with their own pricing problems.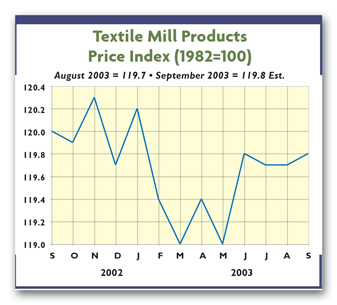 More Industry Jobs Lost
Combine continuing production and sales declines with all this price easiness, and the ongoing shrinkage in industry employment should come as no surprise.
All told, payrolls for combined mill and mill products have dropped an eye-opening 10 percent over the past 12 months. And that's on top of similar declines reported for both 2001 and 2002.
The picture is much the same in the apparel area, where 2001, 2002 and 2003 job reductions have been almost as large. Upshot: Overall US textile and apparel employment, now put at under 900,000, is a whopping 25 percent under three-year-ago levels.
It also should be noted that falling demand isn't the only factor behind this labor shrinkage. Also contributing to the drop has been the steadily increasing industry productivity. More to the point: With each worker turning out a lot more per work week than he did a few years back, companies have been able to cut back on their workforces even more.
Another Look At Imports
A few further comments on imports are in order. The big question mark here: How will the China card play out? It's becoming increasingly clear, for example, that any meaningful Chinese revaluation of its yuan to more realistic levels just isn't going to happen. To be sure, Beijing may widen the trading band of the yuan to allow for some modest appreciation. But this would be nothing near the 30-percent to 40-percent currency adjustment some US officials say is needed to level the playing field.
Two factors behind Chinese reticence to take any really big currency steps at this time are: China's huge trade surplus with the United States is now largely offset by sizable trade deficits with some other countries; and any major currency appreciation move could precipitate financial instability in China and even around the world.
Meantime, here are two other possibilities for modest Chinese relief: imposition of textile safeguards that would restrain Chinese shipments when all World Trade Organization quotas are removed in 2005; and the possible cutting of Chinese rebates that give that nation a further competitive edge. Some say such rebate reductions could force Chinese producers to boost their prices by as much as 5 percent.
A Few Upbeat Notes
There are some positive signs for hard-pressed textiles. For one, mills — aided by still increasing output per worker — are managing to keep their unit labor costs from rising. The relatively small year-to-year increases in textile hourly wages also have helped.
News on the fiber front isn't bad either. Man-made tags have stabilized. And while cotton has edged higher on reports of a disappointing Chinese crop, no big runup is anticipated.
There are even some encouraging signs on the demand front — particularly in the textile mill product sphere. Manufacturers sales here have actually managed to edge up 2.5 percent vis-à-vis a year ago. This is in sharp contrast to the big 14-percent decline in sales of basic mill offerings like fabrics over the same period. Behind the difference: significantly less import competition in the mill product area.

October 2003
Related Files:
Download Current US Textile And Economic Indicators.
Advertisement