Sasser Retires From Cotton Incorporated
Preston Sasser leaves behind a legacy of innovative contributions.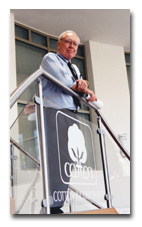 Photo courtesy of the Cotton BoardSasser Retires
The man whom peers call "a professional of the highest order" leaves behind a legacy of innovative contributions to the cotton industry.
Preston E. Sasser, Ph.D., senior vice president and managing director of Cotton Incorporateds Research Division, has retired after a 30-year career with the Cary, N.C.-based research and marketing organization. Long acknowledged as one of the cotton industrys leading research experts, Sasser made contributions that were instrumental in solving a wide range of cotton problems, from health issues to developing cotton-testing technology.Sasser joined Cotton Incorporated in 1973 as a research manager. He also held such posts as senior director, fiber quality research; and associate director, agricultural research. His history with cotton dates back to his years at North Carolina State University (NCSU), Raleigh, N.C., where he received his B.S., M.S. and Ph.D. degrees in agricultural engineering, with minors in mathematics and physics. Upon completion of his Ph.D. in 1964, he joined the National Cotton Council (NCC), Memphis, Tenn., as a ginning engineer. Prior to his tenure with Cotton Incorporated, Sasser was director of research at Motion Control Inc., Dallas, a developer and manufacturer of instruments used to test cotton fiber quality.In the early 1970s, Sasser was a member of the engineering team that created early high-speed cotton testing technology that eventually became known as High Volume Instrument (HVI) testing. Subsequently, he served on the US Secretary of Agricultures Advisory Committee on Cotton Marketing, which decided all US-produced cotton would be classed using HVI instruments. This cost-effective and efficient procedure has provided immense economic benefits to cotton producers.Frank Carter, senior scientist, test management, NCC, said, You can trace Prestons accomplishments back to the initial prototypes of what grew into HVI classing machinery and electronics. He added that the technology is used today to class cotton not only in the United States, but also all over the world. This is a tremendous accomplishment and legacy, and Preston was directly involved from the start, Carter said. Sasser led an extensive program of investigative research covering issues relating to worker exposure to cotton dust, which was linked to a respiratory disease called byssinosis, or Brown Lung disease. The program led to the development of methods to minimize and control airborne cotton dust in textile mills.In 1998 and 1999, Sasser, a registered professional engineer, served on the in-house team that designed and built Cotton Incorporateds world headquarters and research facility in Cary. The facility, which opened in December 1999, includes 89,000 square feet of research and development space.J. Berrye Worsham III, president and CEO, Cotton Incorporated, stated, Prestons contribution to the design and planning of Cotton Incorporateds new world headquarters and research center was vital. Our state-of-the-art research and development facility will stand as a testament to his dedication to the cotton industry. We owe Preston the depth of our gratitude for his role, and count it as one of his most important accomplishments during his tenure with the company. Dukes Wooters, Cotton Incorporateds first president, hired Sasser in 1973. He said, What has continually impressed me most about Preston is that he has always been for growth and innovation. This approach has served Cotton Incorporated and the cotton industry well.William P. Crawford, president and CEO, Cotton Board, Memphis, noted, Without question, Preston Sassers mechanical ingenuity and managerial guidance played a pivotal role in the development of a great number of cotton industry innovations. His opinions, guidance and affable personality will be greatly missed. You cant replace a person like Preston Sasser, concluded Worsham. He is a professional of the highest order. We can only keep trying to match his devotion to our industry.


May 2003
Advertisement