Uncertainty Continues
James M. Borneman, Editor In Chief
---
Editors Note: Look for Robert Reichard's column to return in the June issue of Textile World.
---
E ven as the initial uncertainty of the war with Iraq clears, questions remain as to whether the buying public will return to stores with renewed vigor, while a lack of capital spending and bearish unemployment numbers continue to drag down the economy.

The recent Beige Book from the Federal Reserve Board noted consumer spending was generally weak in March, and attributed the softness to poor weather and the onset of war. However, the Fed noted, "Optimism remained that the retail environment would improve within the next six months."& amp; amp; amp; amp; amp; amp; amp; amp; amp; amp; amp; lt; /font>
Manufacturing Mixed
Regarding manufacturing, the Federal Reserve Banks of New York and Dallas reported mixed conditions. Cleveland saw a flat to slightly improving manufacturing environment, while the remaining nine Federal Reserve Banks reported generally lower levels of production, sales and new orders. Atlanta's defense-related sector experienced an upswing, and reported the hiring of temporary workers to fill the gap.

According to the Federal Reserve Bank of Richmond, Va., a furniture manufacturer reported its March sales of both residential and office furniture were the slowest since 1982. Factory managers pointed to war worries as one factor in limited demand.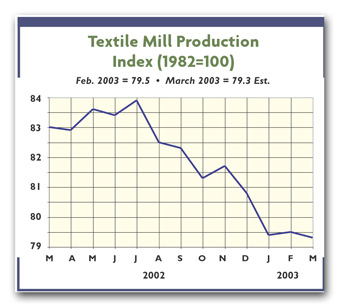 Industrial Capacity And Product Utilization
The Fed's preliminary statistical release on industrial production and capacity utilization shows textile and product mills had 71.8-percent capacity utilization in March — holding steady in 2003, but still in sharp contrast to the 83.6-percent average from 1972 to 2002. As mills continue to struggle with capacity, apparel is reported at 62-percent utilization, in stark contrast to the corresponding 80-percent capacity utilization average for 1972 to 2002. Capacity utilization for all industries decreased to 74.8 percent — 6.5 percentage points below the 1972 to 2002 average and 0.5 percent below the rate one year earlier.

As a whole, US industrial production fell 0.5 percent in March, after falling 0.1 percent in February. Output in March fell for the second consecutive month by 0.2 percent. With the industrial production index at 110.1 percent of its 1997 average, the Fed pointed out that March output still managed to remain 0.5 percent above its year-earlier level.
OPEC Conference Reviews Oil Demand
A recent meeting of the Organization of Petroleum Exporting Countries (OPEC) in Vienna, Austria, yielded a review of estimated supply/demand levels for the second quarter of 2003. OPEC concluded that "oversupply is expected in view of the seasonal fall in demand during this quarter, and the impact of the continued sluggishness in the world economy and SARS on demand for oil."

Members decided to reduce actual OPEC production by 2 million barrels per day (mb/d) to 25.4 mb/d, effective June 1, 2003. The decision will be reviewed in conference in Doha, Qatar, on June 11, 2003. In the interim, OPEC also requested close monitoring — in particular, of the timing and level of the expected recovery in Iraqi oil production and its impact on the overall supply/demand balance.
DuPont Moves Forward
Wilmington, Del.-based DuPont has announced its intention to purchase the 24 percent of DuPont Canada that it does not already own. The Board of Directors of DuPont Canada has recommended public shareholders accept the offer.

In related news, in its tender offer for DuPont Canada, DuPont disclosed it is in negotiations with a third party for the sale of DuPont Textiles & Interiors (DTI), which became a wholly owned subsidiary of DuPont in February 2003. DuPont had announced a year earlier it would separate DTI by the end of this year.

DTI, which includes DuPont's nylon fiber, polyester fiber and Lycra® brand fiber businesses, as well as intermediates and joint ventures, is said to be the world's largest integrated fiber business, with annual segment sales estimated at $6.5 billion.

It has been widely reported that Wichita, Kan.-based Koch Industries is the likely suitor. Koch has not commented.

DuPont stated, "DuPont continues to consider all options to separate DTI, including an initial public offering."
May 2003


Related Files:
Download Current US Textile and Economic Indicators.
Advertisement