Berkshire Hathaway's Plan To Acquire Burlington Quashed
Less than three weeks after the unexpected announcement last month by Omaha, Neb.-based Berkshire Hathaway Inc. of its plan to acquire Greensboro, N.C.-based Burlington Industries Inc., the plan fizzled when the US Bankruptcy Court issued its disapproval of a break-up fee and certain other conditions required by Berkshire to proceed. Following the court's ruling, Berkshire terminated its $579 million cash offer. However, according to a Burlington spokesperson, the company is considering other options, and Berkshire may still play a role in the future.

Had the acquisition gone through, Burlington, which has been under Chapter 11 protection since 2001, would have emerged from bankruptcy debt-free as a wholly owned subsidiary of Berkshire Hathaway.

According to Burlington, in reaching the original decision to enter into the Berkshire agreement, its board considered a number of alternatives that included a proposal from New York City-based W.L. Ross & Co. LLC for a stand-alone reorganization. W.L. Ross., which opposed the break-up fee all along, is also one of Burlington's largest unsecured creditors. Following the original acquisition announcement, Wilbur Ross, chairman of W.L. Ross, sent the Burlington board a letter urging it to reconsider the deal.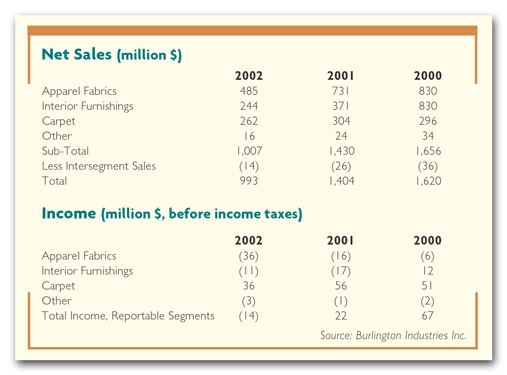 In Burlington's year-end report for 2002, issued last November, chairman and CEO George W. Henderson III stated the company had exceeded its key financial goals, which included the lowering of its net debt by $173.3 million. Its year-end cash and cash equivalents totaled $151.5 million, compared to $87.5 million at the end of fiscal year 2001.
However, in 2002, the company still accumulated a net loss of $100.8 million on net sales of $993.3 million. Overall, the one bright spot for Burlington was Lees Carpets, which was the only division (other divisions are apparel fabrics and interior furnishings) that did not experience a loss. Lees Carpets reported an income of $36 million on net sales of $262 million.
Under the original Berkshire agreement, Lees Carpets was expected to be integrated into Berkshire Hathaway's Dalton, Ga.-based Shaw Industries Inc. subsidiary. In an open letter addressed to Lees customers, James R. McCallum, Lees Carpet's president, said that Lees would maintain its identity, continuing with its market strategy and its existing sales force and operating as a part of the Shaw Industries Group. In addition to Shaw, another of Berkshire Hathaway's major textile holdings is Fruit of the Loom, Bowling Green, Ky.
According to the open letter, posted on Lees Carpets website immediately after the original Berkshire announcement, following the acquisition, Burlington's intention was to focus on growing its new model of providing technology-based fabrics worldwide. This likely referred to the roles played by Nano-Tex LLC, a nanotechnology company in which Burlington holds a 51-percent stake, and Burlington WorldWide, a Hong Kong-based division that licenses Nano-Tex technologies and markets high-performance fabrics processed using the technologies
(See Burlington's Future: Virtually Here, TW, this issue)
. Neither Nano-Tex nor Burlington WorldWide were considered debtor companies in Burlington Industries original bankruptcy filing.
By Carmen Pang, Senior Editor


March 2003
Advertisement