Uster Technologies Takes Over Zellweger Uster
Uster Technologies AG has completed its acquisition of the Zellweger Uster division of Zellweger Luwa. The company will continue to be based in Switzerland.

Purchase price was CHF 160 million, excluding an earn-out of maximum CHF 15 million. Business partners include CapVis Equity Partners AG, Switzerland; Germany-based Quadriga Capital Beteiligungsberatung GmbH; and senior management of the former Zellweger Uster. The company will retain its 470 employees.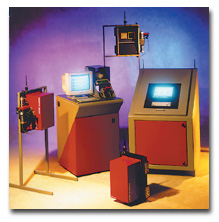 IntelliGin from Uster Technologies
Uster plans to further develop its business and expand into new markets. "We will pay even closer attention to our customers' needs and focus on customer-oriented services and innovative technologies," said Geoffrey Scott, CEO.
The company is looking towards Asia, which represents 60 percent of its export market, to expand with new product lines to provide quality solutions for the textile industry. Adjacent market areas also will be targeted.

March 2003
Advertisement