Hyosung's Creora® Fiber Finds Many Applications
Korea-based Hyosung will exhibit its creora® brand of optimized elastane fibers at Interstoff Asia in Hong Kong this month. Creora fibers are available for a wide variety of textile applications, including chlorine-resistant swimwear; uniform, high-heat-resistant womens apparel with increased dyeability; and hosiery with antibacterial properties. Another application is jeans with fluorescent core-spun yarns that allow yarn breakage to be detected easily under ultraviolet (UV) rays.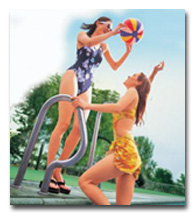 Swimwear made with creora® fiber offers chlorine resistance.

Hyosung, which currently produces 25,700 tons of elastane fiber annually, plans to expand its elastane-manufacturing facilities to increase annual production to 37,000 tons in 2003.
Hyosung has teamed with Santoni S.p.A., Italy, to offer seamless garments made with creora. Seamless garments, which have been targeted towards intimate apparel, beachwear, sportswear and knitwear, provide additional comfort and better fit due to the elimination of some conventional sewing operations, according to the companies.


March 2003
Advertisement