Techtextil Reports Record Participation Attendance
Techtextil Reports Record Participation, AttendanceThe 10th Techtextil International Trade Fair for Technical Textiles and Nonwovens, held recently in Frankfurt, hosted record numbers of exhibitors (883 from 42 countries) and visitors (more than 18,500 from 68 countries). Using Hightex. Its our future. as its theme, the event focused on intelligent fabrics designed to make life easier. At Techtextil, everything revolves around innovations, and this is extremely important for the sector, said Filiep J. Libeert, president, European ApparelandTextile Organization (Euratex). More than 600 people attended the concurrent International Techtextil Symposium, which offered more than 90 seminars covering the most recent developments in technical textiles.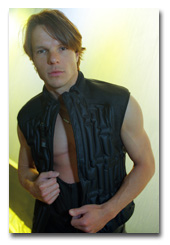 Airvantage fabric with individual adjustable insulation for vests and jackets was shown by W.L. GoreandAssociates at Techtextil.Event organizer Messe Frankfurt presented the Techtextil Innovation Prize to seven noteworthy achievements in new technologies, research, and materials and product development. The 7th Textile Structures for New Building competition, organized by the Working Group for Textile Architecture and Techtextil, awarded prizes totaling 8,000 euros to 12 student projects presenting new architectural concepts.
June 2003
Advertisement