Machines Italia Nonwovens
.

Machines Italia: NonwovensWhile the nonwovens and textile industries share some common heritage, the nonwovens industry has grown to represent a broad array of engineered fiber- and polymer-based products whose development is driven by high-speed, low-cost, innovative, value-added processes. This has led to the adaptation of technologies from the pulp and paper and extrusion industries to bring about the desired products at reasonable costs, and consequently has brought about a separation from the more traditional textile industry. F.O.R. Ing. GrazianoF.O.R. Ing. Graziano S.p.A., part of the FINCARDE Group, offers high-speed nonwoven cards and crosslappers that can be coupled with a variety of bonding technologies including needle looms, hydroentangling machines and thermal bonding equipment. Of interest is its W.M. 2+2 Card. This card is equipped with an air-management system to prevent fiber buildup at the roller ends. Each doffer is equipped with a randomizer that can easily be changed over to a rotary comb, allowing the production of randomized webs, as well as directional webs, on the same machine. The presence of two doffers between the two cylinders allows improved stripping off the main cylinder. Because the low is divided up into two blocks, better blending and uniformity ultimately is expected. Discussions with the group revealed that F.O.R. optimally can process fibers between 0.6 to 2.0 denier, but can offer cards for fibers with linear densities as high as 17.0 denier. Its technology utilizes wind plates in place of stripper rolls to inject the fibers toward the next worker. This may mean the fibers are not subjected to a lot of stress during carding, and this technology may be able to handle bicomponent splittable fibers well. The maximum fiber length that potentially can be handled is about 6.5 cm, so most staple fibers can be handled without a problem. The minimum basis weight has been about 10 grams per square meter (gsm). Higher basis weights are not a problem. These cards are offered at widths of up to 4.5 meters and can run as fast as 420 m/min. The maximum speed is a function of fiber type, fiber denier and degree of openness of the fiber. The maximum speed of 420 m/min has been achieved for 2-denier-per-filament polypropylene fibers producing a web weighing 19 gsm. The striking feature of the products produced using F.O.R. cards is their degree of uniformity in both machine and cross directions.The challenge for carding technology providers has been to compete for productivity and product characteristics with spunbond products both in the heavy (needlepunched) and light (thermally bonded) basis weight ranges. Operationally, the challenge translates into learning how to control the card-web structure, its uniformity (both lengthwise and crosswise) and its throughput rate. It is clear that F.O.R. is making progress in this regard.BematicOn the other side of the spectrum are high-loft nonwovens measuring several centimeters in thickness. Traditionally, these have been achieved by combining carding/crosslapping with airlay technologies. With growing interest in using bast fibers such as jute and kenaf, the need for high-loft nonwovens machinery is expected to grow. One Italian company dedicated to this sector of the market is BettariniandSerafini S.r.l. (Bematic).Bematic started out in the textile industry making spinning equipment and now has moved exclusively to the business of nonwovens. It offers opening, blending and carding machines. While the company claims its carding machines, which are typically used for geotextiles, can run as fast as 150 to 200 m/min, they are often used with a crosslapper and therefore run at less than 100 m/min. Of interest is Bematics Bemablow airlay technology, introduced about three years ago. The products produced on this machine are high-loft, resilient nonwovens similar to those produced using the Rando system. The interesting feature of this technology is its ability to process a variety of materials, both fiber-based and non-fiber-based. For example, wood chips, foam and shoddy can be used together to form an intimate blend in a high-loft nonwoven. The machine comes in widths of 2.2 or 2.5 meters and can process as much as 3,500 kilograms (kg) of material per hour. Its technology combines opening, blowing, forming and metering. The simplicity of the Bemablow technology is striking. At first look, the machine appears to use a modified chute after a fine opener. In this system, the fibers are delivered to a reserve (silo) on top of the unit. The fibers are fed through a feed roll that delivers controlled amounts of the material to a beater roll. The beater opens the materials and drops them on a conveyor that meters the materials received. Bematic has sold two Bemablow machines to US nonwovens producers, as well as several others in Europe. Additional interest in this technology is likely, as it can represent a turnkey system for the production of high-loft nonwovens.A.Celli NonwovensPrivately held A.Celli S.p.A. was founded in 1944 primarily as a supplier of equipment to the paper industry. In 1978, it supplied its first winder for the nonwovens industry.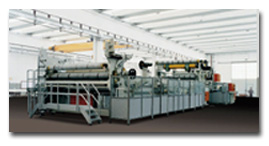 A.Cellis Jumby winder can accommodate jumbo reels and runs at speeds of up to 800 meters per minute.This section of its business enjoyed tremendous growth, which led to the splitting of the business earlier this year into A.Celli Nonwovens and A.Celli Paper.Today, A.Cellis core nonwovens business is in machines for winding and slitting lightweight fabrics (10 to 300 gsm). With more than 20 patents, A.Cellis technology is employed by 28 of the top 40 nonwovens companies in the world. It offers in-line automatic doffing winders, as well as off-line slitter-rewinders. The company operates in Italy, the United States, China and Brazil. In-line winders are offered in two categories. Windy winders are for small reels (1,800 mm) and can run at speeds of up to 400 m/min. Jumby winders are for jumbo reels (2,500 to 3,200 mm) and can run at speeds upwards of 800 m/min. Its off-line slitter-rewinders can go at even higher speeds, and its top-of-the-line system can run at speeds upwards of 1,500 m/min.A.Celli also offers a nonstop high-speed lamination line equipped with custom unwind stands, flying splice and in-line and off-line slitting, running at speeds upwards of 500 m/min. It has the flexibility to be used with hot melt, calendering and ultrasonic technologies. H.T.P. UnitexThe last surprise of the trip was H.T.P. Unitex S.p.A.s cold plasma technology. For some time now, atmospheric plasma has been used in the nonwovens industry to treat the surface of nonwovens in order to functionalize them. Most applications are focused on increasing or decreasing surface wettability, or preparing the surface for the next process. The system offered by H.T.P. Unitex comprises roll-to-roll cold plasma (under vacuum) treatment equipment. A variety of gases can be introduced into the chamber, including argon, ammonia and oxygen, among others. The fabrics are passed over water-cooled rollers that make it possible to treat low-melt materials. This system potentially can be modified to allow the deposition of metals, carbons and other materials onto the surface if so desired.
June 2003
Advertisement