Lenzing Technik, Autefa Team Up On Bobbin Inspection
Austria-based Lenzing Technik GmbH & Co. KG, a subsidiary of the Lenzing Group, and Germany-based Autefa automation GmbH have signed a cooperation agreement to provide improved automatic handling of bobbins for filaments and natural fibers.

Together, the companies offer a complete automatic bobbin-handling system that includes integrated automatic laser bobbin inspection. All mechanical and electrical components, and data processing have been standardized, thus eliminating the need for an interface.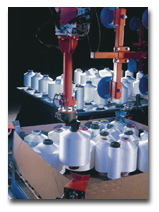 Autefa automation's automatic bobbin transportation system
Lenzing Technik designs and implements systems and services primarily for the pulp and fiber industries. It also provides automation solutions and industrial services.

Autefa automation supplies systems for staple fiber manufacturing and for automatic handling of filament and natural fiber bobbins. It is represented in the United States by Fi-Tech Inc., Richmond, Va.
July 2003
Advertisement