National Starch And Chemical Receives Patent
The US Patent Office has granted a patent to Bridgewater, N.J.-based National Starch and Chemical Co. for its application method for aqueous polymer dispersion to a substrate. The company said the technology for precision polymer dispersion application by airless spray provides precise coating of a polymer on the substrate surface without the need for dilution water. Penetration into the substrate is achieved by pressure control, nozzle type and solids content of the emulsion at spraying.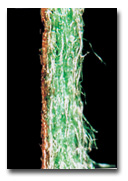 Micrograph shows controlled polymer penetration (stained red) in a 1 millimeter caliper air-laid nonwoven.National Starch and Chemical submitted six examples for its patent application. Polymers used in the examples included VINAMUL 3236 and DUR-O-SET® ELITE 20 from its subsidiary, Vinamul Polymers Group. The company added that the method is useful for porous substrates, especially nonwoven materials.



July 2003
Advertisement